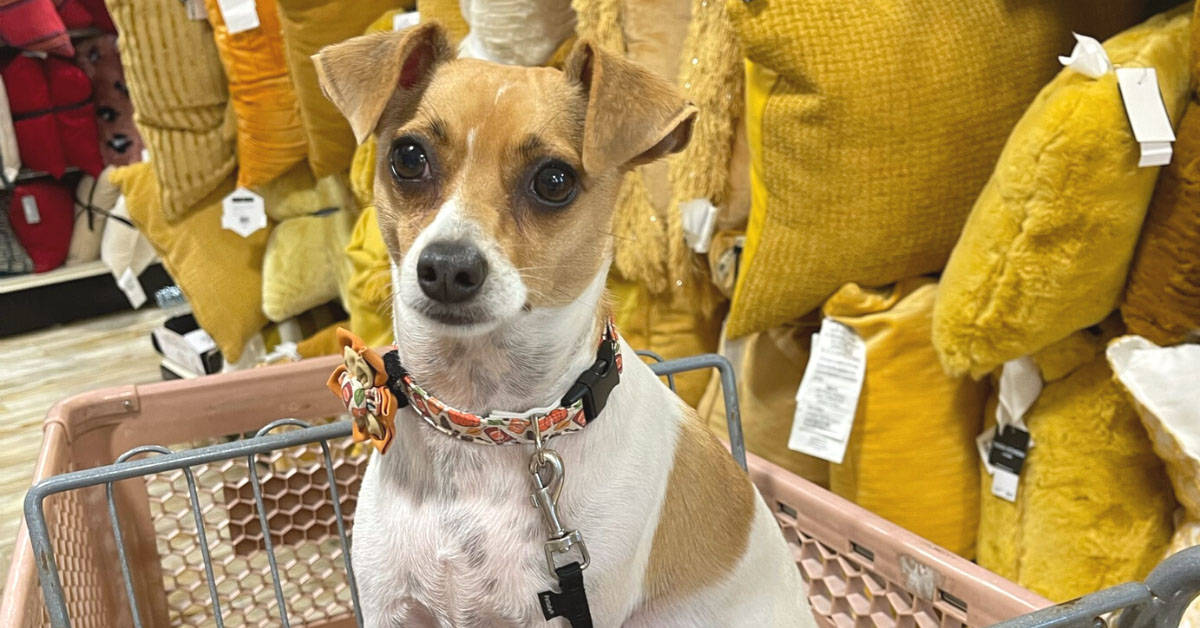 The Giant List of Your Favorite Dog-Friendly Stores by Category
If you're headed out to do some shopping, you might be wondering if your favorite store will allow your dog to join you. So I've curated this giant list of dog-friendly stores just for you!
I've also included a list of some stores that, surprisingly, are not dog friendly. Be sure to see which list your favorite retailers are on before you head out.
What to Know Before You Go
I love bringing my dog, Tulip, with me pretty much everywhere. She's generally well-behaved and she's small, so she travels pretty well. That said, I fully understand it's within any store manager's right to decide whether or not a dog is allowed in the store, even if the store is known to be dog-friendly.
Here are a few recommendations I have before you head out on a shopping trip with your dog:
Pick up the phone and verify the store's pet policy before you go.
Always keep your dog on a leash.
If your dog doesn't do well on a leash (they're reactive, pull excessively, etc.), leave them home.
Pack water and treats.
Pack wipes, waste bags, and cleanup supplies.
If your dog barks excessively, it may be best to leave them home.
Be prepared to exit the store if asked, or if your dog becomes anxious or misbehaves.
As much as you love having your dog by your side, there are some occasions where it might be best to leave them behind, especially if it causes your dog to become stressed, fearful, or reactive. Or if your dog has a problem with urine marking, it's best to leave them home. Otherwise, you'll spend your entire shopping trip cleaning up and it's also not fair to the property owner.
If you've done your prep work and your dog is ready, it's time to hit the stores!
Dog-Friendly Fashion and Clothing Stores
1. Marshalls and TJ Maxx
I love Marshalls and TJ Maxx! They're known to be pet friendly and I can do a lot of shopping in one place.
Zuzu, an extended member of our family here at Pet Living, frequents her local Marshalls to pick out her favorite toys. Here she is picking out a new puzzle toy!
2. Nordstrom
Nordstrom and Nordstrom Rack are known to be pet friendly, but it's always a good idea to verify with your local management if they allow dogs. I've taken my dog with me into my local Nordstrom Rack without issue.
3. Ann Taylor/Loft
These Ann Taylor brands are typically dog friendly. When Zuzu visited Loft with her mom, the associates even added her to the sign on her mom's dressing room!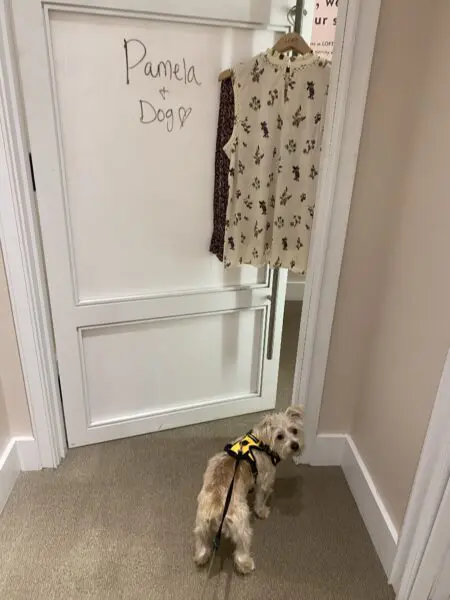 4. Banana Republic
Banana Republic is also known to be dog friendly. My dogs have accompanied me to Banana Republic and they're often warmly welcomed.
5. Lululemon
Although I have not seen an official policy from Lululemon, they're generally known to be pet friendly. I don't have any personal experience taking my dogs into my local Lululemon, so I recommend verifying before you go, but there's a good chance your dog will be welcomed.
6. Anthropologie
I absolutely love Anthropologie, so I was happy to learn they are typically dog friendly. The last time I was there with my dog, I held her most of the time. There are a lot of breakables in this store, so if your dog has a heavy tail or is a medium to large dog that can't be picked up, you might consider leaving your dog behind, if only so they don't break anything!
7. Macys
Macy's has long been known to be dog friendly, but I have my own personal reservations about taking my dog inside a big department store, especially if there's carpet. If your dog needs to do her business, it can take a while to get to the door. If you feel pretty confident your dog can navigate a large store, you and your dog can shop away!
8. Free People/Urban Outfitters
These stores are known for their industrial vibe, so it's not a big surprise they're known to be ok with dogs. The floors are often concrete or waterproof.
9. Neiman Marcus
Neiman Marcus is generally known to be dog friendly, although I can't personally vouch for this one.
10. Ross
The discount store, Ross, is also known to accept dogs with open arms, although I have no personal experience with taking my dogs to Ross.
Dog-Friendly Home Stores
11. World Market
The word is World Market is not officially dog friendly, that is to say they don't have a policy one way or the other. However, I've taken my dog in this store and even had several employees come over to pet her! Bottom line: you might be fine to take your dog in, but it's best to check with local management to be sure.
12. HomeGoods
Like other TJX brands, most HomeGoods stores allow dogs. Given that there are many breakables, sometimes on low shelves, you might opt to leave your dog home, though.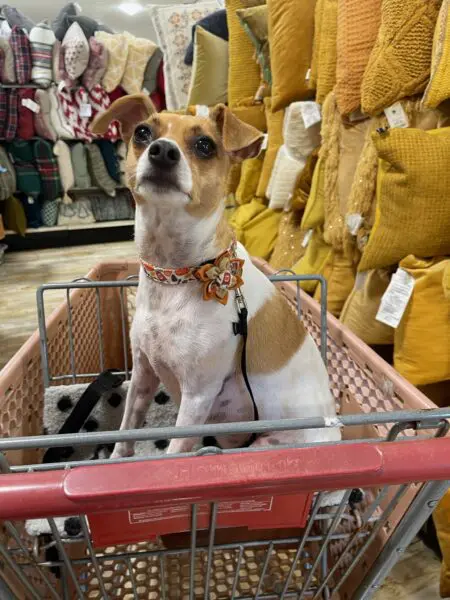 13. IKEA
Yes! IKEA is dog friendly, contrary to what you might read on many sites and their policy is quite generous, allowing up to two dogs per family.
The IKEA website lays out the rules for bringing your pet into the store. For instance, your dog must be on a leash, is not allowed in the restaurant area, and is not allowed on the furniture.
14. Pottery Barn
Pottery Barn allows dogs that are well-behaved and on a leash. Just beware of breakables!
15. Bed Bath & Beyond
This home goods retailer is well known for welcoming dogs.
16. The Container Store
I haven't brought my dogs to this store, but the bark around the park is that this retailer is very dog friendly, as long as Fido is on a leash or in a cart.
17. Restoration Hardware
The official policy is that dogs are welcome at most stores. That said, guard the breakables or you could be in for a very expensive trip!
Dog-Friendly Outdoors and Camping Stores
18. L.L. Bean
This Maine-based store allows pets inside, with the exception of their flagship store in Freeport, Maine, which holds a cafe. There are plenty of satellite stores in the area, though, and your dog is free to pose in front of the big boot outside!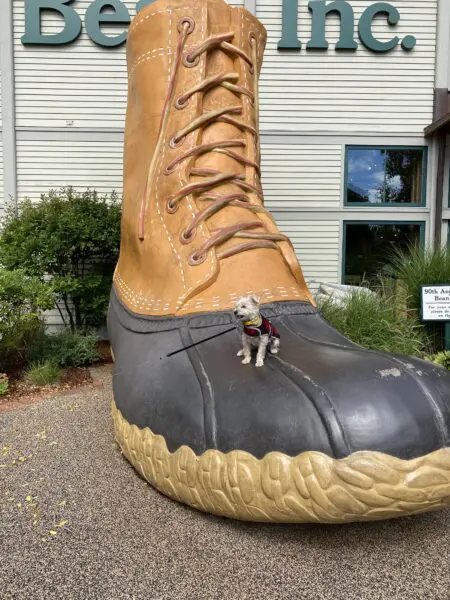 19. Bass Pro Shops
Bring your pup with you as you pick out your favorite fishing gear!
20. Cabela's
This popular outdoor retailer is reported to be pet friendly, except where prohibited by state law.
Dog-Friendly Pet Stores
21. Petco
It probably goes without saying, but Petco is indeed pet friendly! Because there are often many pets visiting, I recommend making sure your dog is well-leashed and is not reactive to other animals.
22. PetSmart
Your dog is also welcome at PetSmart. I like to bring my dog in and let her choose her favorite toy to take home!
Dog-Friendly Home Improvement Stores
23. Lowe's
Lowe's does allow pets in their U.S. stores, but not in their Canadian stores. Because it's a big box store and it may take some time to get outdoors if your dog needs to do their business, be sure to bring waste bags and cleanup supplies. I've seen it happen! Here are the supplies I recommend for cleanup.
I also advise keeping a close watch on where your dog walks, as there is often debris, packing, and potentially harmful items on the floor.
24. Tractor Supply
Tractor Supply welcomes nearly all pets! Although there's no official policy, well-behaved pets, including dogs, are welcome to accompany their owners.
Pin me!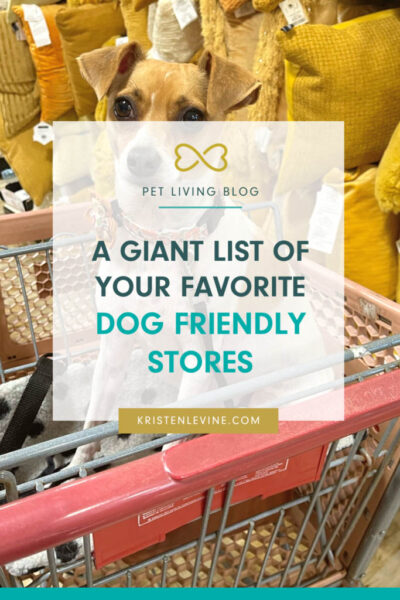 Dog-Friendly Electronics and Computer Stores
25. Apple
The coolest tech store is made even cooler with their dog-friendly attitude. You may need to pick up your dog if they're small and there is a lot of foot traffic.
26. Staples
Most Staples locations are pet friendly and some even give treats at checkout!
Dog-Friendly Beauty Stores
27. LUSH
LUSH is not only pet friendly, but their products are too! They're known for never testing their products on animals, so it's no surprise LUSH is a dog-friendly store.
28. Sephora
Most Sephora locations are dog friendly, as long as your dog is well-behaved.
Stores That Are Surprisingly NOT Dog Friendly
There are times when I would love to do a Target run with Tulip. But guess what? They're not dog friendly! Here are a few other stores that are not dog friendly:
Target
REI
Best Buy
Walmart
Office Depot
Ulta
The Tail End
Does a store's pet policy affect whether you shop there or not? I have to admit, it sways my perception of that store a bit! However, wherever we take our dogs, it's important to be respectful of what local management requires.
Tulip and I will keep on shopping at our dog-friendly faves!