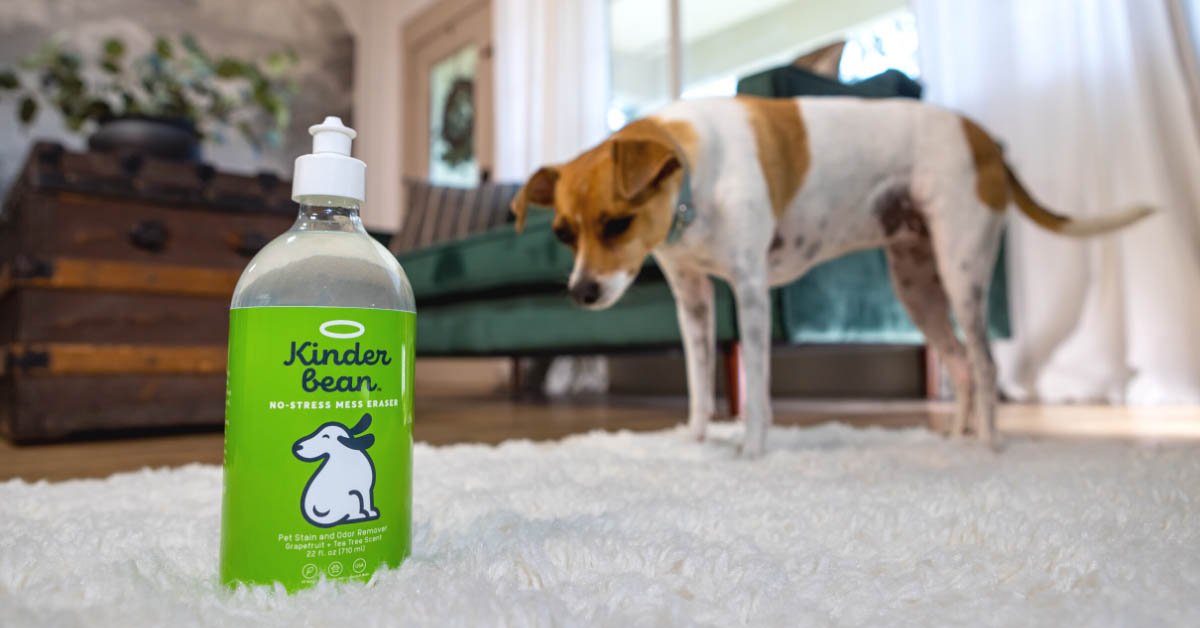 The Best Enzyme Cleaner for Dog Urine According to a Pet Expert
Do you want to know how to get rid of dog pee smell? This article will explain why enzyme cleaners are the best choice for getting dog urine smell out of carpet, laundry, and more, how to use these cleaners properly, and what is the best enzyme cleaner for dog urine.
5 minute read
Who doesn't like a clean, fresh-smelling home? It's so frustrating – and embarrassing! – when your whole house smells like dog urine.
When you're trying to figure out how to get rid of that dog pee smell, you want to make sure you're cleaning it up properly, but finding the right product can be difficult.
It has to smell good to you while also not being too harsh on your dog's sensitive nose. It needs to be safe for different surfaces and be able to clean without staining. And, most importantly, it has to completely break down and get rid of the urine, not just cover it up – otherwise, it could lead to repeat offenses!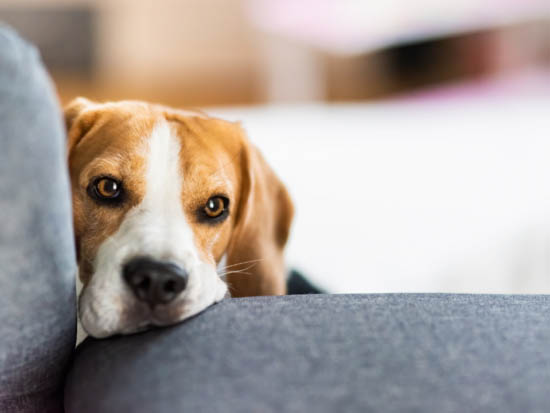 What Neutralizes Dog Urine?
When your dog has an accident, it's the natural tendency to clean it up quickly using the nearest available cleaner – even if it's a regular household cleaner that isn't designed for pet messes. The problem is those everyday cleaners don't actually neutralize dog urine. And if the urine isn't completely broken down and eliminated, your dog's sensitive nose will still smell it – which can lead to more accidents.
There are a lot of dog urine cleaners on the market, but many of them also mask the mess without truly cleaning it up. They also may use harsh chemicals or strong fragrances that can be harmful or irritating to you and your family. Getting your house clean shouldn't require a hazmat suit.
You may have heard people talk about "enzyme cleaners" for pet accidents, and they really are the best way to get your home looking and smelling fresh and clean again. That's because they neutralize urine and other pet messes completely.
But which specific enzyme cleaner should you use?
Let's look at the science behind the best enzyme cleaner for dog urine and how to use it to properly clean up messes.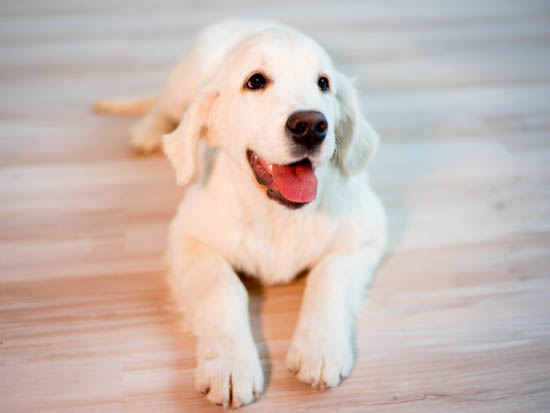 How Do Enzyme Cleaners Work?
To clean, enzyme cleaners use (you guessed it) enzymes! But what are enzymes? And why are they so good at cleaning up our pup's accidents?
Enzymes are produced by bacteria. When we hear the word "bacteria," we may think "sickness" or something to be afraid of. However 99% of all bacteria won't hurt you – and a lot of them can help you!
In an enzyme cleaner, helpful bacteria produce enzymes. These enzymes aren't alive – they are catalysts that speed up the breakdown of waste like your pup's pee or poo. Once these enzymes break down the waste, the helpful bacteria can digest it and turn the waste into plain old water and carbon dioxide.
That's why the best enzyme cleaner for dog urine will get rid of your dog's pee completely and leave no harmful residue. But which cleaner fits this description?
The Best Enzyme Cleaner for Dog Urine
Having had several dogs over the years, I've had a lot of experience cleaning up accidents and dealing with urine marking. All that experience is why I originally wrote the post How to End Your Dog's Urine Marking.
I quickly realized I wasn't alone. Close to a million pet parents have read that post, and they asked hundreds of questions about things like how to stop their dog peeing or how to get dog urine smell out of the carpet.
Reading and replying to all those questions, I could absolutely sense and relate to the frustration all you pup parents felt. I even ended up writing a book about the subject (which you can download here for free).
Pin me!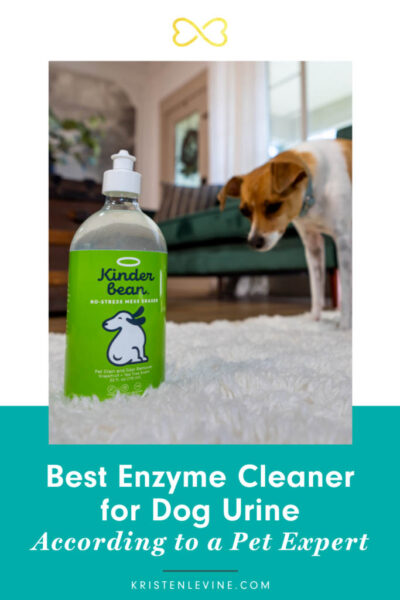 All that led me to a years-long research project where I tested the most popular cleaners and even got feedback from fellow pet parents about them. I learned a lot, like:
Not all enzyme cleaners are created equal!

Not all of the ones we tested completely eliminated pee and poo.

Strong scents are not your friend!

While strong scents may artificially mask your pup's pee, cleaners with strong scents can be dangerous for pets.

Bottles need to be easy to use and built to last.

One popular product's spray bottle broke after just one use! If the bottle is too hard to use, pet parents are unlikely to use it in a way that effectively cleans up messes.
And what if a cleaner can't be used effectively or doesn't completely eliminate the mess? Your furry friend is likely to pee in the exact same spot again, and so the cycle goes!
After trying so many different cleaners and being repeatedly let down, I decided to take matters into my own hands and create a product that checks all the boxes.
Which is why I'm so happy to introduce you all to Kinderbean No Stress Mess Eraser!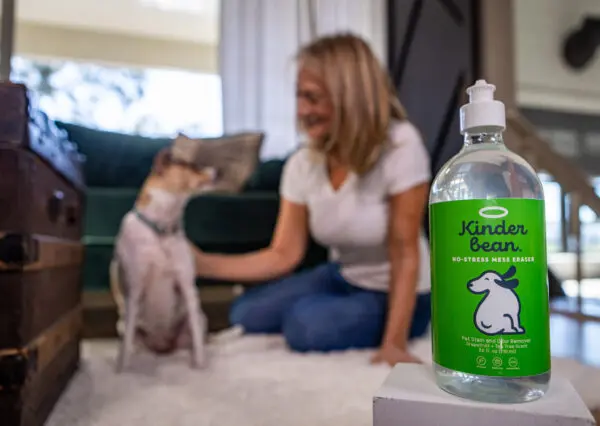 Kinderbean has a long list of benefits, including:
No stains or dyes so it won't discolor your home's surfaces.

A durable squirt top to help you properly saturate the spot. Spray bottles have a history of fragility and often break in transport – plus, it's hard to saturate the stain with a spray bottle so they don't work as intended.

Enzymatic to neutralize all your biological stains, including pee, poop, and puke — even blood.

A pleasant odor that won't overwhelm pets' sensitive noses.

How to Get Rid of Dog Pee Smell and Stains Anywhere
It's not enough to have a great enzyme cleaner like Kinderbean – you need to know how to use it too! Fortunately, getting your house clean with Kinderbean is as easy as 1, 2, 3.
How to Get Dog Urine Smell Out of Carpet
Step 1: Soak
Shake your bottle of Kinderbean well, then saturate the stained area and just beyond its border. Be sure to fully soak but not flood the area.
Step 2: Rub
Gently rub the product into the stain with the bottom of the bottle, then cover with a clean, damp cloth. Leave for several hours – overnight is ideal.
Step 3: Air Dry
Remove the cloth and allow the area to air dry.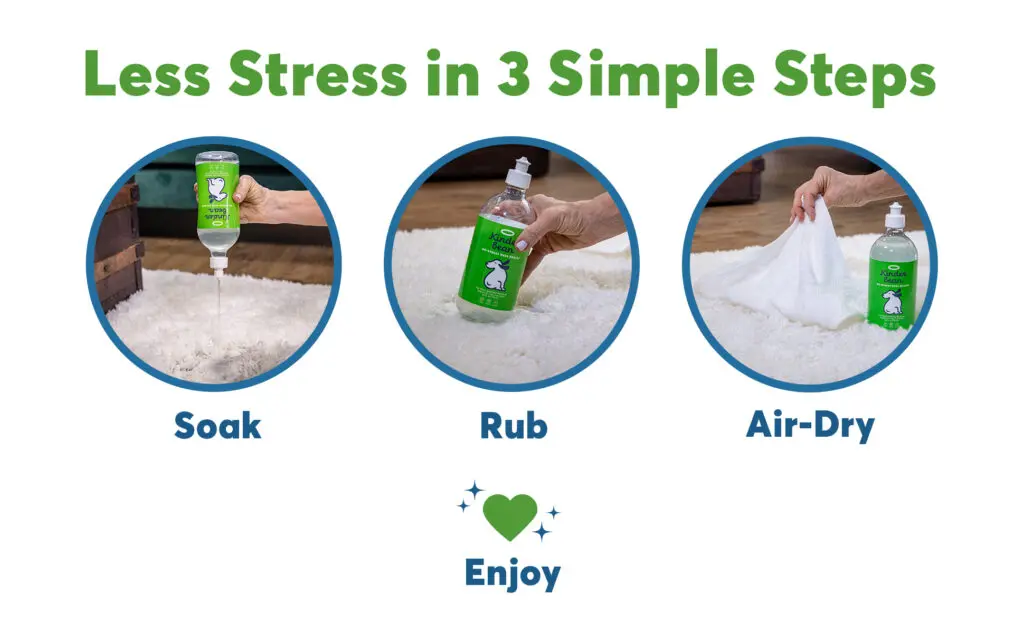 How to Clean Dog Urine on Hard Surfaces
Step 1: Soak
Shake your bottle of Kinderbean well, then cover the stained area – but don't saturate it heavily like with carpet. We don't want your hardwood floors to soak it up!
Step 2: Leave
For sealed surfaces, leave for up to 15 minutes to allow the enzymes to work at destroying any organic matter in any cracks and crevices. For non-sealed surfaces, leave for up to 5 minutes.
Step 3: Air Dry
Blot up any remaining liquid and allow to air dry.
It honestly is that easy! While it may be tempting to rush the process and try to scrub the stain away, it's really important to let the enzymes have the time they need to do their work – no elbow grease required!
Kinderbean works on carpets, hard floors, upholstery, collars, leashes, and more. You can even add it to your laundry! It will leave your home thoroughly cleaned, and your pup's misadventure will be a memory.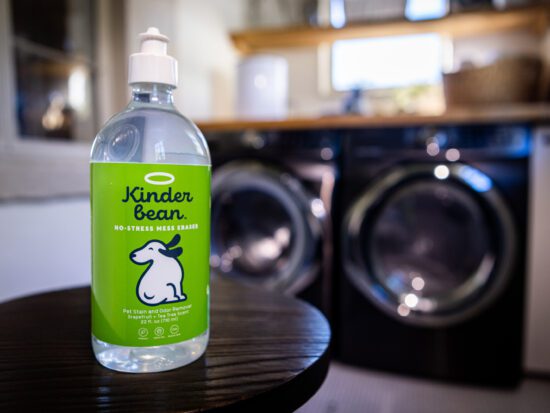 Some More Helpful Tips on How to End Your Dog's Urine Marking
If the stain you're using Kinderbean on isn't a one-time accident but a result of urine marking, then you might want to head over to the blog post that started it all.
There you'll find a bunch of helpful tips to help stop your dog's pattern of peeing using tricks like placing your dog's food dish by the stain so it signals to them that the spot isn't for peeing.
Where Can I Find Kinderbean?
When you're ready to try the easiest and best enzyme cleaner for dog urine, head over to Kinderbean on Amazon.
It's available as a single bottle or two-pack. I like the two-pack because it's cheaper when you buy it this way, plus you can keep one bottle upstairs, one downstairs – or one in the laundry room and one "at the ready" for stinky pet odors.
After so much time researching and developing Kinderbean, I'm so happy and excited to finally share it with you! I'm really excited about Kinderbean, and I can't wait to hear what you think of it!