Spring is in the air, which can stir up allergies for not only us, but also our four-legged friends. According to a recent survey conducted by Novartis Animal Health, nearly half (43 percent) of pet owners revealed that they wouldn't know how to tell if their pet was suffering from an allergy. Linda Messinger, DVM, Diplomate ACVD and head of the dermatology practice at Veterinary Referral Center of Colorado, say these are the top three symptoms that may show your pet is having an allergic reaction: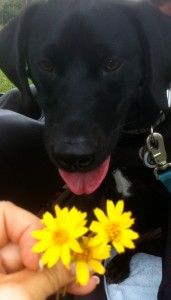 Ear infections in dogs. Many pet owners aren't aware that recurrent ear infections may be a sign of allergies to food ingredients and/or environmental allergens.
Recurrent skin infections. If your pet is constantly suffering from skin infections, it may be a sign of underlying allergies. (This is what my dog, Chilly, encountered last Spring. Through allergy testing we determined he was allergic to oak and grass—which exist in our yard plentifully! He's now being treated with immunotherapy—so far, no skin issues!)
Paw licking. While many pet owners might think this is just a habit or their dog cleaning themselves, chronic paw licking can also be a sign of underlying allergies.
So what do you do if your pet is suffering from spring allergies? The veterinary dermatologists at VRCC offer the following advice to help relieve some of your pet's symptoms:
Give your pet a wipe-down using hypoallergenic baby wipes or just a plain washcloth with water (no soap). This will help get the allergens off the top layer of your pet's skin/fur.
Check Pollen.com's "Allergy Forecast" daily to find out the top three allergens pollinating in your area. This data can be used as a guide for the allergic pet.
For severe cases, consider asking your family veterinarian for a referral to a veterinary dermatologist who can do intradermal allergy testing to pinpoint what allergens may be affecting your pet.
The ASPCA is a great resource for pet allergy information. Visit their website to learn more about allergies in cats and dogs.