Dig this… a portion of this post is sponsored, but opinions are my own and 110% "pawthentic"!
Imagine stepping into a magical world where everything is centered around pets. Everywhere you look, there are new and exciting ways to keep your best friend healthy, happy, and engaged.
That's exactly what it's like at the annual Global Pet Expo in Orlando, Florida. Each year, thousands of pet industry professionals flock to learn about the newest products designed specifically with pets and their people in mind.
I'm getting ready to head there myself but I was lucky enough to get a sneak peek on some of the coolest new pet products for playtime, grooming, and health. And now I'd like to share them with you!
Pin Me: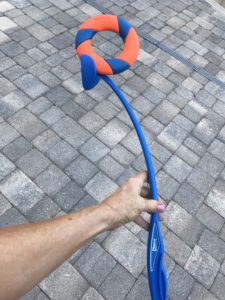 I just love Petmate's whole product line! They always come up with fun, innovative products to build human-animal bond through playtime. Here are a few of my faves:
Chuckit! Ring Chaser
Available Spring 2018
This is the ultimate chase and fetch toy! The unique topspin action causes the UltraRing to erratically bounce, zigzag, and hop on the ground for engaging action. It features a long, ergonomic handle with an easy pick up head that enables you to keep playing fetch with your pet for longer. Look for it in stores and online this spring.
Jackson Galaxy® Constellation Convertible Scratcher
Available May 2018
Give your cat a great new way to exercise those kitty claws while saving your furniture with the Jackson Galaxy (Cat Daddy) Constellation Convertible Scratcher. Corrugated on all sides to provide more scratching surface, it also comes with organic, grown-in-the-USA catnip to encourage interaction. The pieces can be used together or separately to create new configurations and keep cats interested.
JW® RoboBone
Available Summer 2018
The RoboBone takes playtime to a whole new level! The toy is preprogrammed to chase and run from your pet for two minutes and then go into sleep mode until your pet wakes it up with a nudge. The design prevents it from getting stopped or stuck. Just stuff the wheels full of your dog's favorite treats and watch it go!
As a pet parent, I know how keeping up with grooming can seem like a never-ending chore. Luckily, it just got a lot easier with the Groom Ninja, an effective grooming, shedding, and cleaning tool for cats, dogs, and even horses. Although it has a carbon steel blade, it's not a shaver. Instead, its unique design removes dirt, dander, loose fur, and surface allergens. Pets love it, too. Mine almost go into a trance when I use it on them!
Best of all, the Groom Ninja is made right here in the USA and they have a 100% money back guarantee. The tool comes in a rainbow of colors, is offered in three sizes (small, medium and large), and can be purchased now at groomninja.com for only $16 – $20.
Ever try to feed your dog or cat or horse a supplement in pill or chew form? Sometimes you're successful, sometimes you're not! And each time your pet wins the "battle of the supplement," you're wasting money. That's why LiquidVet Holistics developed a tastier, easier, and faster-acting way to administer supplements and keep your pet in tip-top condition!
LiquidVet Holistics uses human pharmaceutical-grade ingredients from US suppliers and the
formulas are manufactured at their own plant in the Tampa Bay, Florida area. Supplements only need to be given once a day and come in lip-smacking flavors like Chicken and Pot Roast flavors for dogs, Seafood and Chicken for cats, and Peppermint candy for horses. They also have a two-week, money back guarantee.
LiquidVet supplements are available now at Walmart, Pet Valu, Tractor Supply, and online. Check their site for a complete list of retailers.
This is a sponsored post. However, all opinions and anecdotes are my own, and I never promote any products or brands I don't believe in. ~Petfully yours, Kristen