Disclosure: This is a sponsored post. However, all opinions and anecdotes are my own, and I never promote any products or brands I don't believe in.
Today, Just Right by Purina sponsored me on Daytime so I could talk about this cool opportunity for dog lovers to personalize nutrition for their pet. Check it out and learn how it works and take advantage of a special offer of $5 off one order of Just Right for your pooch.
If you follow me on Facebook or Twitter, you've probably seen me post "Chilly's no off-the-shelf dog!" It's true! He's unique in so many ways. Just like your dog, cat or other critter-love.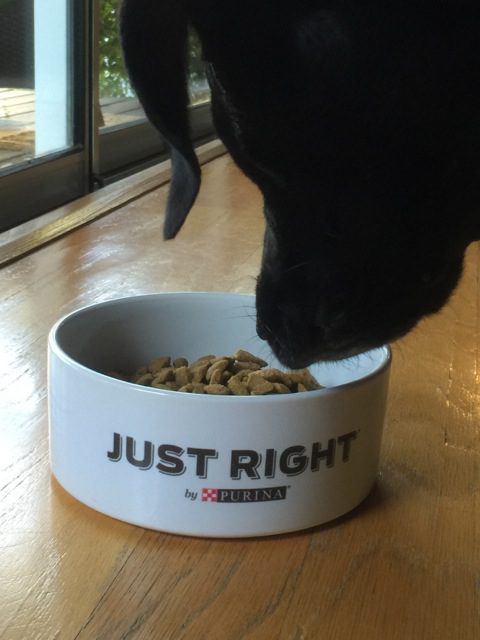 Last fall we were introduced to a new pet food brand called Just Right by Purina. I agreed to try it because I was intrigued by the premise—personalized pet nutrition. Plus, as a pet blogger, they offered to provide Chilly and me with a free trial of the food. Fair enough.
I'm not ashamed to admit that I'm pretty obsessed with everything about Chilly, including what he likes to do, who he plays with, where he goes to doggy day care, his veterinary team, and of course, what he eats, or snacks or chews on.
If I had more free time I'd be one of those people who cooks for their pets. So, I like Just Right because it allows me to have a say in how his food addresses his nutritional needs and his likes, and I like that Purina has 80 years of expertise in pet nutrition. It's a good pairing!
Not only that, but it's available online only and it gets shipped for free directly to us!
Lucky for me, Chilly loves it. We call it his "crunch-crunch" because of the cute sound he makes when eating it.
Check out our appearance today on the Daytime show!
Here's the scoop–condensed.
Nutrition: Start by visiting JustRightPetFood.com. There, you'll begin creating a personalized blend for your dog by answering specific questions about them like their age, activity level, breed size, and body condition. Also taken into account are your dog's nutritional goals, such as weight management and skin and coat health. During the process, you can select chicken, lamb or salmon as the first ingredient for your dog's food, as well as whether or not you prefer grains and soy be included in the food.
Key Features of the Packaging: After your dog's blend is created, you personalize your packaging by uploading a picture of your dog and naming the blend, like I did to name "Chilly Bean's Blend"! Each Just Right bag also includes a personalized feeding recommendation on the back.
Convenience: All Just Right orders are delivered right to your door with free shipping, saving you a trip to the store. Because Just Right knows how much Chilly should be eating each day, they are able to send me emails reminding me to re-order his blend before I run out. You can also enroll in auto-replenishment and have your food automatically delivered to your door just before you're scheduled to run out.
Receive $5 off your first order of Just Right by Purina with code: CHILLY.
Go to: www.JustRightPetFood.com
Terms & Conditions:
Offer valid for $5.00 off one (1) order of Just Right® by Purina® dog food through June 30, 2015. Valid on JustRightPetFood.com only. For full terms, visit www.purina.com/terms-and-conditions.