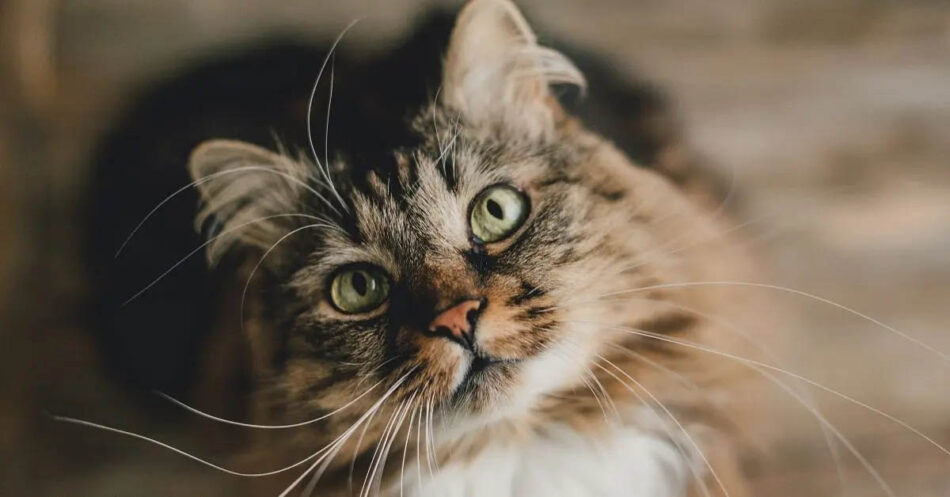 How to Help Your Senior Cat Cope with Arthritis
Warm snuggles and a calm cat-itude are some of the best parts about being a pet parent to a senior cat. Kittens are so much fun, but if you're like me, senior cats hold a special place in your heart when it comes to quiet time spent together.
However, as your cat ages, you may notice subtle changes in her agility, activity level, and even litter box habits. And these are very important clues to your senior cat's health, particularly when it comes to arthritis.
Now that Olivia's about 13 years old, I'm always watching her as she jumps to see if she slips, is in pain, or simply can't leap as before. So far, she's still quite agile but that doesn't mean she doesn't experience soreness.
Senior cats and arthritic cats are masters at hiding discomfort, so you need to look for "tell-tail" clues that may indicate arthritis in your senior cat.
Pin Me!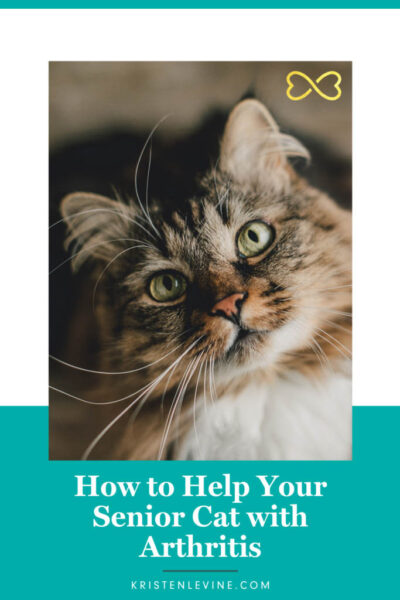 Signs of Arthritis in Senior Cats
Since cats tend to be quieter and more reclusive than other pets, such as dogs, it may take some detective work to find the root of their health concerns. There are however a few common signs that may point to joint deterioration and artists.
Decreased activity can be a sign that your cat's regular activity is becoming too painful for her. It can also be a sign of fatigue, which often accompanies arthritis.
Change in litter box habits, like going potty outside the box, can be a sign that climbing in and out of the box is too painful for her joints.
No longer jumping, running, or going upstairs may be signs that those activities are too painful to do.
In addition, regular check-ups with your veterinarian, and maintaining good communication between visits will also benefit your cat's overall health.
You can also talk to your veterinarian about therapeutic options, such as laser treatments, to decide if your cat would benefit.
(If you love and appreciate all the care that your veterinarian office provides, check out How to Thank Your Veterinarian Team for Everything They Do.)
How to Care for a Cat with Arthritis
There are many things that you can do at home to comfort and care for your cat's sore joints.
Take extra precautions when interacting with your senior cat. Games or activities that she used to enjoy, may now cause pain. And when you pick her up, do so gently, in a way that will not cause pain.
Use heat to naturally soothe your kitties sore joints. You can use a heating pad to do this, however, you will need to closely monitor your cat as many cats tend to enjoy chewing electrical cords which can lead to danger. As a safe alternative to a typical heating pad, choose one that is specially made for pets, like this one. It's designed with a chew-resistant cord, it's waterproof, and it's the perfect size for a cat or small dog. Simply put the pad in their bed or favorite resting spot and let them enjoy the warmth. I would still recommend that you supervise your pet when using any heating pad.
---
Another option is to buy a pet bed that has warming capabilities like this one. It uses its special insulating materials to trap heat and transmit it back to your pet without the use of batteries or electricity. Plus, it's super cozy!
---
Use a joint health supplement to slow down joint deterioration. I have found great success in using supplements with my pets. Even when we feed our pets the most nutritious food possible, they often still need a little extra care tailored to their nutritional needs. Adding Nutramax Cosequin to a serving of wet cat food is an excellent option for cats needing extra joint support.
---
Offer natural pain relief. A natural pain relief product for pets is one thing that I always try to keep on hand. You never know when their arthritis or other health issues might flare up, so it's wise to keep some in your home to treat your pet's pain when needed. I like this natural solution from Pet Wellbeing. It promotes rest and relaxation and supports healthy circulation and blood flow to help your pet recover from pain.
The Prognosis for Senior Cats with Arthritis
Cats can live a long and happy life, even with arthritis. We as pet parents though, need to do our part in keeping them as healthy and happy as we can. Simple adjustments can make a big difference and can add to our felines' quality of life.
Senior cats have a lot of love to give and snuggles to exchange, so don't let arthritis get in the way of helping them live life to the full!