A trip to the vet – it's not high on anyone's list of "super fun ways to spend an afternoon." But as pet parents, it's inevitable that we'll make multiple visits over the course of our pet's lifetime, whether due to illness, injury or routine check-ups.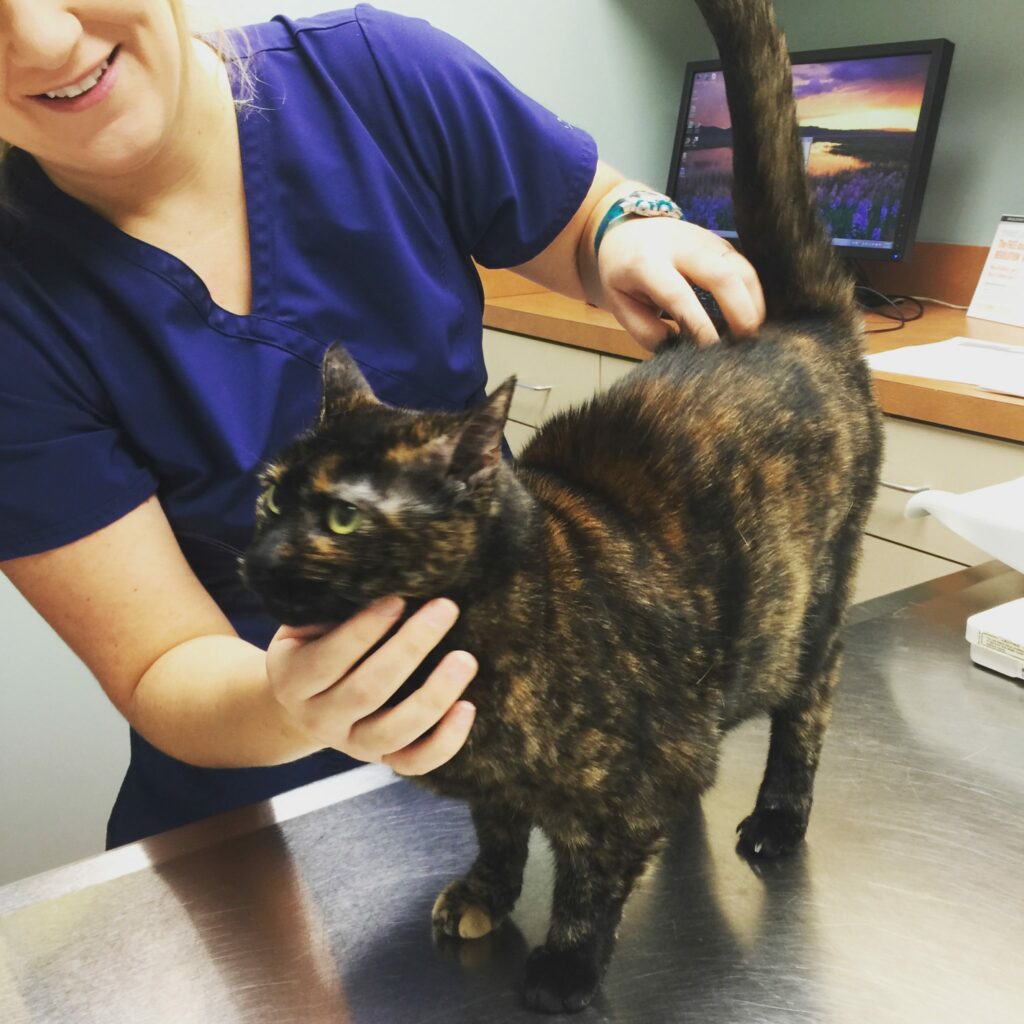 That's why having a great veterinary team on your side is so important. The professionalism, knowledge and compassion of everyone in the office can make a huge difference in how both you and your pet feel about the experience.
I'm a huge fan of St. Francis Pet Care Center, which cares for my dog, Chilly and my two cats, Olivia and Turtle. We've been going there for five years and they are always happy to see the "kids," greeting them by name, baby talk and compassionate care.
Every year, our vet hosts a Blessing of the Animals in October.
But despite the amazing staff and excellent treatment we receive there, I have to admit that sometimes I take them for granted. Plus, I have them do the unpleasant things that I know I can do myself, like expressing anal glands and trimming nails!
I know I'm not alone in this regard. How many of us take the time to let our veterinary team know how thankful we are for what they do?
Petplan pet insurance is aiming to change that with the creation of the first-ever "Veterinary Team Appreciation Week," celebrated this year from Sunday, January 17 through Saturday, January 23.
The purpose of this annual event is to shine a spotlight on the entire veterinary staff – from receptionists to vet techs to veterinarians – and recognize them for going above and beyond for their clients.
While Petplan will be reaching out to veterinary practices all over the country to thank them for their hard work and dedication, you can get in on the fun, too. Here are a few ideas on ways to bark out your appreciation for a job well done!
Treat them to treats.
I don't think there's anyone who objects to getting scrumptious munchables at the office. That's why I'm planning to stop by my vet's office this week with a box of people treats in hand. A cookie bouquet is always fun, too. And if you'd rather go the healthy route, look into a delivery of fancy fruit from a business like Edible Arrangements.
Jolt 'em with joe.
There's little time for down time when you work in a veterinary clinic. Between scheduled appointments and unexpected emergencies, the staff puts in long hours with few opportunities to kick back and relax. Help keep them going by dropping off some freshly brewed coffee (along with cups, cream and sugar) from your local coffeehouse.
Brighten with blooms.
Nothing lifts spirits or brightens a room like a sunny, cheery floral bouquet. I'm paw-ticularly fond of the a-DOG-able Collection from 1-800-FLOWERS. Created by hand in the shape of – you guessed it – a cute little pup, these beautiful blooms come in a variety of designs and are sure to unleash a myriad of smiles.
Leave a grrrr-iffic review.
These days, many people turn to online reviews when searching for a reliable pet care provider. By writing a glowing review of your veterinary team on Yelp!, Google, Facebook or Angie's List, you'll not only send business their way, you'll be helping other pet parents find a clinic they can trust.
Contribute to a pet cause.
Many veterinary clinics have certain animal-related issues or charities they care about and support. Some even have internal emergency funds set aside to help pet owners who are unable to pay. Give yours a call and ask about causes near and dear to them. Then make a donation in their honor.
Write a note…using actual pen and paper!
Sure, sending an email or leaving a message on Facebook is great. But as we all know, there's really nothing like receiving a real-live letter or card in the mail. This gesture may be inexpensive, but I guarantee it'll be memorable! Be sure to let your team know why you appreciate them, including specific examples if you have any. And feel free to pop a pic of your pet in the envelope, too!
For more details about "Veterinary Team Appreciation Week" and more ideas for thanking pet care providers, visit http://www.gopetplan.com/press-releases/vet-team-appreciation-week.
How will you thank your veterinary team for all they do? Share your ideas with me in the comments below.