Dig this… a portion of this post is sponsored, but opinions are my own and 110% "pawthentic"!
When it comes to cat litter, I'm definitely particular. It's important to me to make litter box clean up as quick and easy as possible. But even more than that, I want to make sure that the litter I'm choosing is a good choice for my cat. After all, she's the one who has to use it every day!
The fact that Olivia uses her litter box pretty faithfully tells me that I'm on the right track. In addition to getting her into the litter box, I want to make sure that I'm choosing a litter that won't expose her to any health risks.
Recently, I had the chance to chat with Dr. Liz Bales, "The Catvocat", to get the scoop on what it is that our feline friends really need from their kitty litter.
According to Dr. Bales, for cats, a healthy litter really boils down to a few important factors.
FAQs for Choosing a Natural Cat Litter
Should the litter be scented?
Cats have an amazing sense of smell. As a matter of fact, it's about 40 times stronger than ours! While this is great for tracking down prey (or sniffing out the goodies you've hidden around the house for them) it's not always such a good thing when it comes to the litter box.
Many litters are heavily perfumed in order to mask more unpleasant odors. But what seems to be a simple perfume smell may be completely overpowering to your cat.
Many cats prefer scent-free litter. If you use one that's scented, it's best if it has a very mild fragrance, such as this lavender-scented litter from World's Best Cat Litter. This way your kitty won't feel overpowered by the scent every time she does her business.
Does it control the odor?
Because our kitties have such keen noses, the smell of the litter itself isn't the only thing that affects them. They'll also detect the smell of a dirty litter box even before we do. And our cats are just as turned off by a smelly litter box as we are by a dirty smelling bathroom.
Just because the litter box smells clean to you doesn't mean your cat feels the same way. Dr. Bales recommends scooping out dirty litter twice a day to keep the smell of the box up to their exacting standards. In addition to consistent cleaning, choosing a litter with superior odor control is also important. This can help deal with odors that cause our cats to turn up their noses even before they become noticeable to the human members of the family.
Pin Me!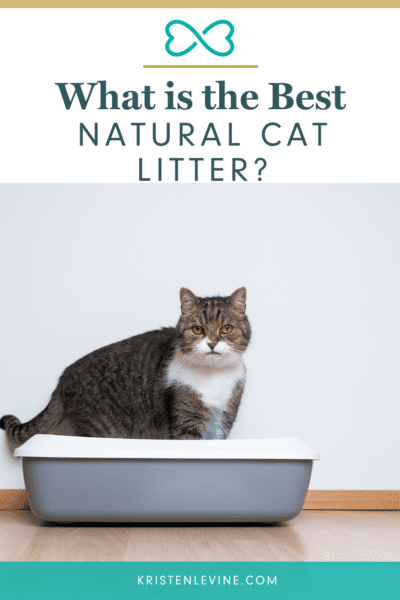 How well does it clump?
A clean litter box definitely cuts down on unpleasant odors, but some litters are better at making it possible to remove waste. When you're looking for the best natural litter for your cat, look for one that clumps really well.
A strong clumping litter means that dirty litter stays together in a tight scoop-able chunk, making it possible to remove more of what smells. Otherwise, the dirty litter will just get mixed back in, leaving a tell-tale odor behind.
Is natural cat litter dusty?
Dust can be irritating to cats and their parents, but it can also pose a health hazard. Dust from the litter box can actually trigger feline asthma!
Needless to say, you don't want your kitty inhaling the silica dust found in clay litters. Many non-clay alternatives are much less dusty.
How My Favorite Natural Cat Litter Measures Up
It's no secret that I'm a loyal user of World's Best Cat Litter™, so I was curious to see how it met Dr. Bales' criteria for healthy all natural cat litter.
World's Best Cat Litter is available in several scent free formulas, but the kind I personally use is the Lavender Scented Multi-Cat Clumping Formula. Even though it does have a scent, it passes Olivia's feline sniff test. It doesn't contain any synthetic chemicals or perfumes. Since the lavender fragrance is very mild, it's not overpowering to Olivia's sensitive nose. Actually, according to Dr. Bales, many cats prefer lavender over other scents.
When it comes to odor control, I've never used anything that works like World's Best Cat Litter™. It's made from the concentrated power of corn, so odors stay trapped deep inside the litter until it's time to scoop it out.
And speaking of scooping, thanks to World's Best Cat Litter's amazing clumping ability, scooping is a breeze. It forms super compact clumps that stay together when I scoop them out. And it doesn't stick to the sides of the litter box, so I don't have to chip and chisel to get every last trace of dirty litter out.
Since it's made from corn and not from clay, World's Best Cat Litter™ doesn't contain any nasty silica dust. As a matter of fact, it's 99% dust free. I notice this immediately because there's no dust cloud lingering in the air after I pour new litter into the box. And it's nice to know that my kitty can breathe easy too.
Choosing the right natural kitty litter not only keeps kitty happy, but prevents odors, and makes clean up super easy.
If you have any kitty questions you'd like answered, be sure to submit them to Dear Tabby!
This is a sponsored post. However, all opinions and anecdotes are my own, and I never promote any products or brands I don't believe in. ~Petfully yours, Kristen