Dig this… my agency represents ThunderWorks, but I was not paid to write this review. Opinions are my own and 110% "pawthentic"!
There's nothing worse than watching your pet tremble, pant, drool or hide when a thunderstorm rolls through, the fireworks go off, or a trip to the vet is necessary. But luckily, there are more and more natural solutions on the market to help dogs and cats who suffer from fear, anxiety, and stress (FAS).
One of m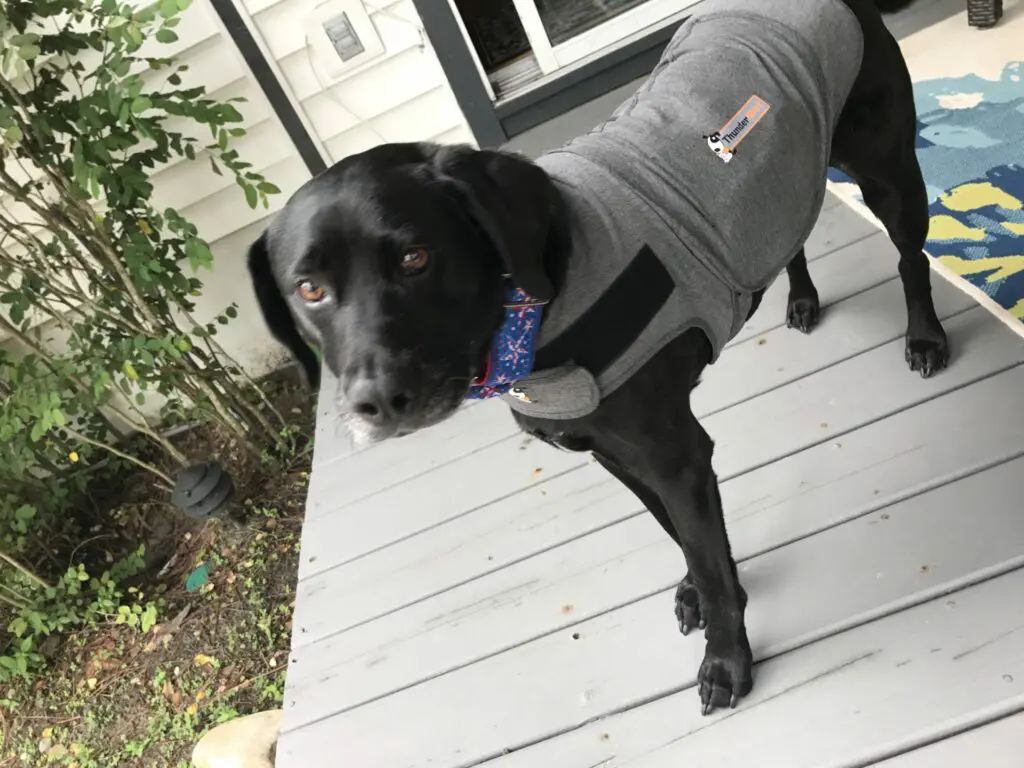 y personal favorites is the ThunderShirt, designed to create a calming effect by providing a constant, gentle pressure to a dog's torso. My dog Chilly has generalized anxiety, which often pops up in the car and at the vet's office, and always during thunderstorms. But when he has his ThunderShirt on, he becomes noticeably calmer and more relaxed. And that makes me calmer and more relaxed, too!
Chilly is just one of millions of dogs that ThunderShirt has helped since it was developed in 2009 by Phil Blizzard. The idea was inspired by Phil's dog Dosi, who was utterly terrified of thunderstorms. After consulting with veterinarians and behaviorists, and trying a number of medications without success, he
decided to try something a friend suggested. He snuggly-wrapped Dosi in a T shirt, just as if he were swaddling a baby, and was amazed at the result. Dosi calmed almost instantly and lay down for the duration of the storm!
Since then, ThunderShirt has been used to help dogs with a variety of other common behavior problems including anxieties, over-excitement, pulling, jumping, barking, and much more. It has been proven to have a calming effect in over 80% of dogs, and in a recent survey of veterinarians, 98% reported having success when using the ThunderShirt to treat clients with FAS!
From my own experience, I love that ThunderShirt is effective, affordable, easy to use, and has no side effects. I also love that ThunderShirt gives back to rescues and shelters through their ThunderWorks Summer Drive campaign. With the help of pet lovers, the company will select over 100 shelters or rescue groups to receive ThunderShirt donations this summer. This is an especially important gift for these animals to help them settle into their new environment and make them more adoptable.
To nominate a shelter or rescue for the Summer Drive campaign, visit www.thundershirt.com/donate, tweet them @ThunderShirt, or message ThunderShirt on Facebook.
In addition to the ThunderShirt, the company offers a number of other natural solutions to help alleviate FAS in dogs and cats. I'm especially excited to try their new ThunderEase spray and diffuser kits. These products were scientifically developed to mimic a pet's natural pheromones, and have proven to be over 90% effective for reducing anxiety symptoms. This should come in especially handy for my kitties, Olivia and Turdie, who get stressed out when we have guests over.
With ThunderShirt's proven line of calming products for dogs and cats, it's possible you'll never have to spend another 4th of July watching your pet cower in fear. Check them out at ThunderShirt.com today!
This is a sponsored post. However, all opinions and anecdotes are my own, and I never promote any products or brands I don't believe in. ~Petfully yours, Kristen
Pin me: