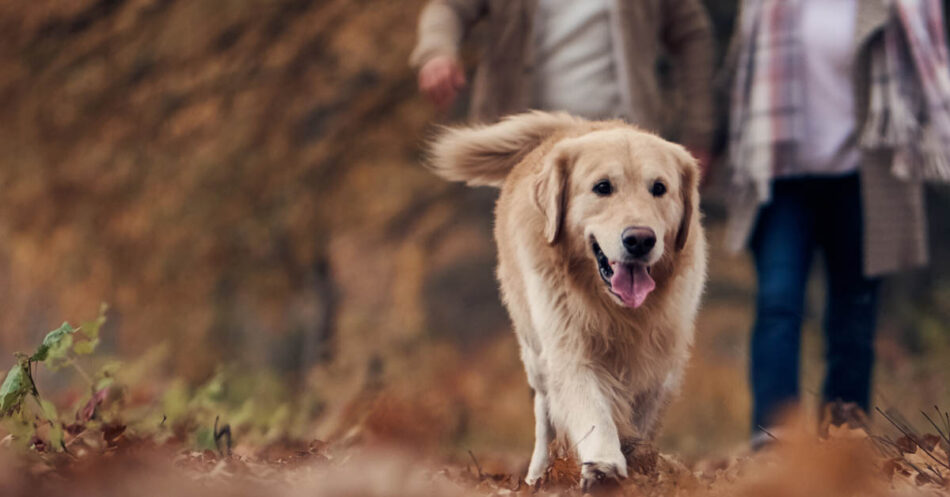 8 Signs Your Dog May Have Arthritis and How to Treat It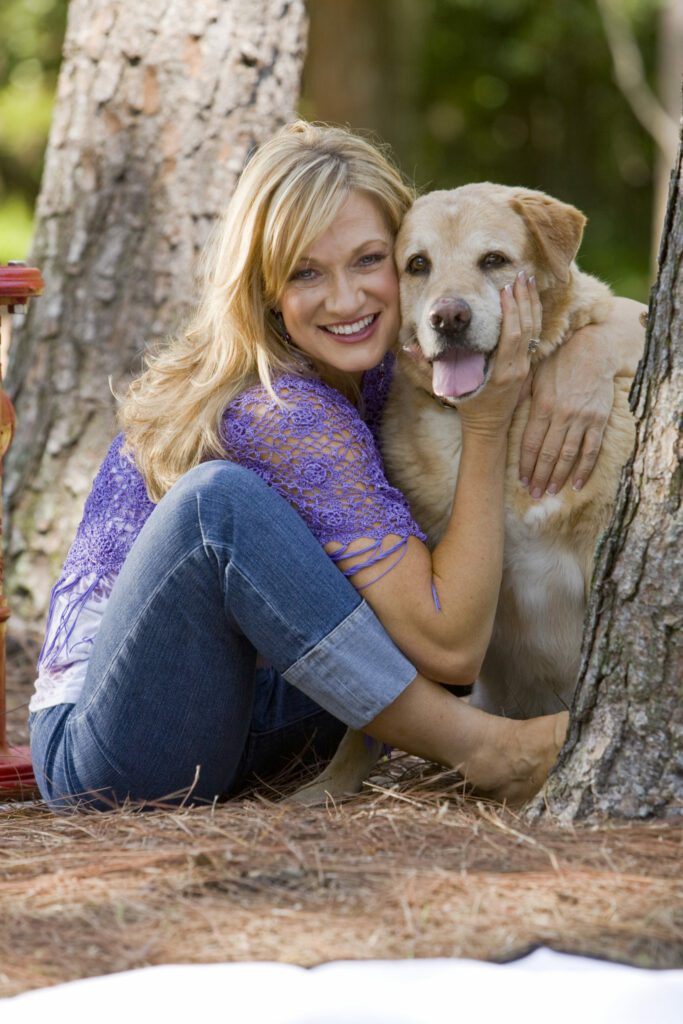 We love our pets and nothing hurts us worse than when they hurt!
I'm all too familiar with the pain that can accompany our cherished canine companions in their senior years.
My late dog, Buck, an adopted yellow lab, suffered from canine osteoarthritis (OA) during the last five years of his life. It broke my heart to watch him slow down in doing the things he loved.
OA greatly affects dogs' quality of life, as they often can no longer do the things they love, like going for walks or even walking upstairs to be near you.
My experience with Buck taught me about the importance of early osteoarthritis detection, as well as what symptoms to look for and how to manage them. Since then, I've been on a mission to share what I know about this condition with other pet parents.
What is Osteoarthritis?
Osteoarthritis (OA) is defined as the progressive and permanent deterioration of the joint cartilage, the tissue between joints that allows them to move smoothly. As joint cartilage becomes damaged or wears away, increased friction in the joint can lead to inflammation, pain, reduced function, or even severe degenerative changes.
Pin me!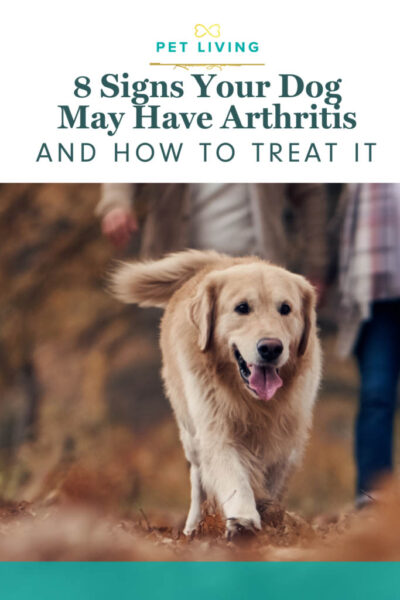 Symptoms of Dog Arthritis
The early signs of arthritis in dogs can be subtle. However, careful observation of your middle-aged or senior dog will help you spot the symptoms so you can get your dog early treatment.
Canine OA can present with both physical and behavioral symptoms. For example, a dog suffering from OA may:
Limp after exercise

Lag behind on walks

Be slow to rise

Have difficulty jumping

Have difficulty ascending stairs

Walk stiffly

Tire easily

Present various behavioral and emotional changes
As you can surely tell from those symptoms, canine OA is a serious condition that can greatly affect your dog's quality of life.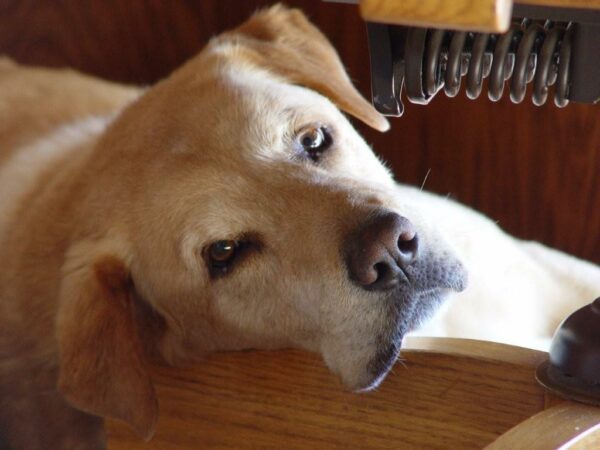 When Buck developed OA, he was limited in doing the things he loved, like chasing squirrels and long walks in the neighborhood. His personality even changed, as he became more anxious, more clingy, and less interactive with his black lab brother, Zeke.
If you suspect that you're caring for a dog with arthritis, please don't hesitate to call your veterinarian. Also, since the initial diagnosis of OA is partly based on a history of symptoms noticed at home, your veterinarian will need your help in making a proper diagnosis.
This OA checklist is a valuable tool designed to help your veterinarian understand which physical, behavioral, and emotional symptoms your dog is showing. Additionally, the results will provide important details about your dog's medical history that could affect his diagnosis. After you fill out the checklist, be sure to bring the results with you to your dog's next veterinary appointment.
Treatment for Dog Arthritis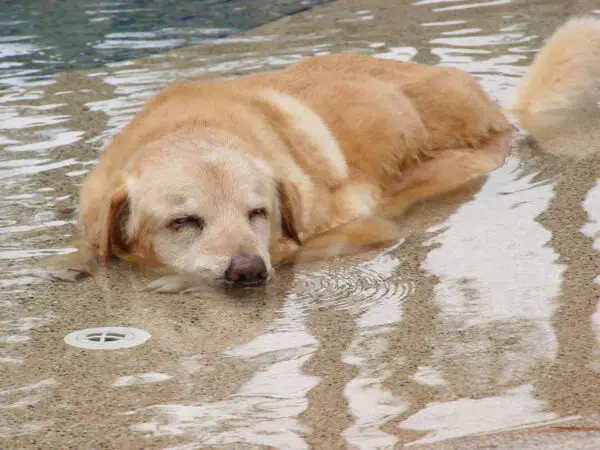 After Buck's OA diagnosis, we worked closely with our family veterinarian and veterinary specialists to maintain his quality of life. Despite his painful arthritic condition and his recovery from ACL surgery, my family and I were able to manage his symptoms using these veterinary-approved strategies:
Weight control. Since extra weight increases stress on joints, we were extra careful to monitor Buck's food intake. For example, we reduced the number of treats we gave him and replaced his traditional treats with healthier options, like carrots and green beans. We also made sure that Buck had his daily walks and playtime. We chose activities that wouldn't make his condition worse. Rolling a ball on the floor slowly worked well since he'd only have to walk to catch it.
Environmental modification. To help Buck avoid climbing stairs, we moved all of his things to the first floor of our home. We also made his food and water dish easily accessible and bought him an orthopedic bed mat that made it easier for him to sleep. Sometimes, we even let Buck lay in the shallow end of our pool since water immersion helped relieve his joint pain. For more information on how to treat dog arthritis using environmental modification strategies, take a look at this page from PetMD.
Mobility aids. In the last year of Buck's life, we used mobility aids like this one to assist him in getting up and around.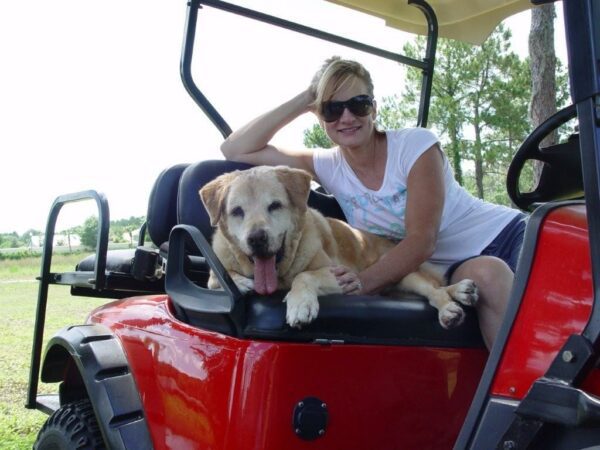 We even bought a golf cart so that Buck could enjoy sights and smells on long rides around the neighborhood, which replaced the long walks we used to take.
As you can see, Buck loved his rides!
Prescription medication. There are medication options for dog arthritis too. Pain control is one of the most important ways a pet parent can care for a dog suffering from canine OA. Without proper pain control, it's difficult to keep a dog active and healthy or to help a dog lose weight, both of which can relieve symptoms of canine OA. Additionally, a dog's quality of life suffers drastically with chronic pain.
Our veterinarian highly recommended managing Buck's canine OA pain with a prescription for RIMADYL® (carprofen). RIMADYL® was the first FDA-approved NSAID for dogs.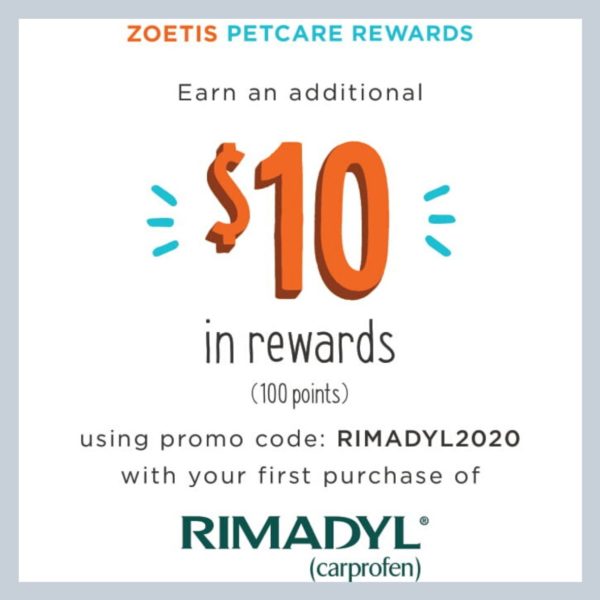 After learning that more than 3 billion doses have been dispensed, over 29 million dogs treated, and over 24 years of research1, I had confidence in my veterinarian's recommendation that RIMADYL® was the best prescription choice for managing Buck's canine OA pain.
I'd like to share this $10 reward offer from Zoetis Petcare Rewards for any pet parent out there who might need it. Use the promo code Rimadyl2020 with your first purchase of RIMADYL® and then redeem the points for pet care products, veterinary checkups, and more!
Raising Awareness for Canine Osteoarthritis
My previous experience with Buck's canine OA has made me extra careful about early detection. My dog, Chilly, is 10 years old now, and I've noticed a couple of recent behavioral changes that could indicate early signs of OA.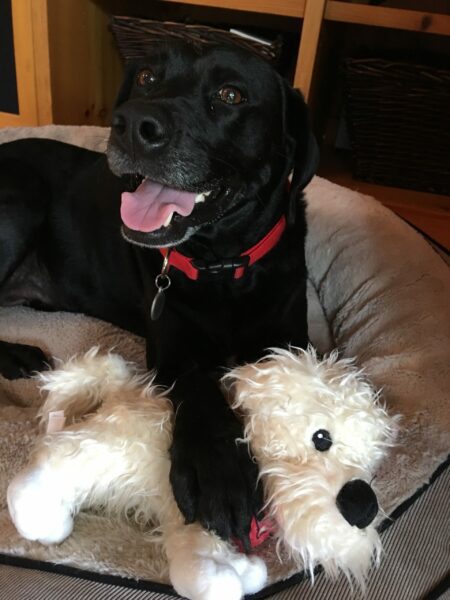 Concerned for Chilly's quality of life, I decided to make an appointment with my veterinarian to rule out OA. Although Dr. Cole found no signs of the disease at Chilly's physical exam, he recommended scheduling him for x-rays so he can see if there are any early signs of joint tissue degeneration. And I'll continue to be on the lookout for any progressive symptoms in Chilly's behavior.
Meanwhile, I'll continue sharing Buck's story with pet parents like you to raise awareness for canine OA, the importance of early detection, and the most effective ways to manage OA symptoms.

IMPORTANT SAFETY INFORMATION: As a class, NSAIDs may be associated with gastrointestinal, kidney and liver side effects. These are usually mild, but may be serious. Pet owners should discontinue therapy and contact their veterinarian immediately if side effects occur. Evaluation for pre-existing conditions and regular monitoring are recommended for pets on any medication, including RIMADYL. Use with other NSAIDs or corticosteroids should be avoided. See full Prescribing Information.
References
1 RIMADYL, Zoetis Petcare. https://www.zoetispetcare.com/products/rimadyl
Kristen Levine has a consulting relationship with Zoetis.
RIM-00290