January 16 is a special day in my family — it's the anniversary of the day we adopted our amazing rescue dog, Chilly! It's been seven years now since Chilly became part of our family, and not a day has gone by that I haven't been thankful to have such a wonderful four-legged friend in my life.
I could hardly think of a better way to celebrate Chilly's adoption anniversary than to encourage adoption by sharing some other fur-bulous animal rescue stories. I didn't have to look far — my friends at Pet Living were more than willing to talk about how they and their rescue pets found each other.
Here are their "tails":
Dylan
The Beginning…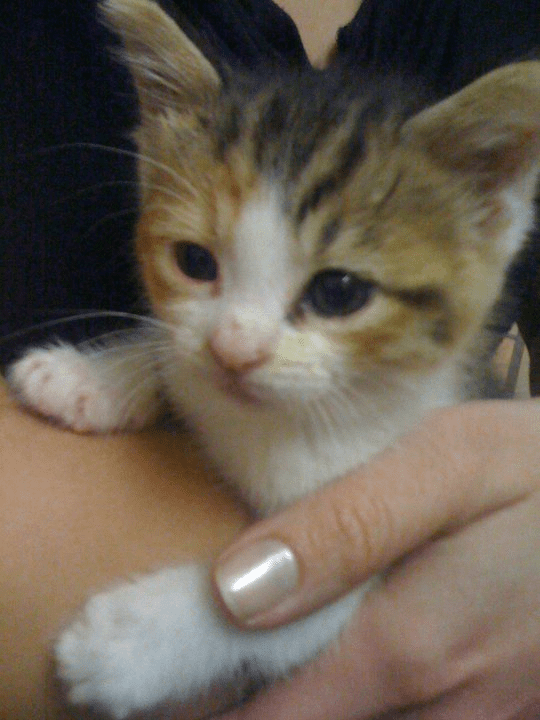 Havalah was no stranger to rescue animals, having grown up with rescues, but her first adoption as an adult was a bit unplanned (as so many great rescues are!) One day when she was on her way home from work, she got a call from a friend who had found a tiny kitten huddled in a box on the sidewalk of a busy industrial street. She was unable to care for the kitten herself, so Havalah volunteered to help out, not knowing at the time that she was about to meet her newest family member.
When Havalah arrived, she could tell that the kitten, a little calico girl, was sick and far too young to be separated from her mother. She took her to an animal hospital, where they estimated that she was about 2-3 weeks old. Since she was too young to be weaned and needed constant care, she stayed there so that she could get the nursing and supervision she needed to grow strong and healthy.
Purr-fully Ever After…
This could have been the end of the story, but Havalah wasn't about to walk away from the kitten that had begun to tug on her heartstrings. She visited the hospital daily to bottle feed her before and after work until the kitten was strong enough that she could bring her home.
Havalah's new kitten was a feisty
little fighter, always hissing, biting, and meowing. Then one day while she was acting like her usual crazy self, a Bob Dylan song came on the radio and she calmed down to an almost zen-like state. Havalah was surprised by the sudden transformation, so she began experimenting. To her amazement, Bob Dylan always seemed to help her kitten calm down and relax. It seemed only appropriate to name her Dylan.
Havalah now describes Dylan as a loving, playful, and easy going cat. Since the two of them bonded so strongly when she was young, Dylan became accustomed to being her constant companion, even riding in the car with her quite happily. Eventually the two began to travel together as well. They have lived in Paris, Italy, and England, where she has loved everything from chasing pigeons off Parisian rooftops to pursuing chickens and bunnies in a big Italian garden. Now the two pals are happily residing in Connecticut, where Dylan pounces around contentedly looking for her next adventure.
Kevin
Here is Abigail's sweet story about how Kevin became part of her family.
The Rescue…
Kevin, a lovable chihuahua mix puppy, was dodging in and out of traffic, until Abigails's cousin, Jason, picked him up. He was flea-ridden and scared, with no collar and no chip ID.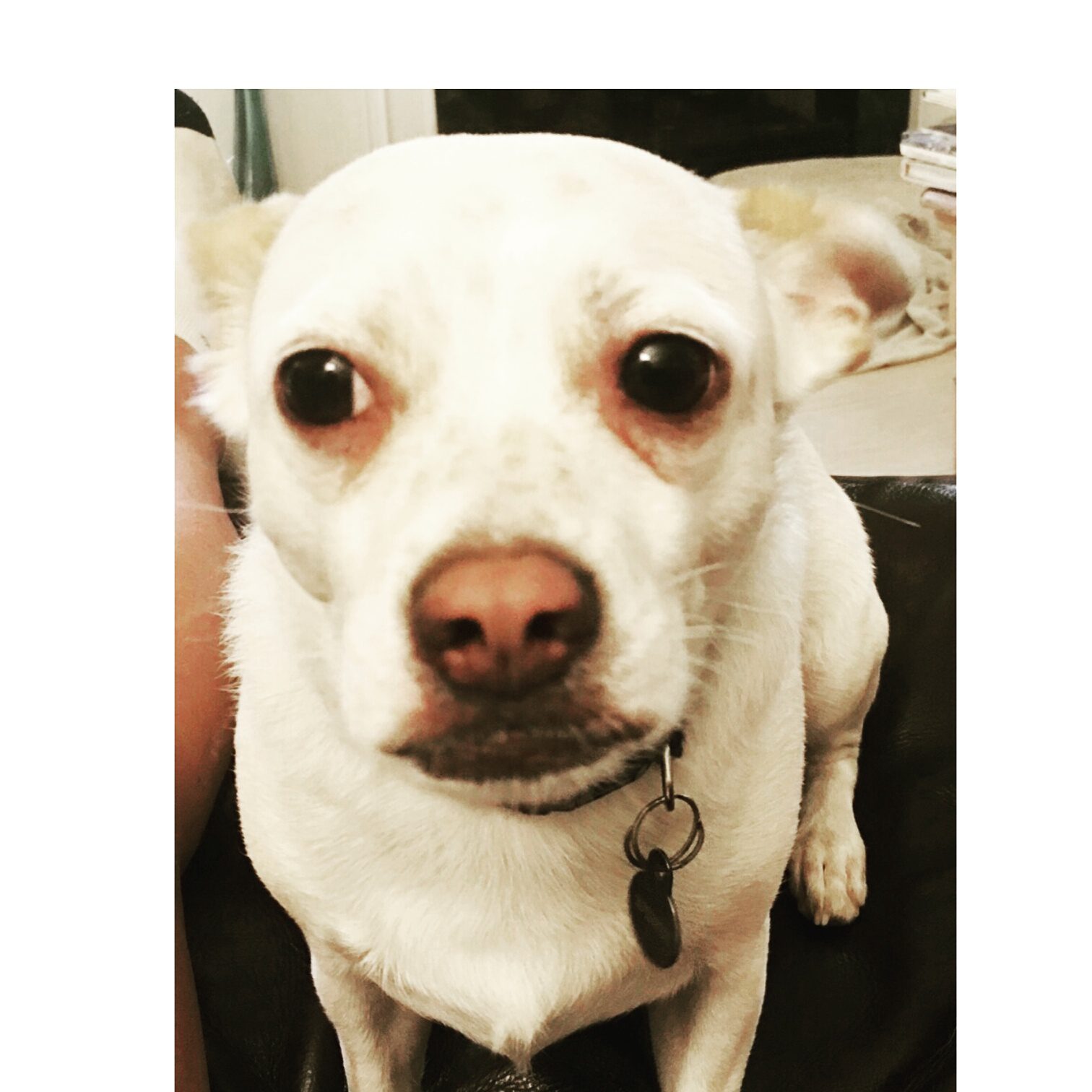 Unable to care for him, since his landlord didn't allow pets, Jason dropped Kevin off at his parents' (Jake and Ava) house. They bathed him and set out to find his owners, searching every message board, shelter, and kennel they could think of. It appeared poor Kevin was without a home and puppy parents to love him.
Jake and Ava were nervous about how Kevin would fit into their current pack of three older dogs (aged 9-11). They reached out to their friends and family to see if anyone would like to take care of Kevin. Pet Living even ran a Facebook post to try to find Kevin's forever home.
Home at last…
There were a few offers, but by this point, the whole family had completely fallen in love with Kevin (affectionately dubbed "The Sweet Dog" by the grandkids), and no home seemed good enough for baby Kevin! Within a couple of weeks, Kevin received his collar and name tag. He wasn't going anywhere.
One year later, and Kevin has fully adapted to his fur-ever home. He and Reilly, the elderly Boston Terrier, are play buddies, and even headstrong pups – Murphy, the American Bulldog, and Russell, the Jack Russell Terrier – have accepted Kevin into the pack.
Even though he is her uncle and aunt's dog, Abigail and Kevin are known for being attached at the hip quite literally. He knows she'll pick him up and carry him like a baby everywhere she goes. As soon as she puts him down, he's clamoring at her legs to persuade her to pick him back up again! They see each other every couple of weeks or so – Abigail says it's not nearly enough!
Bo, Sunny, and Snophie
An Unexpected Rescue…
Alisa and her mom were out walking their dogs on a route that passed "the cat house." Every year there were new litters of kittens, and the horde of cats hanging out on Miss Minnie's porch kept increasing. As they walked by, Alisa's mom told her, "I'm just going to see the kittens," but Alisa kept going with the dogs. She knew herself well enough to know that she couldn't just look.
When she came back around the corner, she could see that her mom was holding something up close. "Groan!" she thought, "I knew it!" One look at the little guy, though, and she understood. His eyes were completely pasted shut with infection, and the fleas were eating him alive.
The took him home, bathed him, fed him, and took him to the vet. Although he ended up in her home, Alisa wondered if she could keep him safe from her two dogs, and she refused to name him. (At the time she considered herself more of a dog person, although her little rescue was starting to make inroads.)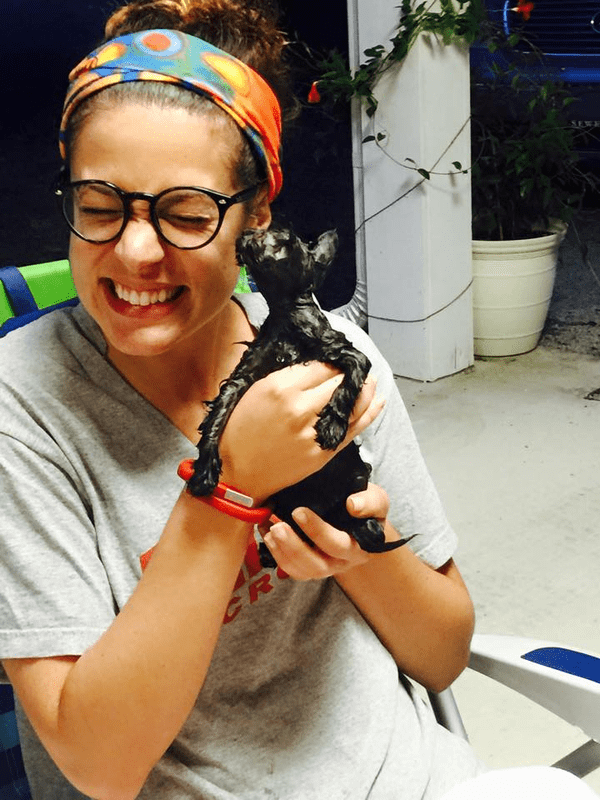 Within a week, Alisa and her mom had worked with Miss Minnie to get all of the kittens rounded up and cleaned up. She invited a couple of friends over for a kitten capture and cleaning party in the carport. A local cat rescue helped them to get the many medications that they needed. All they had to do was to get it into six squirming, 8-week-old kittens twice a day. It was no easy task — and it seemed like it would never end!
The Fur-ever Home…and another cat!
Fast forward to Bo (the original rescue) naming himself by walking on her iPad, and Alisa was hooked! Eventually all of the kittens found homes (several of them with their rescuers!), even one who had seemed completely feral became all sweetness and play the moment she arrived at her new home.
Not wanting to repeat this process year after year, they set about trapping the adult cats, having them neutered and vaccinated, and releasing them. Somehow Alisa ended up with one more big black boy who realized he'd stumbled onto a good thing and now spends most evenings purring on her.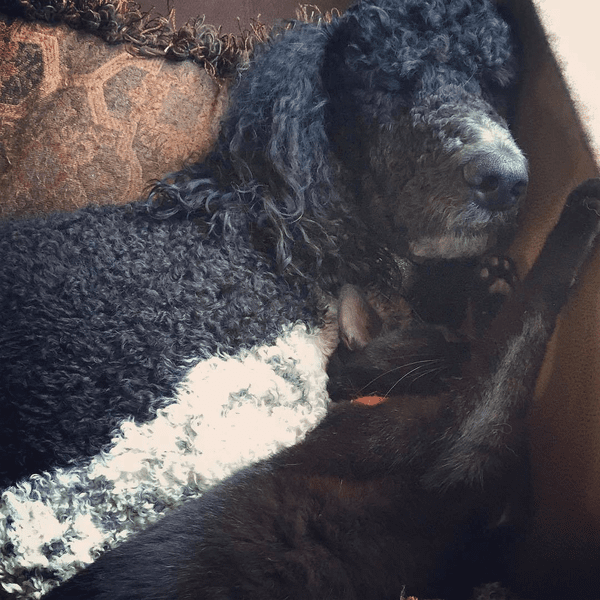 The dogs, normally completely enraged by the sight of cats, have accepted the new additions. Sure, there are moments of mayhem, but that keeps life interesting. Bo has developed a big crush on Poodle LooWee, and the purring, head-butting, rolling over in excitement (usually right ON tolerant LooWee) are completely hilarious.
These days, the cats come with them on part of the walk — much to the amusement of their neighbors, who will stop their cars in the middle of the road to marvel at the site.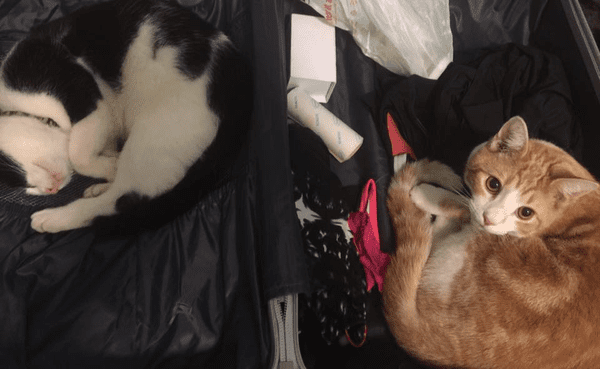 Snophie, the biggest character of them all, will chase other walkers down the street to demand attention.
They bring so much amusement that although her vet confirms she has officially reached "Crazy Cat Lady" status, she wouldn't think of doing without them.
I firmly believe that we need our animals just as much as they need us. Sometimes it's hard to decide who really rescued who! Check out this free ebook to learn how the human-dog bond can lead you to a healthier mind, body, spirit, and community.