Can you picture yourself in this scene? It's a gray, dreary day, and you're nestled on the sofa with a great book and your favorite furry companion. If your reading buddy is a dog, he may be snuggled up by your feet, and you can feel his wagging tail lightly thumping on your leg. If it's a cat, you might have had to move him off of your book a few times, but he's now settled in to a spot that you can both live with, and he's purring contentedly while you gently scratch his chin with your free hand. You glance out the window at the falling rain (or snow depending on where you live) and you can't imagine anything else you'd rather be doing.
Isn't it true that there are some days that just make you want to curl up with a good book? And if you can combine your love of reading with your love of pets, that's an added bonus!
Here are 5 of my favorite books of 2016 – all with a focus on pets, of course!
 My Favorite Books for Pet Parents
 Fur Covered Wisdom by Gila Kurtz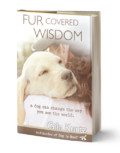 I believe firmly that we need our pets just as much as they need us. And though we may teach them to sit, to fetch, and to come when called, somehow they've already mastered some of the bigger, more important lessons that can take us a lifetime to learn.
My friend and colleague, Gila Kurtz, is a dog trainer and founder of the Dog is Good lifestyle brand. Her book, Fur Covered Wisdom, is part memoir, part personal growth. In it, she tells the story of how she turned her love of dogs into a 7 figure a year business only to wake up one day stressed out, unfulfilled, exhausted, and unhappy. Gila explains how she reclaimed her happiness and designed a "life worth barking about" when she learned to embrace the anecdotal life lessons taught to her by her dogs.
One of these lessons that we can learn from our dogs? "Dogs don't hold back. They see something they want and go after it. No matter what obstacles get in the way, the sheer act of chasing becomes the reward in and of itself."
Makes a great gift for any woman who loves dogs and enjoys personal growth and development, with their dog at their side.
Unlikely Companions by Laurie Hess, DVM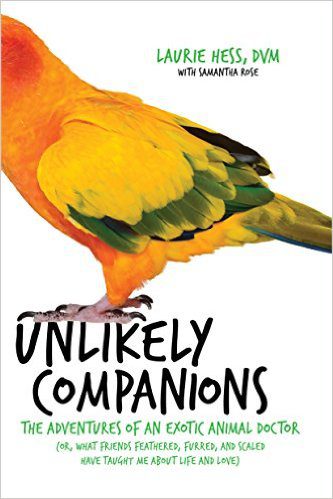 Laurie Hess is another friend and colleague in the pet world whose expertise picks up where mine leaves off. Dr. Hess has experience with a group of animals that is quite different from the dogs and cats that I spend most of my time with. She's been an exotic pet doctor for over 20 years!
Dr. Hess's book, Unlikely Companions, the Adventures of an Exotic Animal Doctor (or, What Friends Feathered, Furred, and Scaled Have Taught Me about Life and Love), takes readers through a week of her life where she tries to uncover the source of a mysterious ailment that is leading to the sickness and death of young sugar gliders.
Interspersed throughout the story are many other entertaining, heartwarming, and sometimes tear-jerking stories. Dr Hess relates her experiences with some remarkable exotic animals and their equally quirky, dedicated, and sometimes demanding owners, as well as how her work impacts other areas of her life.
Unlikely Companions is a fun blend of mystery, personal memoir and reflection, and unusual anecdotes that's sure to please any animal lover.
Makes a great gift for anyone considering an exotic critter for a pet. It's a must read BEFORE you adopt, (ideally).
My Old Dog by Laura Coffee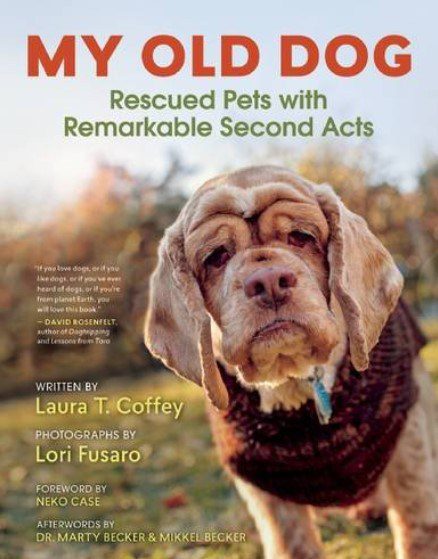 I definitely have a soft spot in my heart for senior dogs. Although these pooches are frequently well trained, easy-going, and affectionate, senior dogs who end up in shelters face huge challenges when it comes to finding their fur-ever homes.
Laura Coffee's book, My Old Dog, Rescued Pets With Remarkable Second Acts, is refreshingly full of happy endings. It tells the stories of senior dogs who were successfully adopted and the joy that they and their families found as a result. The book is full of touching stories and amazing photographs that capture the true beauty of dogs in their golden years.
Makes a great gift for any dog lover who has loved a senior pooch. I think it's also a great read that will (hopefully) inspire the adoption of an older dog.
Cooper, a Rescue Dog's Tail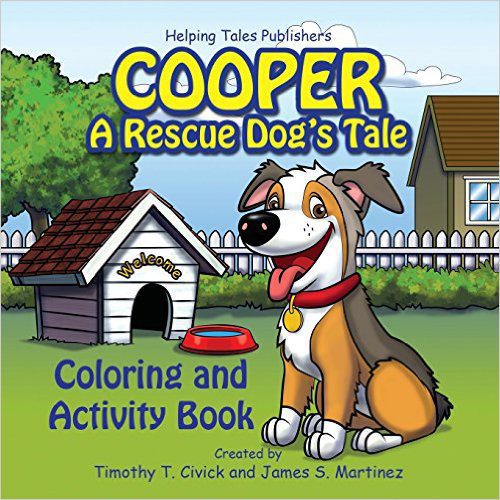 This coloring and activity book is based on a true story. It follows the adventures of Cooper, a rescue pup in search of his fur-ever family. The rhyming story and the fun activities are a great way to teach children (and adults) about how to get involved and help animals in need.
Cooper's story is brought to life by Timothy T. Civick, James S. Martinez, and Helping Tales Publishers. Helping Tales' motto is "Helping those in need, one story at a time." To that end, they donate a percentage of all book sales to select charities.
Makes a great gift for young children! The activities keep them busy being creative and the story inspires them to learn the value of pet rescue and adoption.
The Original Cat Bible: The Definitive Source for All Things Cat by Sandy Robins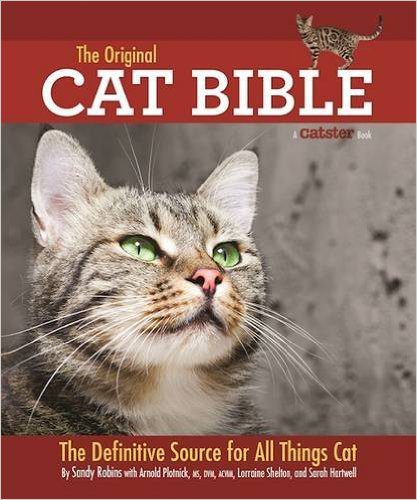 If you're a cat lover, this is the book for you! It's 500 pages of virtually everything you wanted to know about cats (and a few questions you never even thought of asking!)
The Original Cat Bible covers everything from the history of cat breeds, to cats' place in religion, folklore and pop culture, to interesting trivia and facts.
There's also an extensive section on feline health care written by veterinarian Dr. Arnold Plotnick. For cat parents, there's information on every imaginable aspect of adoption and care.
Happy reading!
Looking for the purr-fect gift for the cat or cat parent in your life? Check out my cat gift board on Pinterest!
Pin me: