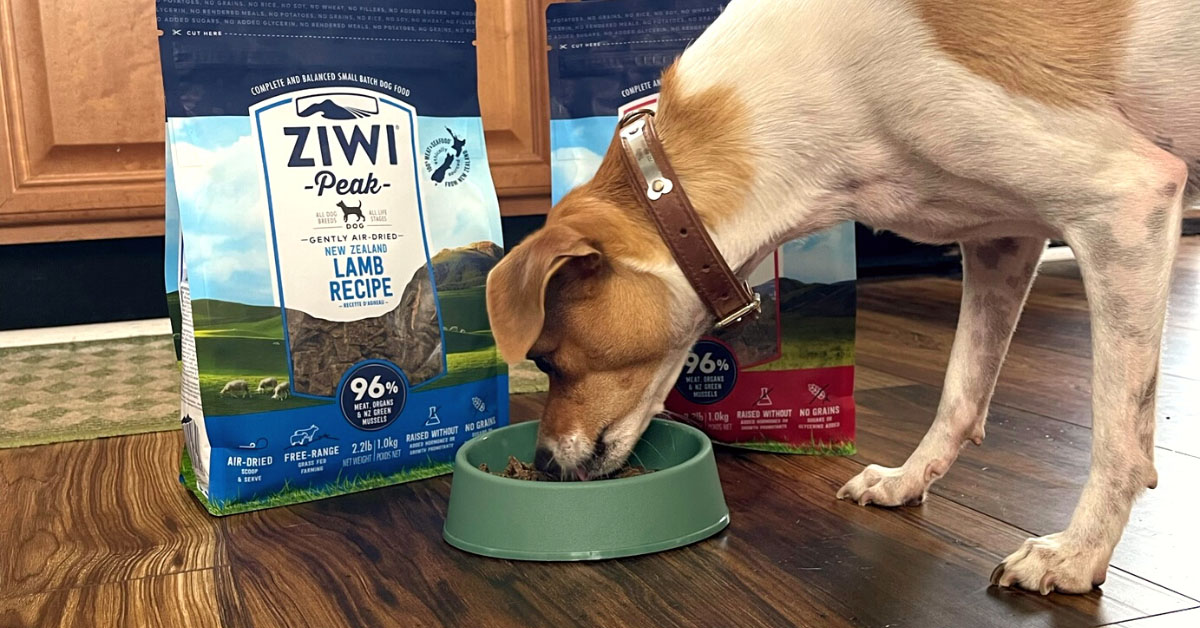 6 Reasons Why ZIWI Air-Dried Dog Food is Good for Your Dog
Your dog's nutrition is probably one of the most important factors in longevity and well-being. You're right to be picky about it! I don't usually recommend specific foods, but air-dried dog food, in my opinion, is one of the best options for your dog. 
Why I Don't Usually Recommend Dog Food
Dog food is a bit of a hot topic since there are so many options, including kibble, raw, canned, air-dried, fresh-frozen and freeze-dried. And then there are toppers.
My dog, Tulip, like many dogs, gets bored of eating one specific dog food, so I have to regularly rotate foods with her. Like humans, dogs don't always want to eat the same thing day in and day out. Some dogs want variety.
And their nutritional needs may vary depending on the season or their own state of well-being.
That said, I have been thinking about this question I get asked a lot: "What is the best dog food?" Usually what people really want to know is, "Which brands make safe and nutritious dog food?" There are so many foods on the market which can be super confusing.
So today, I want to walk you through one of my favorite brands, ZIWI, and their air-dried dog food.
Pin me!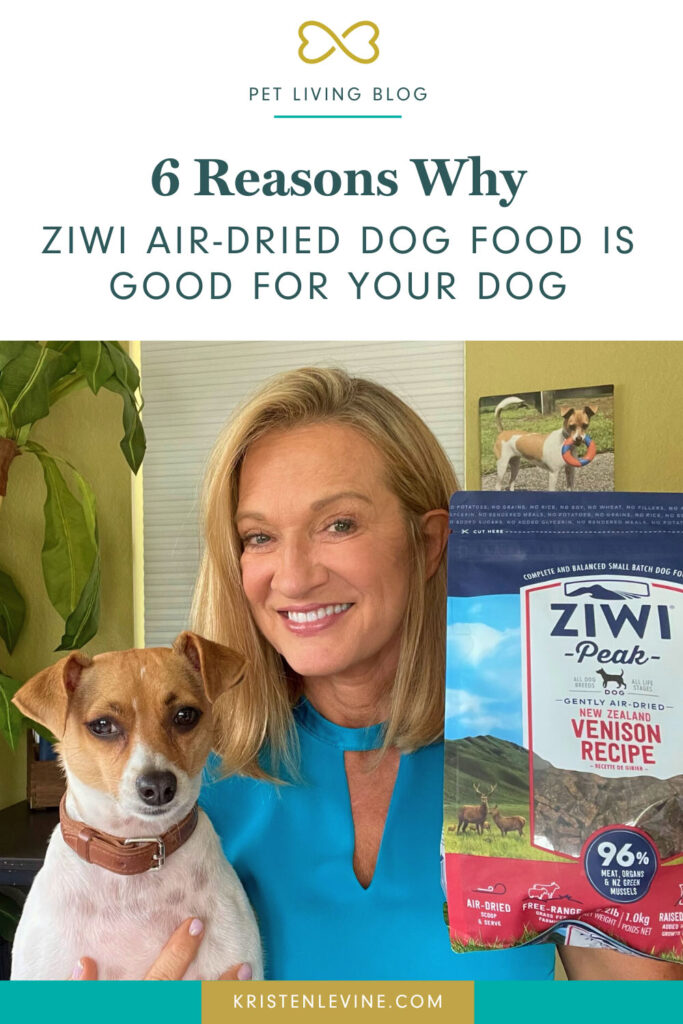 6 Reasons Why I Do Recommend ZIWI Air-Dried Dog Food
When it comes to what my dog eats, I do my research. If I'm going to recommend a dog food, or any pet product, for that matter, it's because I've done a deep dive into what makes it worthy of recommendation. I hope you find this helpful in deciding whether or not it's right for your dog.
The Protein
I'm really picky about what meats I eat and I don't feel any differently about the proteins I give to my dog.
ZIWI sources proteins from grass-fed and finished beef and lamb. Their poultry is free-range, and their fish is wild-caught.
This is important to me because whatever the food source eats is what ends up in my dog's body, so I want it to be pure and without growth hormones or antibiotics.
I also love that there are a variety of protein sources to choose from, which means your dog may have less of a chance of developing allergies to one particular protein.
Their protein sources include:
Beef
Lamb
Mackerel
Trip
Chicken
Venison
Each recipe is made up of 96% meat, bones, and organs, which appeals to your dog's inner predator. The remaining 4% is composed of whole ingredients, like organic kelp and green lipped mussel. They never use fillers.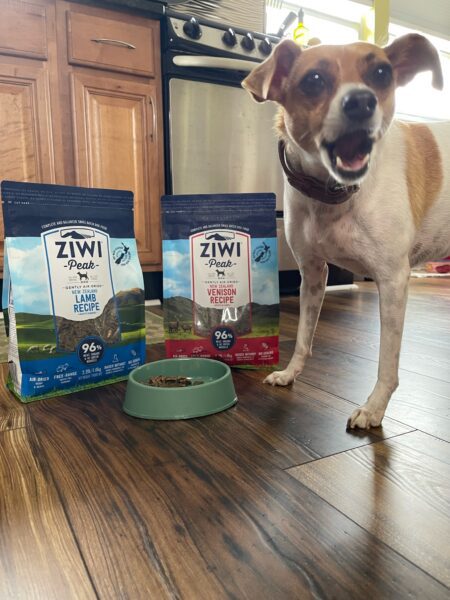 Green Lipped Mussels
Green lipped mussels are coming in hot! If you've never heard of them, you probably will soon. This powerhouse ingredient has been showing up in supplements for dogs, and ZIWI Air-Dried Dog Food includes it in their tasty recipes.
New Zealand green lipped mussels are known for being nutrient-dense. They're rich in magnesium, zinc, chondroitin, and omega-3 fatty acids. This makes them an ideal single food source for bio-available nutrients that nurture your dog's mobility with joint and ligament support.
They also contain glucosamine, which is very helpful for inflammation and pain control, especially if your dog is dealing with arthritis.
The Sourcing
Sustainability is important to me, even when it comes to my dog's food. The farmers and fishermen that are employed to harvest the ingredients for ZIWI are committed to sustaining the environment. As one of their farmers put it, "Animal welfare is the number one priority for us. If you're not looking after the animals, then there's very little point in being a farmer."
You can read more about their sourcing on their website.
The Manufacturing
How your dog's food is processed is just as important as the ingredients it contains. There are many easy-to-grab kibble formulas that include omega-3s, vitamins, and nutrients.
The problem is many of those are heavily processed and heat-treated before they're packaged, meaning your dog isn't getting bio-available nutrients. In addition, many of those otherwise valuable ingredients become rancid when heated and treated, so they could actually be doing more harm than good.
Here's how ZIWI prepares their air-dried dog food. Working in small batches, they combine the protein with bone (excellent for your dog's joints), organs and their superfood blend, which includes green lipped mussels.
Next, the mixture is poured into trays and allowed to air dry using Z-TWINTECH® dryers which slowly circulate the air, drying the food naturally. This process, done very slowly, removes any pathogenic bacteria and helps the food retain freshness while enhancing its flavor.
Finally, the food is cut into bite-sized pieces and packaged up for delivery.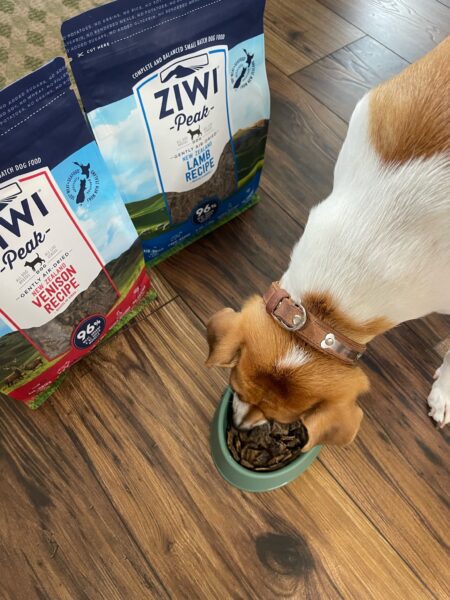 The Convenience
As much as I would love to be one of those dog moms that prepares a whole-food raw meal for my dog, it's probably not going to happen in this lifetime! Air-dried dog food is a perfect solution for those who wish to feed raw, but don't have the time or experience to do so properly.
It's convenient and it has the bio-available ingredients that I want for my dog. You can feed your dog ZIWI air-dried dog food as a complete and balanced meal, a topper, or as a tasty treat.
Freeze-dried foods can also be very nutrient-dense, but they typically require some mixing. ZIWI's air-dried dog food comes ready to eat. Just open and scoop. It even comes with its own scoop inside the bag.
You can purchase ZIWI air-dried dog food on their website, on Amazon, and in select pet stores.
The Taste
All I have to do is open the bag (which is resealable by the way) and my dog comes running! She loves the flavor and the crunch. It makes a lot of sense to me why she prefers this too.
Because the ingredients are so fresh, the food is very dense in flavor. Would you rather have a pre-cut fast food hamburger or a thick, juicy, freshly grilled grass-fed steak? For most of us, that's a no-brainer. Your dog feels the same way. Fresh, quality ingredients make meal times much more appealing.
The Tail End
Your dog's food is a very personal choice. But if you're looking for food with sustainable, natural, and bio-available ingredients, ZIWI air-dried dog food may be the perfect fit for your dog.
This is a sponsored post, however, I never recommend products I don't "paw-thentically" love!