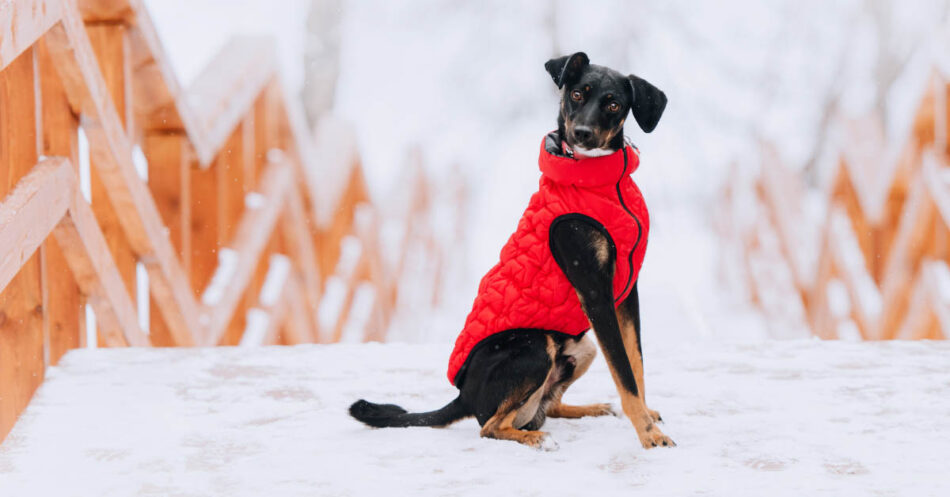 5 Adorable Winter Dog Jackets You Must Buy Right Now
Does your dog need a winter jacket? Probably not. Are you going to buy one anyway? Obviously! Winter jackets for dogs don't exist just for the cuteness factor though.
Dogs are susceptible to the cold just as humans are. Some breeds, like Siberian Huskies, Saint Bernards, and Pyrenees, are bred for cold weather and can sustain colder temperatures more than many other dogs can tolerate. However, all dogs have limits to cold weather exposure.
Although we talk a lot about not leaving your dog in a hot car, you should likewise never leave your dog in a cold car. Dogs are at risk for hypothermia just like people. And, of course, you should never leave your dog outside on cold days. Small dogs and dogs with short, thin or smooth coats need special attention in the winter months as the cold will affect them more quickly.
However, your dog is bound to have some cold weather outings, even if it's just for potty time, so let's make sure you have the best winter jacket to keep your dog warm and looking adorable!
Here are my favorite dog jackets for every winter climate.
Pin Me!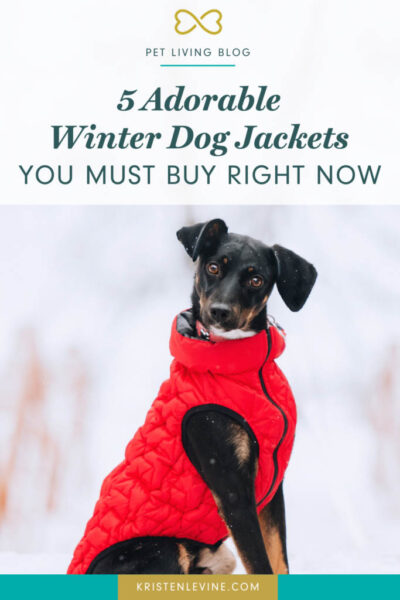 Best Dog Jackets for Cold Winter Climates
Although I currently live in the south, I'm no stranger to cold climates. I previously lived in Chicago, where the snow is measured in feet, not in inches! And with mountains of snow come bone-chilling temperatures. And that means your dog needs to bundle up, especially if he or she is a small breed dog.
Puffer jackets are great for dogs who live in cold winter climates. Even small dogs who live in southern climates do well in a cozy puffer jacket.
Here are my favorites.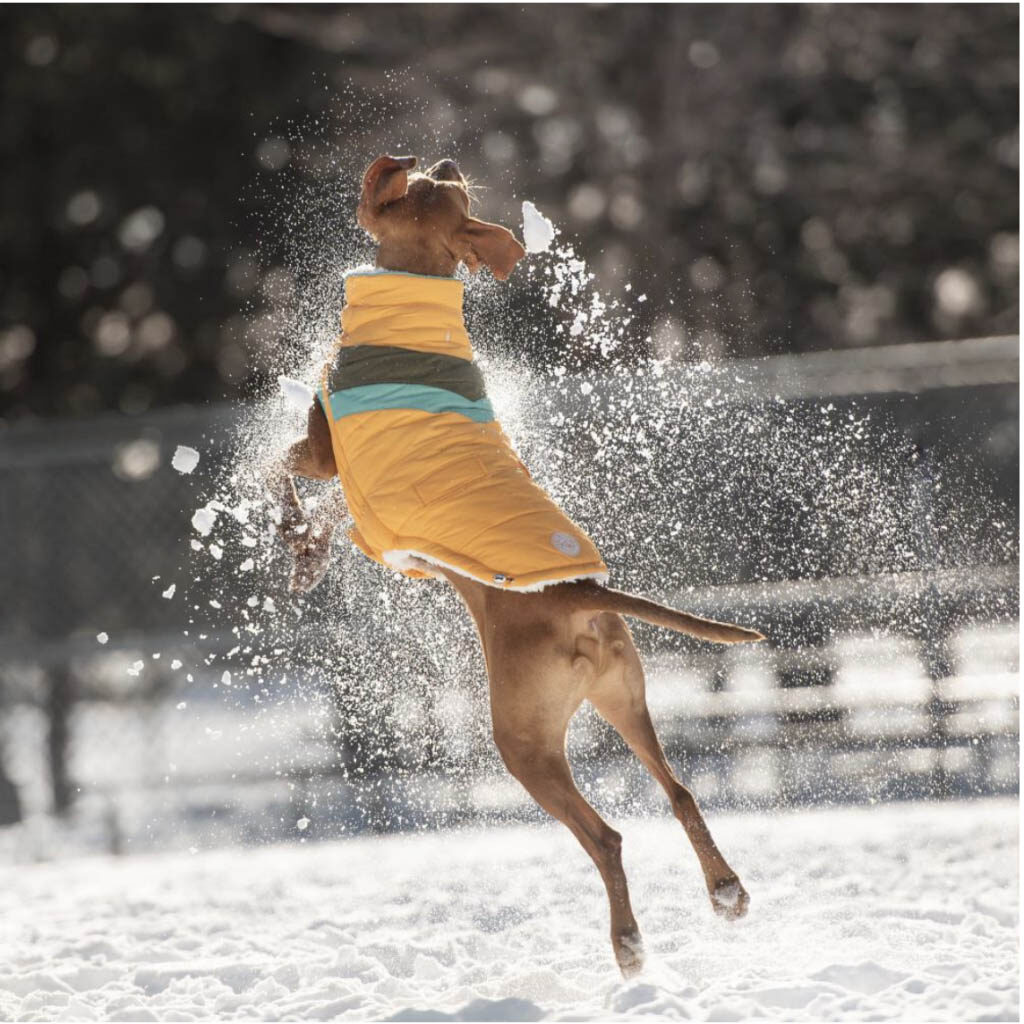 This jacket is so retro and adorable. The chevron stripes take me back!
What I love about this jacket:
It has an opening at the neck so you can attach your dog's collar/harness to a leash.
The adjustable bungee cord allows you to cinch to your dog's waist – perfect for pups with tiny waists.
The popcorn sherpa lining is ultra warm.
Faux pockets for extra cuteness!
---
This is the jacket I have for my Tulip. She wears it when we visit family in Colorado. With coordinating booties, of course!
For the price, this jacket comes with a lot of great features.
Here's what I love about this jacket:
It's easy to put on – slide it over your dog's head, slip the paws through, and then secure with the velcro closures.
The reflective stripe makes her easier to see in low light.
Ribbing at the neck ensures cold air isn't funneling down the jacket.
A two-way zipper opening on the back makes it easier to attach a harness.
Tulip looks adorable in it!
It has nearly 2,000 positive reviews on Amazon, and as we're headed into our second season of using it, I fully understand why. I will caution, though, that it's perhaps not quite as warm as some of the lined puffer jackets, so it's perfect for short walks on brisk days, but perhaps not as useful during bitterly cold weather, especially for small dogs.
---
This is another Pet Living favorite! Zuzu lives in a warm climate, but winter temps can still dip into the 20s, so a warm and cozy jacket is necessary to take off the chill.
Since Zuzu is a Yorkie mix and has hair, not fur, the chill hits her skin hard, so a puffer jacket with a hood works best for her.
Here's what I love about this jacket:
The variety of colors makes collar and leash coordination easy.
A snap-on hood keeps the ears warm when the bitter cold hits.
The fleece lining is ultra soft and warm.
It's water-resistant shell keeps snowflakes away.
This jacket buttons in the front so if your dog is particularly antsy or hyper, you may find it challenging. That said, there are only three snaps, so if you can leave at least two closed, you can easily slip the jacket over your dog's head.
It has thousands of positive reviews on Amazon, and for the price point, you really can't go wrong!
---
Best Dog Jackets and Pullovers for Mild Winter Climates
Even mild winter climates warrant a light jacket or sweatshirt for some dogs. Remember, unless your dog has a thick undercoat, when you're cold, your dog is likely cold as well.
A light layer or wrap may be all your dog needs when the temperature drops into the 50s or 60s. Here are my favorite dog jackets for mild winter climates.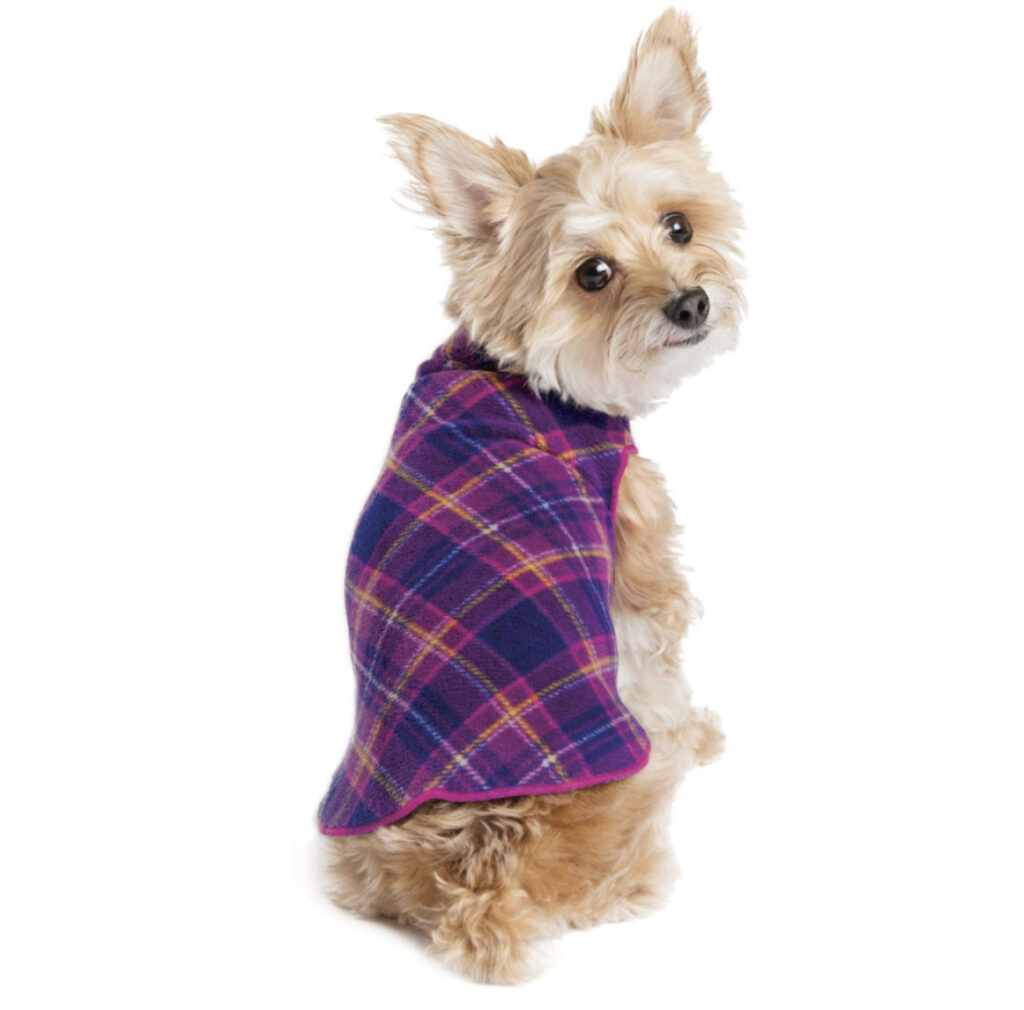 Fleece is such a great lightweight option for dogs. Unlike loose-weave knit sweaters, you don't have to worry about your dog's nails getting caught in the fabric.
What I love about this pullover:
The chest seam is designed to be on the outside of the jacket so it doesn't irritate your dog's skin.
It fits snug enough to wear under a harness.
The pullover design makes it easy to pull off and on.
It comes in plaid and animal print.
For me, ease of use is a huge factor in whether or not I use or recommend a product. And fleece pullovers like this one pass the test!
---
This is Tulip's favorite Christmas sweater. She's a classic kind of dog! We took this sweater with us on a trip to Colorado last year and it was perfect for those mildly chilly days.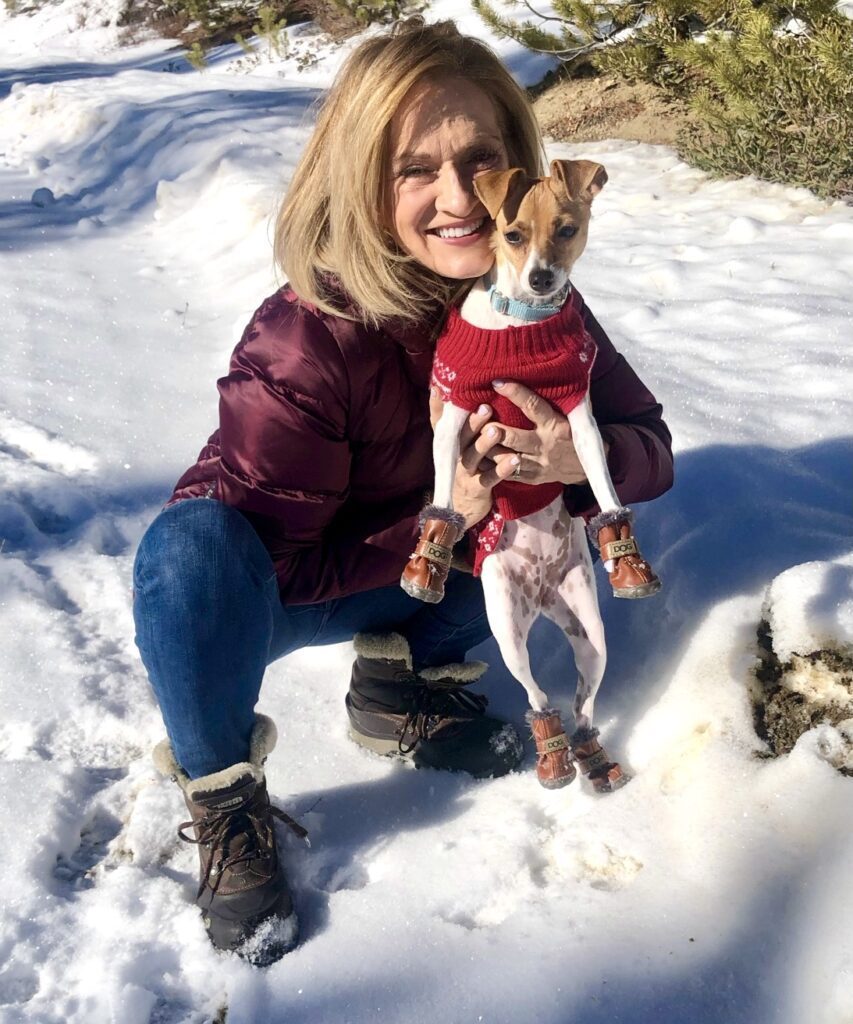 Here's what I love about this sweater:
The weave isn't so loose I'm worried about her toenails getting caught in the fabric.
The slight turtleneck shape keeps her neck warm.
Its pullover style makes it easy to slip off and on.
Plus, it's super affordable and you can purchase it on Amazon, which means easy returns if you need to snag another size. We got Tulip's sweater when she was still a puppy, so I'll likely be upgrading the size this winter.
A Few Things to Remember About Winter Safety for Your Dog
Keeping your dog warm is most definitely important during the winter months. However, it's also important to remember hydration.
We often think about dehydration during the hot summer months, but cold dry air can bother your dog as well. In fact, dogs can even get sick with a cold during the winter months. Keeping your dog's water dish full and accessible is very important.
Also, ice and packed snow can cause cuts and abrasions on your dog's skin and feet. It's one reason we use booties for Tulip when she's out in the snow. These are the ones we love.
Even for dogs who tend to get cold, winter can be a great season to get outdoors and have some adventures with your pup!