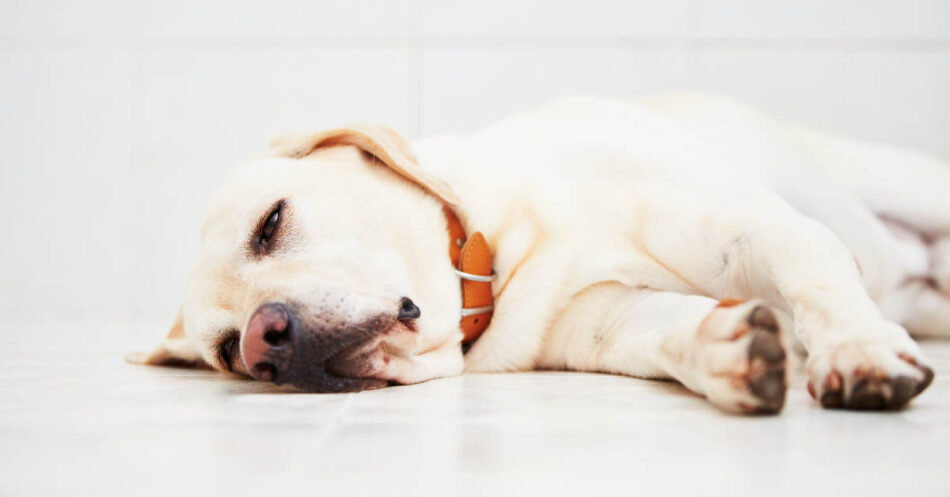 Health and well-being are on my mind a lot these days. Of course, this includes concerns about the overall health of my pets, including my dogs Chilly and Tulip, who I want to remain happy, healthy, and full of the joy they so naturally and freely spread.
I know I'm not alone in this. Though catching a cold can happen any time of year, we know that when temperatures drop, leaves fall off trees, and other signs of the changing season greet us at every turn, we're officially at the start of cold and flu season. You may find yourself wondering if your dog can get sick like humans do. Can dogs catch the common cold? How can you tell if your dog is feeling under the weather – and what can you do to help him feel better?
The first step is learning how to read the signs related to your dog's health so you can lean on proven and reliable methods to help them heal. Plus, there are things you can do right now to help your dog fight off illness year-round, even before it strikes!
How To Tell If Your Dog is Sick
Rest assured that even if you catch a common cold, you can't pass it along to your pup. However, while dogs can't contract the exact same colds humans can, they are susceptible to other strains of viruses that infect dogs and result in many symptoms we're all familiar with, like congestion, coughing, sneezing, watery eyes, and more.
If you notice that your dog starts to show any of these symptoms, and/or seems to be sleeping more than usual or acting a bit sluggish, he may indeed have what amounts to a doggie cold. While it can be difficult to watch your pup feel less than their usual spunky self, these colds are common and usually don't last more than about a week or so.
Caring for Your Sick Dog (& When to Call the Vet, if Needed)
After you've noticed some of these common symptoms, keep an eye on your dog to determine if they worsen, stay the same, or start to fade as the days go by. If your furry friend continues eating and drinking normally, and if he remains relatively active, the cold is likely low-grade and nothing that home remedies like rest, plenty of water, and good, nutritional food can't cure.
If, however, your dog isn't eating or drinking much or at all, seems especially lethargic, or is having trouble breathing, it's time to give your veterinarian a call. They can help you rule out other potential causes for your dog's symptoms, which will give you both peace of mind and a plan to cure what ails him.
Pin Me!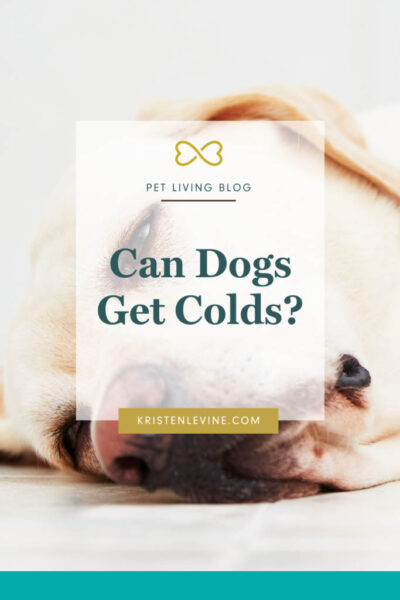 How to Boost Your Dog's Immune System Year-Round
It's normal to think about colds only during the fall and winter, but in fact, just like with humans, efforts to boost your dog's immune system year-round can help him fight off colds and other ailments no matter the season.
Here are some tried and true ways to boost your dog's immune system:
Exercise: Dogs who

exercise

routinely are more likely to get the sleep they need, reduce stomach troubles, and significantly lessen the chance of becoming overweight, which can cause a number of health issues like diabetes, heart disease, and respiratory problems. Running, walking, and playing catch are all wonderful ways to keep your pup engaged and in shape while boosting their ability to fight off illness.

Diet and Hydration: A healthy diet and adequate hydration are key factors of your dog's overall health and ability to combat illness through the years. While I know there are a lot of different options out there, checking out a guide like

this one

(and talking with your veterinarian!) can help you determine what type of diet your pup needs to thrive. Simultaneously, it's important to avoid the enticing trap of feeding your dog table scraps and other junk food, especially because, in the moment, these things seem to make dogs so happy! But these foods can create inflammation, which can irritate your dog's immune system. Additionally, make sure your dog has access to plenty of fresh water throughout the day. Some days, he'll need more than others, so pay attention to that bowl, ensuring it's always full when he needs it most.

Supplements: Exercise, food, and water are all related to your dog's healthy digestion. So are supplements. I started using Vetericyn® ALL-IN™

dog supplement last year and haven't looked back since. I've raved about

Vetericyn

products

before

, and I'm doing so again because ALL-IN can directly and positively affect the long term health of your dog and help them combat health issues including colds and other seasonal illnesses. This protein-based supplement boasts a patented delivery system that ensures nutrients in your dog's food reach where they're supposed to when they're supposed to, optimizing digestion and enhancing nutrient absorption. ALL-IN comes in three different formulas – for

puppy

,

adult

, and

senior

dogs – so it's sure to meet your pup's needs no matter his age. Plus, it tastes good. Chilly and Tulip love them – and that makes my life easier, too! More on ALL-IN below.
Supplements to Boost Your Dog's Immune System
Choosing the right supplement for your dog is an important decision. The hope is that you find one that works well for your dog and lasts a lifetime. For Chilly and Tulip, I've gone with Vetericyn ALL-IN, the science-based, clinically tested, and safe solution for dogs at all stages of life. I've noticed shinier coats, firmer bowel movements, and overall boosts in energy! ALL-IN uses a fast and efficient process known as endocytosis, or active transport, to move nutrients through the body and deliver them to cells so they can be absorbed. No other dog supplement has this technology.
Let's break down how ALL-IN works at every stage of your dog's life:
Puppy: The nutritional complexes in the Puppy formula will support the healthy development of your puppy's vital systems and help lay the foundation for a lifetime of well-being. It enhances bone and joint development, promotes balanced behaviors, maintains healthy digestion, supports healthy immune systems, and promotes cellular health.
Adult: The Adult formula is designed to help maintain peak performance and overall health during your dog's prime years while preparing him for healthy aging. It helps maintain bone and joint mobility and muscle recovery, supports skin health, maintains healthy digestion, supports healthy immune systems, promotes cellular health, and helps improve brain function.
Senior: The customized complexes in the Senior formula target the key issues senior dogs face, including restricted mobility, lowered immunity, and increased anxiety. It's the most complete way to keep your senior dog healthy and happy during his golden years. It promotes bone health and joint mobility, boosts metabolism and heart health, maintains healthy digestion, supports skin health, improves immune response, promotes cellular health, helps reduce anxiety, and protects brain function.
As dog parents, we all want our pups feeling good year-round. The steps and suggestions above (complete with plenty of love and snuggles) will help your dog avoid getting sick, or at least help him feel better quickly if he does.
Use my code PETLIVING to get 20% off your purchase at Vetericyn.com.
This is a sponsored post. However, all opinions and anecdotes are my own, and I never promote any products or brands I don't believe in. ~Petfully yours, Kristen