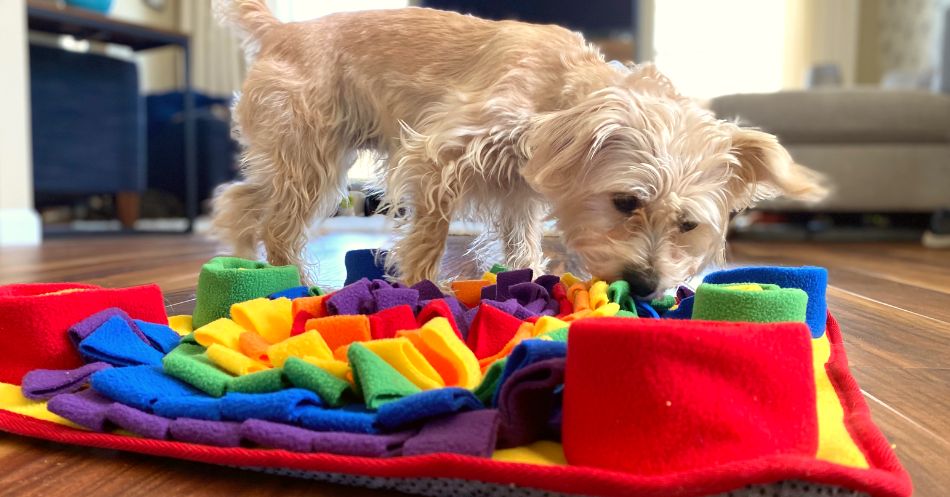 The Best Snuffle Mats for Dogs as Rated by Dog Moms
Here at Pet Living, we're huge fans of snuffle mats to keep our pups engaged and entertained. Here is our list of the best snuffle mats, as rated by real-life dog moms.
What is a Snuffle Mat?
First and foremost, what is a snuffle mat?
A snuffle mat is a durable mat made of strips of felt or cloth. Treats are placed between the strips which encourages your dog to snuffle, or sniff and search for hidden treats or pieces of kibble.
The Best Snuffle Mats For Dogs (Rated by Dog Moms)
The best snuffle mat will be just the right size, challenging for your pup, and easy for you to clean. Even still, with so many options on the market, it's a challenge to know which is best for your fur family.
Thankfully, dog moms in the Pet Living tribe tested a slew of snuffle mats and ranked their favorites:
Piggy Poo Butterfly Mat: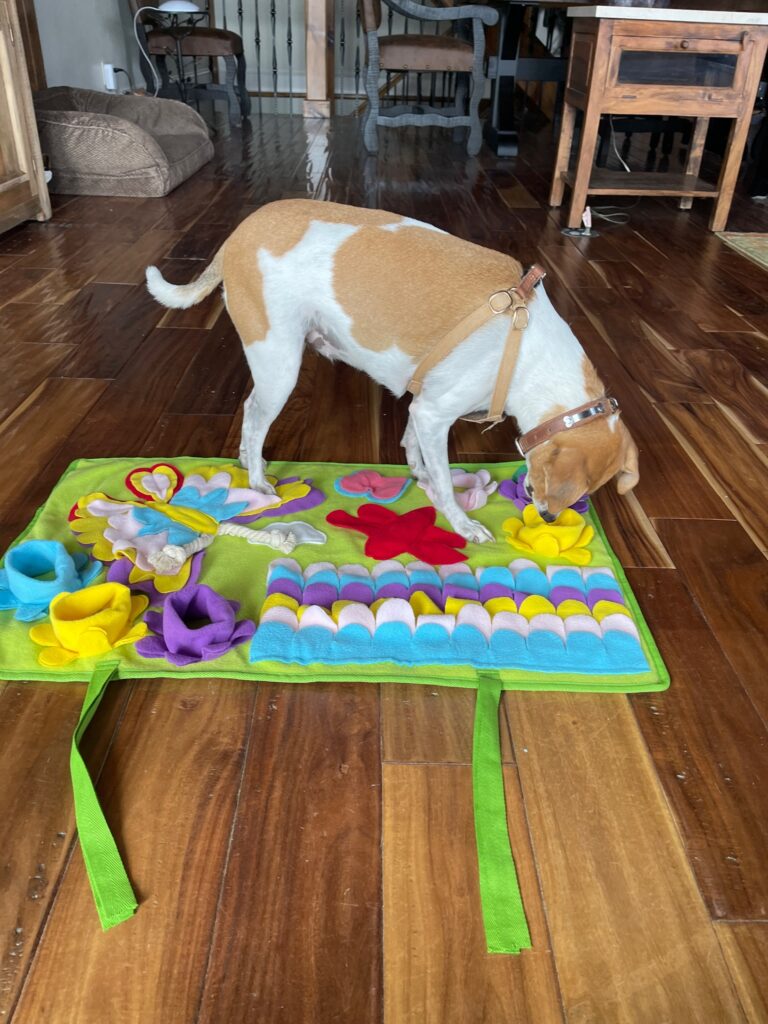 Pros: Cute appearance with bright colors. Lots of places to hide kibble or treats. Machine washable with a non-skid backing. Pet Living pup, Tulip, loved it!
Cons: Very lightweight, not very robust or durable for larger breeds.
Unique Features: A squeaky butterfly toy is in the center of the mat, for added interactivity. The mat also has straps so that it can be easily rolled away and stored when not in use.
Piggy Poo Double Bowl Mat with Treat Ball: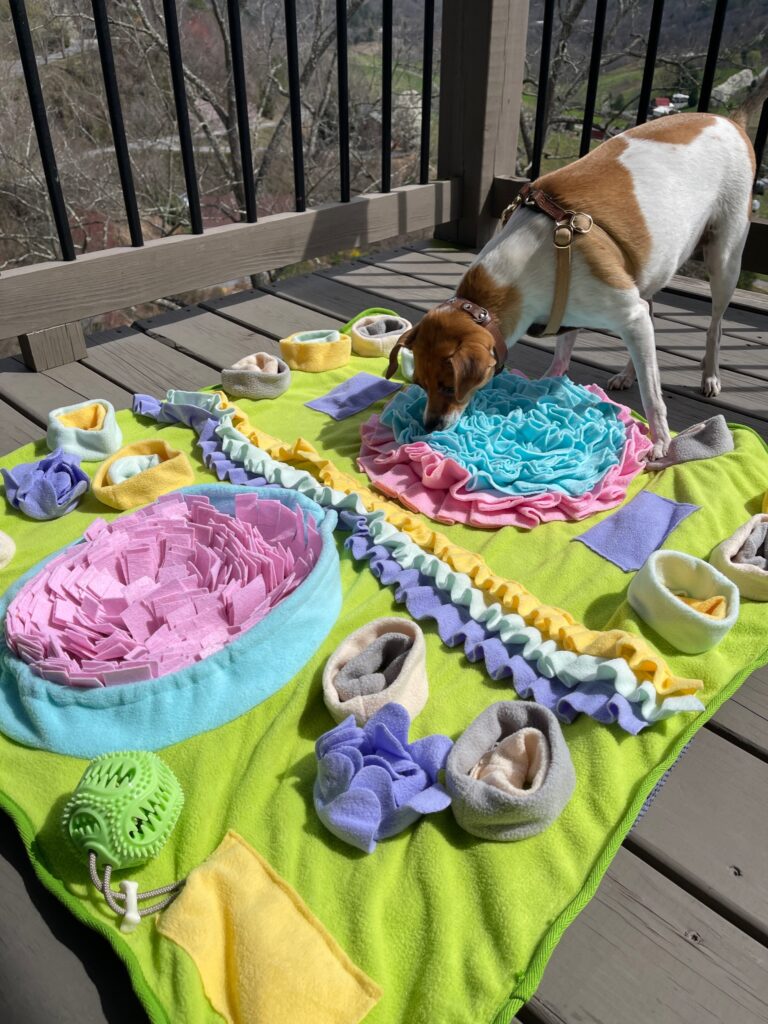 Pros: This mat was another big hit with Tulip! It's extra large and comes with lots of places to hide treats and kibble.
Cons: The mat isn't very durable and is better suited for smaller breeds.
Unique Features: A rubber ball is attached to the mat and works as a bonus spot for hiding treats.
Pros: Dog mom Kristen says, "I've owned this mat for years and all my dogs have enjoyed it! It's very durable, so it's good for any sized dog."
"It's great for your dog's brain! Tulip would spend an hour if I let her, trying to get all of the treats out of the different activities." The mat comes with three activities. Additional activity pieces are sold separately and come in difficulty levels 1, 2, and 3.
Cons: "There's really nothing I don't like about it, except the rubber backing doesn't stick firmly on the floor, so it does slide around a bit. It's a little pricey but worth it!"
Unique Features: At Pet Living, we love that this mat's activities come in various difficulty levels. As your dog gets the hang of things, they can advance to more difficult tasks. The mat also has its own carrying case, a convenient feature if you're traveling with your dog.
AWOOF Snuffle Mat
Pros: Dog mom, Pamela, chose this mat with the hopes of keeping her pup, Zuzu's, brain engaged. This mat is priced nice and low to meet any pet parent's budget.
A simple drawstring pulls the mat close, for easy and compact storage. It also has non-slip padding which keeps the mat in place on hard surfaces.
Cons: Pamela states, "It says easy to wash, but I didn't find that to be the case. The felt tends to grab all the crumbs. The makers suggest hand washing, but that isn't very convenient."
Unique Features: This snuffle mat can be unfolded into a traditional flat pad, or folded up into a bowl that encourages slow feeding.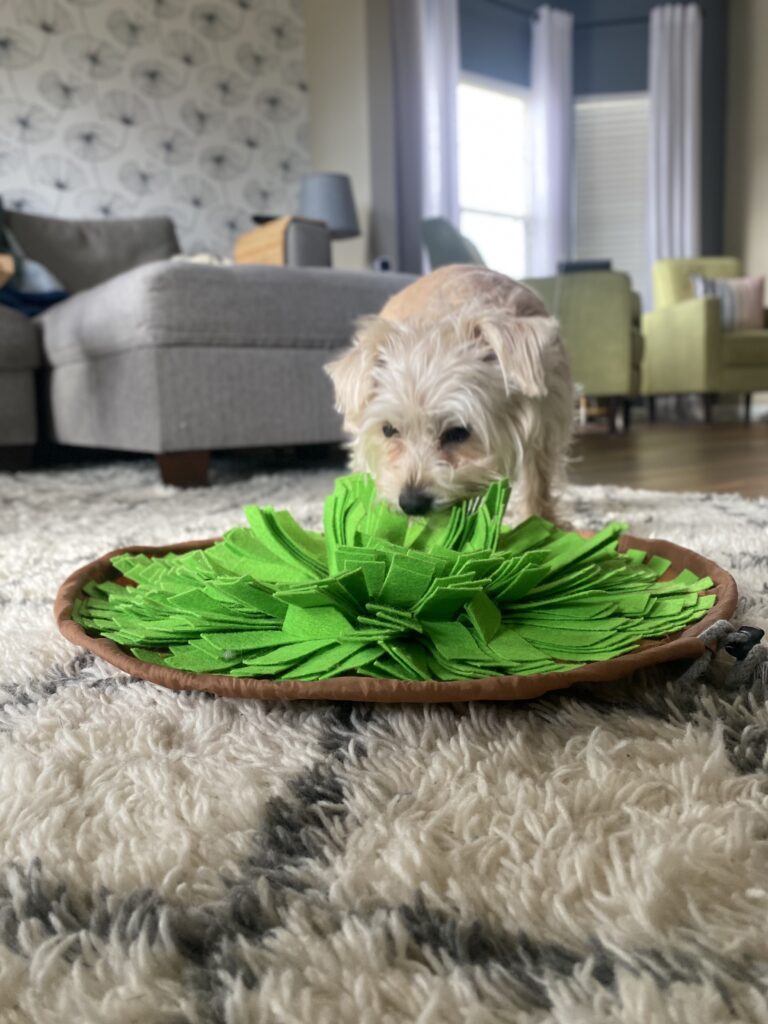 23" Snuffle Mat from YEPPUPPY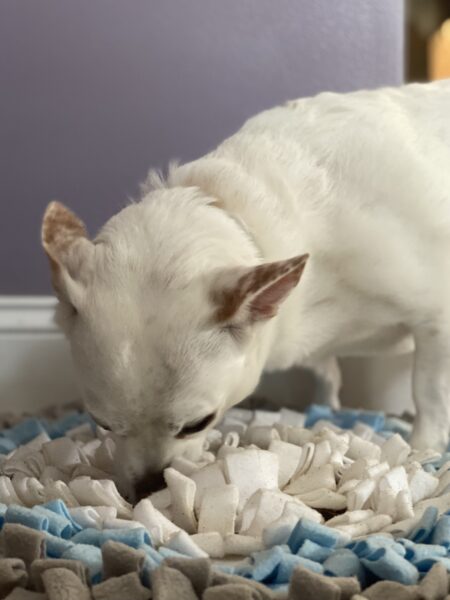 Dog mom, Petra, purchased this mat for her two dogs, Kevin and Dug to share.
Pros: This mat was large enough for Kevin and Dug to share. Its size makes it great for larger dogs or multi-dog homes. The looped fleece is soft and gentle on your dog's skin. It's also machine-washable.
Cons: Petra found it difficult to slip treats into the fleece loops.
Unique Features: This round mat is made from eco-friendly polar fleece.
Piggy Poo and Crew Pet Snuffle Activity Mat Rainbow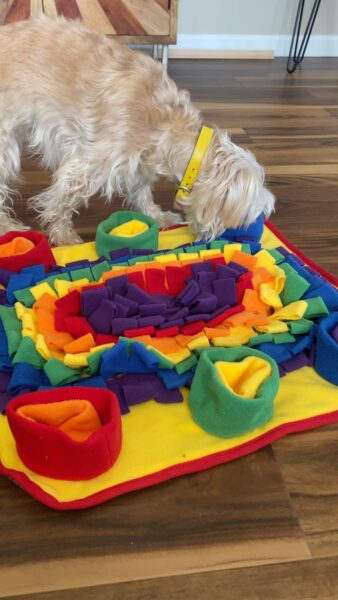 Pros: This mat is bright, and colorful, and makes a pretty addition to any pet home. Treats can be added within the looped flaps or the round circles on the mat. Constructed from soft fleece, the fabric is gentle so as not to irritate the sensitive skin of puppies.
It's also machine-washable and has a non-skid backing.
Cons: The fleece tends to attract extra lint and random bits of fuzz, causing the mat to get dirty faster. It lacks straps or drawstrings for easy pacing, but it does squish down nicely when folded.
Benefits of Snuffle Mats
There you have it, the Pet Living POV on some of the top snuffle mats on the market! Here are more reasons why we feel every dog family should own a snuffle mat.
Pin Me!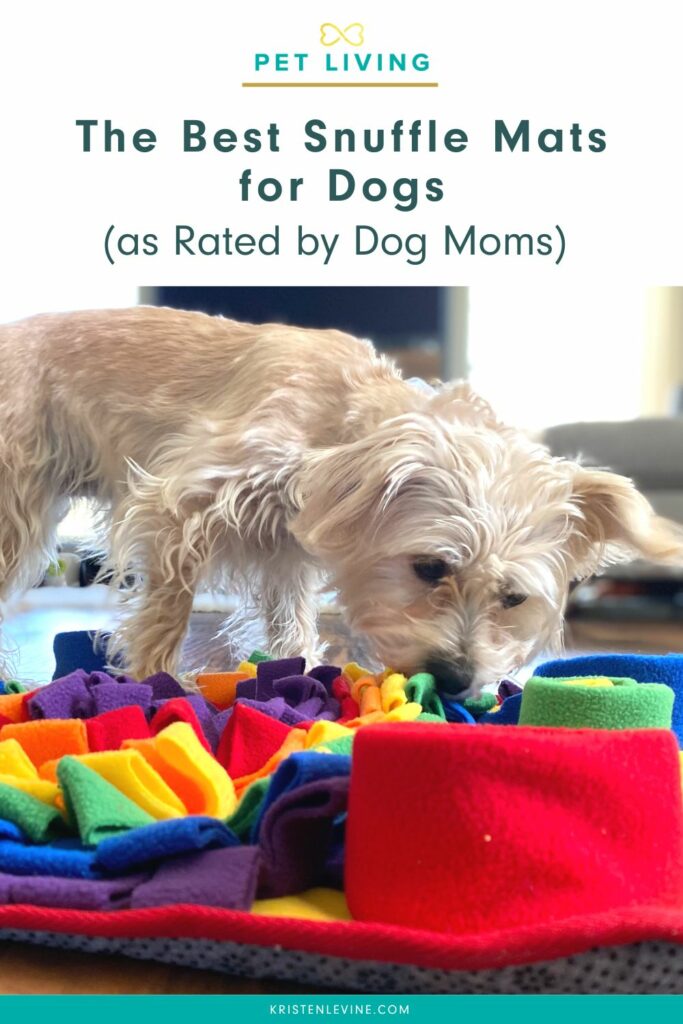 They Help Anxious Dogs
Dogs who suffer from anxiety tend to exhibit destructive behavior like chewing or scratching furniture. Keeping your dog mentally and physically stimulated with a snuffle mat can help redirect their energy toward something positive.
Encourages Their Strong Sense of Smell
Dogs use their noses to explore and discover the world around them. Hiding their treats within a snuffle mat encourages them to use their keen senses.
Slows Down Fast Eaters
Some dogs seem to inhale their food the second it hits the bowl. Unfortunately, this can lead to bloating, upset tummies, and vomiting. Snuffle mats force your pup to slow down, and take their time while they eat.
FAQs About Snuffle Mats
Are snuffle mats good for dogs?
Snuffle mats are a paw-some enrichment tool for dogs who are bored or need a bit of stimulation. That's because dogs have such a strong sense of smell, and it's natural for them to hunt and forage. 

Snuffle mats take all of this into consideration, and give your dog a safe place to sniff out yummy treats. The mats also help to slow down fast eaters, reduce anxiety in anxious pups, and help hyper dogs burn off extra energy.
How often should I use a snuffle mat?

Some pet parents use snuffle mats as their dog's food dish, and it's only filled during feeding time.

However, if you're thinking of using a snuffle mat strictly for treats, moderation is key. You won't want to use it all the time and risk overfeeding your dog. 

Similarly, if you notice that your dog gets overstimulated while using their snuffle mat, you'll want to cut back, allowing them to calm down.
Can you leave a dog alone with a snuffle mat?
While they're safe to use, it's best not to leave your dog alone. Some dogs may chew their mat and swallow the small pieces. Keep them supervised to avoid any complications.
How often should you wash a snuffle mat?
There's no hard and fast rule here. But consider this: once your dog has had their fun, the snuffle mat will be covered in slobber and crumbs from their treats.

Aim to keep it hygienic and follow the manufacturer's instructions. If your dog uses their mat frequently, you may need to wash it daily or after each use. If your pup only uses their mat occasionally, then a weekly cleaning may do the trick.
The Final Woof
Our dog mom experts did the research and rounded up a trustworthy list of the best snuffle mats for dogs.
Our favorite mats are just the right size, are a fun challenge for your dog, and are a breeze to keep clean. At the end of the day, the best judge will be your dog. So fetch a snuffle mat for your pup to enjoy!