Disclosure: This is a sponsored post. However, all opinions and anecdotes are my own, and I never promote any products or brands I don't believe in.
Many of us will hit the road with our pets this summer, if we haven't already. I read recently that 60 percent of us pet lovers take pets on at least one overnight trip each year. Chilly's been on one already!
I thought this was a good time to point out a few great travel products here on my blog that I just featured on my Daytime TV segment. Full disclosure, I was paid to feature these three items on the show, but I've used them all with my pets (and one adoptable pet I transported to the TV studio) and will continue to do so because they are terrific solutions.
First, I want to point out two very common mistakes people make when traveling by automobile with pets.
The first one is not restraining pets. An unrestrained dog, cat or other pet can become a driver distraction. The only way to truly keep your hands on the wheel and eyes on the road is to secure your animal to keep them from getting in the way of safe vehicle operation.
Also, if your pet is not buckled in some how, a sudden braking event or an actual accident can send the pet flying into a seat, a dashboard, another passenger or even outside of the vehicle. I don't want to even discuss what the results of that can be. I'm sure you can figure it out.
Secondly, dogs with their heads hanging out the window are potential victims of injury due to flying road debris. Not to mention, an open window allows a pet to fall or jump out of the window.
Luckily, two of today's travel items address these very dangers!
#1: The PupSaver is a rear-facing car seat for dogs 30 pounds and under. It's been crash tested using the same safety standards used for infant car seats!
Pawesome features:
Attaches to auto's seatbelt (lap and shoulder harness) and can be used in the front or back seat
Rear-facing design works like a catcher's mitt, using your dog's weight and forward momentum to "catch" and keep their small body from catapulting through the car and into hard surfaces/passengers
Small breed dogs are more fragile and, much like small children, they need protection comparable to an infant car seat, not a seatbelt
Available in 3 fabric options: Faux Fur, Black & White Houndstooth and Leopard print
The PupSaver costs $129.95, which includes shipping. They're working on a version for larger dogs.
Medium sized dogs over 30 pounds should be restrained using a size-appropriate harness, carrier or kennel, and for large dogs riding in SUVs, you can use a barrier that secures him in the rear of the vehicle.
Cats should travel in an appropriately sized carrier or kennel buckled into the seat belt.
Note: I once ended up with an unrestrained pet gerbil in the car when the Habitrail I was using to transport him in Mom's car to show-and-tell at school, fell over and cracked open! We found 'Jiffy' safe in the trunk of the car about an hour later. The lesson here is to transport any small pet in a sturdy, yet comfortable carrier.
#2: BreezeGuard Screens allow your pet to enjoy the open car window, without the danger of them jumping or falling out, or a foreign object flying into their face. They also prevent people from being able to reach in to pet or steal your beloved animal.
Pawesome features:
Steel cage panel is custom made to a rear window in your vehicle. Provide year, make and model. (Car door must have a frame at the top of the glass).
BreezeGuards install from the inside and allow for the window to go up and down freely.
Sold in pairs to insure the possibility of a cross breeze to keep the car cool.
Custom made BreezeGuard Screens are available for $225 plus shipping.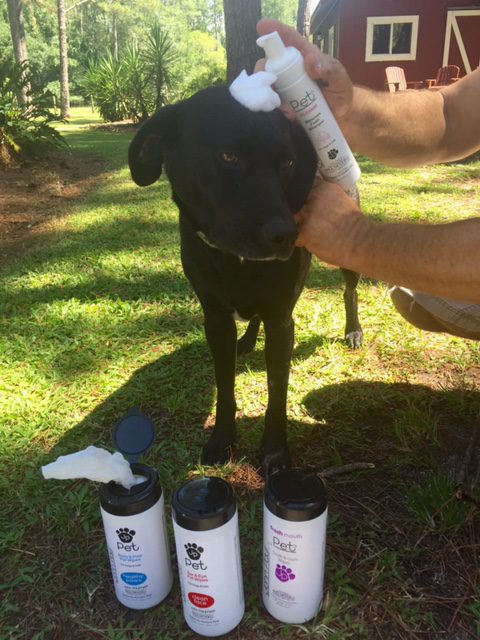 #3: John Paul Pet Travel Wipes and Waterless Foam Cleanser
There's usually no time for a bath while on the road, so here are some safe and convenient ways to keep eyes, ears, body and paws clean while traveling or at home.
Pawesome features:
John Paul Pet wipes and foam cleanser are PH balanced for pets with added moisture for skin and coats
Tested on HUMANS not animals! John Paul DeJoria (co-founder of Paul Mitchell hair care products) has a deep love and passion for animals so, he created JohnPaul Pet.
DeJoria was instrumental in putting pressure on the beauty industry to end animal testing.
Ingredients are top grade and include:

Saline and aloe for Eyes and Ears
Orange oil and aloe for Body and Paws
Peppermint oil and baking soda for Tooth & Gums (minty fresh)!

Waterless Foam Cleanser is an airy foam that quickly surrounds dirt and oil to simply brush away. Sweet almond oil gives this product a light almond fragrance. Easy clean up when you and your pets are on the go.
By the way, it's important to groom your pets daily. When you groom your pets you are able to feel any bumps or lumps, or any soreness that might be an early indicator of a more serious problem.
John Paul Pet products are available at Amazon.com and at pet specialty retailers nationwide.
I hope you found this helpful. I'm always open to your honest, constructive feedback. Please share any experiences you've had with these or other great travel products for pets in the comments section below.