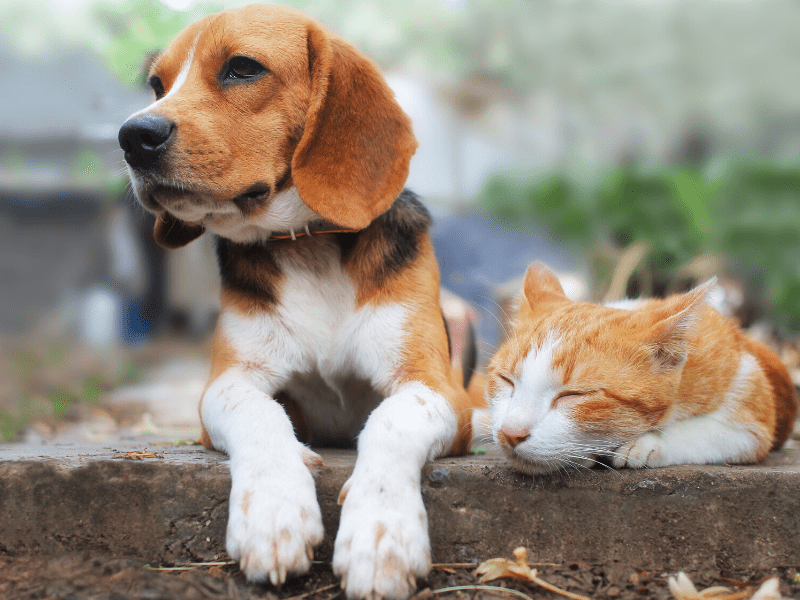 9 Important Ways to Prevent Lost Pets
Did you know that July 4th and the days surrounding it are the busiest days of the year for animal shelters taking in lost pets? Why is that? Because the fireworks and festivities that pet parents enjoy so much are sometimes a little traumatic for the four-legged members of the family. Many dogs and cats, startled and spooked by the noise of fireworks or the commotion of backyard parties, make their escape and become lost.
In addition to the festivities, many families take vacations during the summer months. Pets that accompany their families on vacation are at risk of becoming lost in a new area. And pets that are left behind might run away due to stress or anxiety.
Sadly, of the lost pets that end up in shelters, fewer than 3% of cats and only 17% of dogs find their way back home. Scary, isn't it?
Because of the number of pets that get lost this time of year, PetHub has designated the month of July as Lost Pet Prevention Month and has created a great resource with useful information for pet parents.
Pin Me!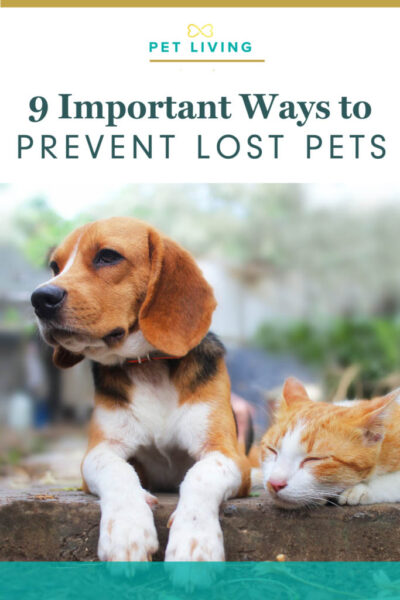 This year is particularly challenging due to the COVID-19 pandemic. Because so many of us pet parents are home with our pets so much more often than before, it's easy to become complacent about basic preventative measures to keep our pets from escaping.
That's why, this year, Lost Pet Prevention Month is focused on getting "Back to Basics."
The key to getting a lost pet home safely and quickly is prevention. Here are a few basic things you can do to keep your pet safe this Fourth of July (and always).
9 Important Ways to Prevent Lost Pets (and how to get them back home)
1. Use positive training. Dogs and cats respond well to positive reinforcement or the rewards system. Rather than scold and discipline your pet after every escape attempt, reward your pet for listening, coming when called, and stopping the behavior.
This takes a lot of consistency, planning, and patience, but the payoff is huge. Although most pets are natural escape artists, you don't want them to view every front door opening as an occasion to bolt to freedom.
Try this: With treats in hand, take your leashed pet to the front door (or whichever door you typically use). While holding on to the leash, open the door and tell your pet to "wait" or "stop." When the command is obeyed, give a treat. Practice this skill daily until your pet readily obeys.
2. Always use a leash. When your pets are outside and not confined by a fenced yard, keep them on a leash so you can ensure they don't run off to chase a squirrel and end up getting lost!
This is especially important on walks or when you're away from home with your pet walking in unfamiliar territory. I prefer leashes with two handles, like this one, in case I need to shorten up the distance between me and my dog for better control.
If your dog is difficult to manage on a leash, I love the Freedom No-Pull Harness by 2HoundsDesign.
---
3. Pet-proof your home. A well-secured home is critical to your pet's safety. This means ensuring
all doors, including storm and screen doors, are not just pulled to, but securely latched. Windows at ground level should remain shut.
If you need to have your door open for an extended period of time, perhaps while moving large items in or out of the house, be sure to keep your pet in a secured room or in an escape-proof crate, like this one.
---
4. Travel safely. When traveling, you should always secure your pet in a quality crate intended for travel and comfort. Medium to large dogs should wear a harness that attaches to the seat belt.
In the unlikely event of an accident, you want peace of mind knowing your pets are safely secured inside the vehicle, not ejected or able to escape after a frightening event that would likely send them running off.
---
5. Use wearable and trackable ID. If your pet does manage to escape, external ID tags are the most reliable way to get them home quickly. Make sure that your pets' tags are easily readable and that the information on them is up to date.
My pets wear PetHub's digital ID tags. The thing I love about these tags is that they come with a free online profile where I can list as many contact names and numbers as I want as well as anything else (vet, pet sitter info) that is important.
If my dog goes missing, I want the Good Samaritan who finds him to have access to all kinds of information so that I can get him home fast!
PetHub's tags have a scannable QR code as well as a phone number and a web address that is used to access a pet's profile. Plus, with a premium subscription, you'll get notified every time your pet's info is scanned, and when your pet goes missing, a virtual "lost pet poster" is sent to local shelters, rescues, vets and pet professionals, plus the PetHub community,
And of course, every ID tag needs the perfect collar! Choose a collar for your dog or cat that is memorable.
Chilly wears camouflage, Tulip wears bright turquoise (and one with peaches for special occasions) and Olivia, my cat, wears a zebra print. Why? Because if your pet gets lost they are more easily identifiable with a memorable collar.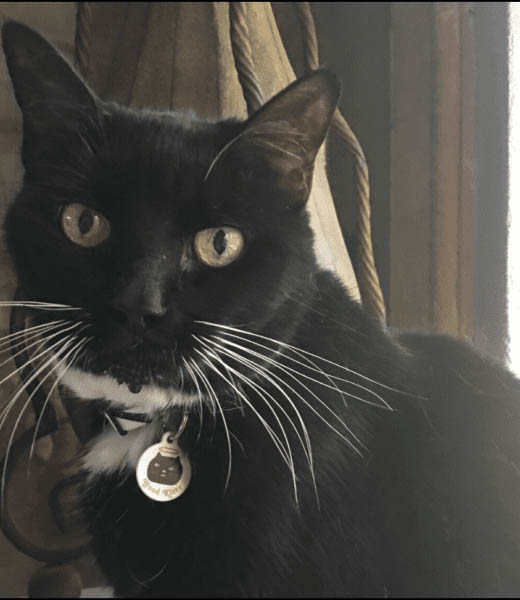 Plus, if you haven't already, make an appointment with your vet to have your pets microchipped. Even if your pets already have microchips, it's still important to have your vet check them every year to make sure that they haven't migrated to a different part of the pet's body, making scanning difficult. Also if you have a change of address, you'll need to update your contact information with the chip manufacturer so they have current info.
PetHub also recommends having multiple ID points for your pet. So, in addition to microchips and ID tags, embroider their collar with your pet's name and your contact info. You can also use their crate cards and window clings to ensure their safety when traveling or when there's an emergency, such as a fire, inside the home.
6. Local registration. While it may seem tedious to register your pet with the local authorities, it's for your pet's protection. If your pet happens to go missing, your pet's licensing identification can help bring him home safely.
7. Plan ahead for noise events. If your pet is usually bothered by loud noises like thunderstorms, then you can expect the same reaction to fireworks.
Even if you haven't noticed any signs of noise anxiety, you should still plan out your day with your pet in mind. Decide ahead of time where your pets will be during any pool parties or backyard barbecues. Then make definite plans to avoid giving them opportunities to take off, and try to control or eliminate anything that might cause them anxiety.
If you leave the house for a big fireworks display, make sure that your pets are safely inside while you're gone and that any doors, windows, or pet doors are secured and escape-proof.
8. Keep dogs and cats indoors. During the days before and following the Fourth of July, it's a good idea to keep pets indoors. After all, even if you haven't planned to light off any fireworks, you never know when an impromptu display might occur down the street!
9. Get the right tech. Should your pet escape, tools like Ring doorbells and security cams can help you discover which way your pet ran off. The Nextdoor app is a free tool that allows you to communicate quickly with your neighbors and local retailers if your pet is lost.
If you do allow your pets outside, they should be in a securely fenced-in yard or on a leash. When you go out for walks, keep dogs leashed at all times, even those who are usually controlled by voice command. Loud, unexpected noises could cause even well-trained dogs to forget their training and bolt.
Keep these tips for preventing lost pets in mind, and the 4th of July can be a fun, safe experience for the whole family!
Additional summer pet safety tips, particularly those about lost pet prevention can be found at www.lostpetprevention.com.
I'm a passionate brand advocate and Board member for PetHub digital pet ID tags. Why? Because I know they get lost pets home faster than any other means of ID. However, all opinions and anecdotes are my own, and I never promote any products or brands I don't believe in. ~Petfully yours, Kristen