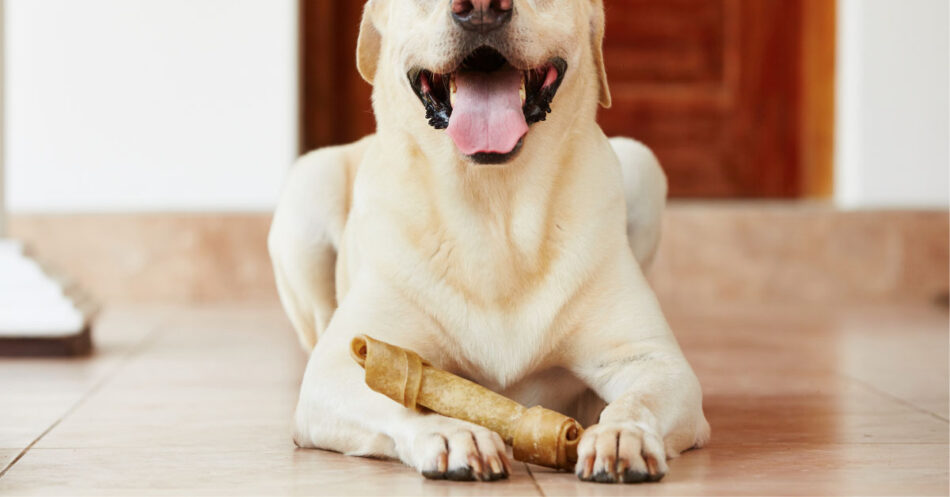 Is Rawhide Bad for Dogs? Here are 5 Better Treats for Your Dog
Rawhide has been a popular dog treat for decades, but more and more pet parents are asking themselves: is rawhide bad for dogs? This article will show you the pros and cons of rawhide chews as well as multiple safe and healthy chewing treat alternatives for your pup.
4 minute read
---
Dogs young and old love to chew – but we certainly don't want them chewing everything in our house! Many pet parents turn to rawhide as a way to satisfy their pup's chewing craving, but is rawhide bad for dogs? What is rawhide? And what are some safe rawhide alternatives?
What is Rawhide?
Rawhide is made from the inner layer of an animal's skin, usually a cow's. After it's cleaned and processed, it gets turned into all the familiar rawhide treats you see at your local pet store.
It's not surprising that dogs love rawhide – they get to chew and chew on a treat that tastes like beef!
A lot of pet parents love rawhide too. It keeps their pup occupied for hours, the chewing action may help lower their dog's anxiety, and it helps keep their pup's teeth clean.
All of that sounds great, right? But is that the whole story? Is rawhide truly safe or is rawhide bad for dogs?
Is Rawhide Bad for Dogs?
On paper, rawhide sounds like a perfect treat – it's advertised as being made from a single natural ingredient, and dogs love them. In reality, there are multiple reasons why rawhide is a very questionable choice for your pup's chewing needs.
Manufacturing of Rawhide
First off, while rawhide is made from dried skin, other ingredients can find their way into the mix. Some manufacturers use bleach, hydrogen peroxide, artificial colors, and more when making their rawhide. Also, manufacturers from outside the United States may have different manufacturing standards.
All of this means your dog's rawhide treat may have been treated with toxic chemicals that could cause digestive problems and worse.
Digesting Rawhide
Next, even though rawhide is made from animal skin, most dogs can't easily digest it.
That means, unlike regular food and treats, most chunks of rawhide will pass as whole pieces through your pup's digestive system. If those pieces are large enough, they could cause an obstruction.
If not caught early and treated by a veterinarian quickly, obstructions can turn deadly.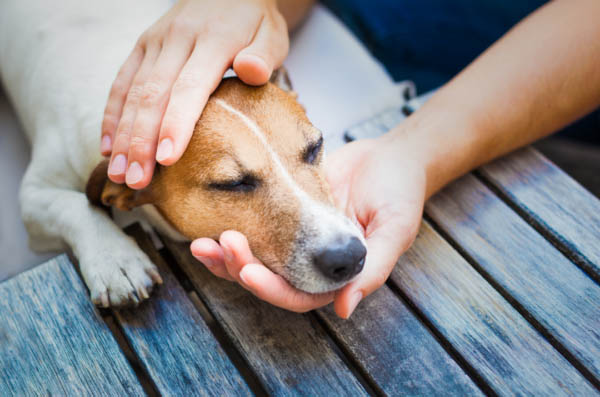 Choking Hazards
Many pet parents love rawhide's toughness, which makes it last forever when your dog's chewing it. But that also means when your furry friend finally manages to bite or break off a piece, it may be too big to swallow safely.
These large pieces can get caught in your dog's throat and cause him to choke.
No one wants to risk their pup's safety over a treat, but we have to have things our dogs can chew safely. So what are a conscientious pet parent's options?
Pin Me!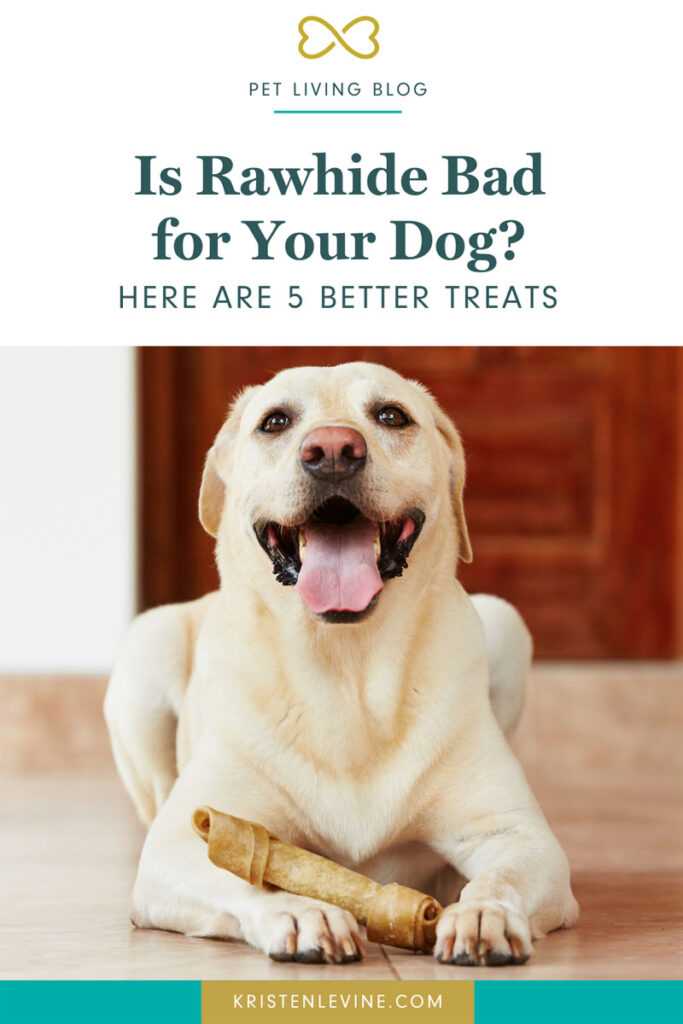 5 Rawhide Alternatives That Are Safe for Your Dog
Here are some of the treats I've given to Tulip and my previous dogs as safe chewing alternatives to rawhide. All of these treats are digestible and provide the anti-anxiety and teeth cleaning benefits of rawhide without its risks.
1. Carrots
Carrots are a great, healthy snack for dogs. They have tons of vitamins and fiber – plus they're low-calorie and inexpensive!
The one downside would be that they don't last as long as some other chewing options.
These chews come in different sizes for different pups. They're made in the USA and created from simple, all-natural ingredients like rice, eggs, olive oil, and meat – and without any nasty preservatives or chemicals.
For picky pups, they offer multiple flavors like chicken, pork, peanut butter, and more.
---
It may sound strange, but hardened dried yak cheese makes a great dog chew. Yak cheese treats like these only contain basic ingredients like milk, salt, and lime juice while being lactose-free, which makes them highly digestible – but still highly chewable!
---
Antlers are a great natural rawhide alternative that is shed naturally by deer and elk every year. Antlers like these may be more expensive than other rawhide alternatives, but they're worth it because they last a really long time and don't post the same hazards as rawhide chews.
---
Bully sticks are also often a little more expensive but – like antlers – they're worth it because of how long they last. You can buy bully sticks in different sizes to match your pup's personal tastes.
There are a lot of imitation bully sticks out there, so it's important to make sure you get the genuine article. Real bully sticks are made from beef pizzle, which is almost pure protein and also contains many vital nutrients, making them all-natural and healthy while promoting good dental hygiene without the rawhide risk.
The Tail End
Many dogs love rawhide treats, but they come with a lot of risks like toxic chemicals and bowel obstructions. With so many healthy, safe, and highly digestible rawhide alternatives out there, we can show our dogs we love them by giving them treats they'll love to chew while keeping them safe.
Would you like to learn more about ways to bond with your dog and show them you love them? Then click on the link below to download your FREE ebook on building a strong bond with your dog!