Picking a name for your new cat should be fun! We've always waited a week or two to choose names for our new cats so our new pet could "reveal" their name to us, but when you find the perfect name, you know.
Here are over 250 cute food names for cats to inspire you in your search for your cat's perfect name.
Categories
Fruits | Vegetables | Herbs, Spices, and Condiments | Breads | Drinks | Desserts | Meats | Cheeses
International Food Names
African and Middle Eastern | Asian | European | North and South American
Fruit Names for Cats
From Apple to Tangerine, fruits can make a great name for your cat. You can pick a fruit that matches your cat in color, or you can just pick one you like. Some of my favorites are:
Peach: Peach has several variations that make great names or nicknames – Peaches and Peachie. It's a great name for a sweet, fuzzy kitty.
Mandarin: One of my friends chose Mandarin for her orange tabby cat, and I think it's an adorable name.
Mango: Mangoes are sweet and round, so if that describes your kitty you may have found a match!
Here are some other popular fruit names for cats:
Apple

Apricot

Avocado

Blueberry

Cherry

Honeydew

Huckleberry

Kiwi

Lemon

Melon

Pumpkin

Raspberry

Strawberry

Tangerine
Vegetable Names for Cats
Pin Me!
Vegetables may not be some people's favorite foods, but that doesn't mean they can't make adorable cat food names!
Butter Bean: Not only is it cute in its full form, but you can also call your kitty "Bean" for short.
Chickpea: This is a cute little name for a small cat. It works even better if your cat is a blonde or light brown color.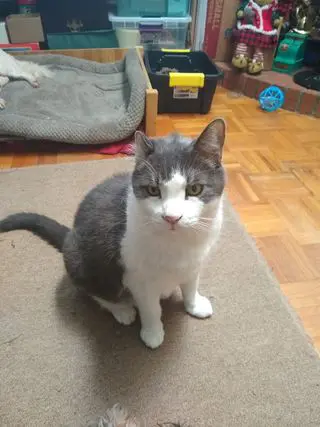 Jalapeño: If your cat has a spicy side to their personality, a spicy pepper name like Jalapeño just might be the perfect fit.
Alfalfa

Artichoke

Arugula

Azuki

Bean

Bok choy

Cabbage

Fennel

Habañero

Kohlrabi

Lentil

Lima bean

Olive

Peanut

Pickles

Split Pea

Sprout

Turnip

Rhubarb

Rutabaga
Herbs, Spices, and Condiment Names for Cats
You might not readily think of herbs and spices when you think of "food names for cats", but there are definitely some cute options here.
Cinnamon: This name works especially well for brown-colored cats, but it's an adorable choice regardless of your cat's color.
Chili: This name actually works for cats on both ends of the feistiness spectrum. Whether your cat is "spicy" or "chill", Chili works.
Honey: A great choice for the sweet little kitty in your life.
Wasabi: On the other hand, if your cat's a little more spicy, Wasabi could be the perfect fit.
Anise

Basil

Caraway

Cayenne

Chimichurri

Chive

Clove

Coriander

Dijon

Dill

Pepper

Ginger

Ginseng

Jelly

Ketchup

Lavender

Marmalade

Mustard

Nutmeg

Oregano

Paprika

Parsley

Pesto

Rosemary

Sesame

Tabasco

Turmeric

Saffron

Sage

Sorrel

Sugar

Tarragon

Vanilla
Bread Names for Cats
I don't know about you, but when I see cats sitting with their paws all tucked under and cute they remind me of a little round loaf of bread. So here are some bread names for your sweet little loaf.
Bagel: This isn't just for New York cats, but a cute bread-inspired name for cats everywhere.
Biscuit: When cats knead you, it's often called "making biscuits." If your cat is a little kneader, Biscuit could be the perfect name for them.
Tortilla: Along with Pancake, Tortilla's a good choice for those cats that like to spread out and lay flat in the sun.
Baguette

Brioche

Challah

Chapati

Ciabatta

Focaccia

Matzah

Muffin

Naan

Pancake

Pita

Pretzel

Pumpernickel

Roti

Scone

Toast

Waffle
Drink Names for Cats
Drinks can vary from early morning pick-me-ups to evening celebrations, so you're sure to find one that suits your kitty.
Mocha: If your cat is in the brown or gray family, Mocha might fit them to a tee.
Chai: For the cat that's not too spicy, but just spicy enough.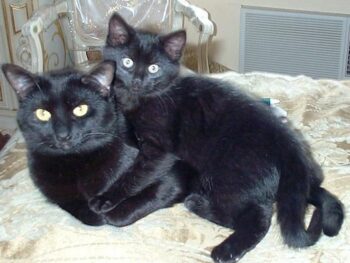 Soda Pop: This is a nice name if your cat has a more bubbly personality.
Bailey

Bellini

Cappuccino

Espresso

Java

Kahlua

Latte

Macchiato

Mai Tai

Margarita

Martini

Milkshake

Mimosa

Mojito

Ocha

Pepsi

Piña Colada

Sangria

Soda

Sprite

Tequila
Dessert Names for Cats
Cats' personalities run the gamut from spicy to sweet and everywhere in between (just like people!). If your cat lands on the sweet end of the spectrum, a dessert-based name might be right for them.
Brownie: While an obvious choice for a brown cat, this would work for any sweet cat (who also might have a nutty side).
Pocky: This sweet and crunchy treat from Japan makes for a cute name that's a little off the beaten path.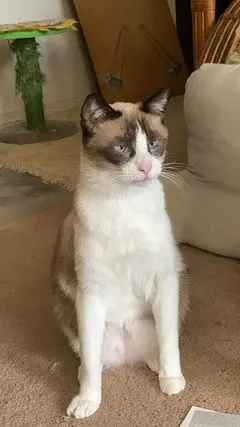 Jelly Bean: Jelly beans come in every flavor imaginable, so this name will work no matter what your cat's personality or color.
Baklava

Blondie

Bonbon

Bubblegum

Butterscotch

Candy cane

Caramel

Cheeto

Coconut

Cookie

Cream puff

Cupcake

Custard

Doughnut

Fritter

Frittole

Fudge

Gelato

Honey Bun

Jelly bean

Kit Kat

Lemon drop

Cheeto the Cat

Liquorice

Macaroon

Marshmallow

Mochi

Moon Pie

Nougat

Oreo

P-Butter

Popcorn

Popsicle

Pudding

Rum baba

Sherbet

Skittles

Snowball

Snow cone

S'mores

Sugar plum

Sundae

Teacake

Tiramisu
Meat Names for Cats
Cats are obligate carnivores, which means they love and need their meat. So maybe a meat-based name is the right pick.
Pepperoni or Sausage: These spicy meat names are a good choice for the kitty with a little cat-itude.
Bacon

Bologna

Nugget

Pastrami

Salami
Cheese Names for Cats
Cheese goes from mild to sharp to spicy – you name it! You're sure to find a cheesy name that suits your cat to a tee.
Parmesan or Mozzarella: These cheesy names are a perfect fit for the fancy white kitty in your life.
Cheddar: Great for an orange cat, Cheddar also conveys a certain sharpness in their personality.
Brie

Camembert

Feta

Fontina

Havarti

Limburger

Muenster
International Food Names for Cats
There are so many amazing foods from other countries that you're sure to find an international food-based name that's a great fit for your cat no matter what their color or personality.
From Falafel and Couscous to Sushi, Lasagna, Nacho, or Samosa, there's an internationally-flavored dish that's right for you and your kitty.
African and Middle Eastern Food Names for Cats
Baba ghanoush

Baklava

Bunny chow

Couscous

Delele

Dolma

Falafel

Fufu

Hummus

Jaffle

Kebab

Mandazi

Ogi

Pita

Shiro

Shawarma

Tabbouleh

Tahini

Tapioca

Yassa
Asian Food Names for Cats
Banh mi

Bao

Biryani

Chow Mein

Curry

Dumpling

Keema

Kimchi

Korma

Masala

Miso

Naan

Papadum

Pho

Tikka

Ramen

Samosa

Sashimi

Soba

Sushi

Tempura

Tofu

Udon

Wonton
European Food Names for Cats
Béchamel

Bratwurst

Brisket

Fondue

Fusilli

Goulash

Lasagna

Macaroni

Manicotti

Marinara

Paella

Pasta

Pizza

Ravioli

Risotto

Rotini

Sauerkraut

Sausage

Schnitzel

Soufflé

Spaghetti

Tortellini

Trifle

Ziti
South and North American Food Names for Cats
Burger

Burrito (Purrito!)

Chalupa

Chimichanga

Chorizo

Churro

Empanada

Enchilada

Fajita

Flan

Fritada

Guacamole

Hamburger

Jambalaya

Leche

Machaca

Meatloaf

Menudo

Mollete

Molote

Nacho

Picadillo

Picarone

Potato chip

Poutine

Queso

Rabanada

Salsa

Taco

Tacu-tacu

Tamale

Taquito

Tater

Tater tot

Tortilla

Tostada

Sopapilla
The Tail End
Picking a name for your new cat can be one of the most fun things about bringing a new cat into your home. With so many cute food names to choose from, you can be sure to find one that purr-fectly fits your new furry family member. Happy naming!
Would you like to learn more about how to bond with your newly named furry friend? Then download your FREE copy of my ebook below!