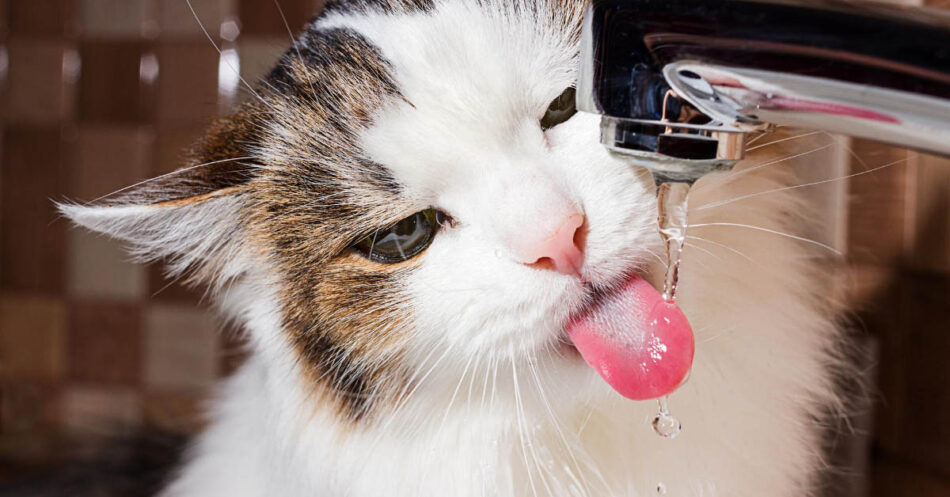 How to Satisfy Your Cat's Weird Obsessions with Running Water and Hunting
Our beloved Turtie Cat passed over the Labor Day Weekend. But I still wanted to share the story of how much she had been enjoying her new fountain and feeder. Her sister Olivia will get to enjoy them now. Go hug your kitty now ???? ~Kristen
Every morning, Turtle follows me into the bathroom, jumps up on the sink and waits for me to turn on the faucet! What amazes me is how long she will sit there lapping up the water — like she's parched! Despite the fact that I have diligently kept her water bowl clean and filled with fresh water, she always drinks more from the faucet than anywhere else.
Pin Me!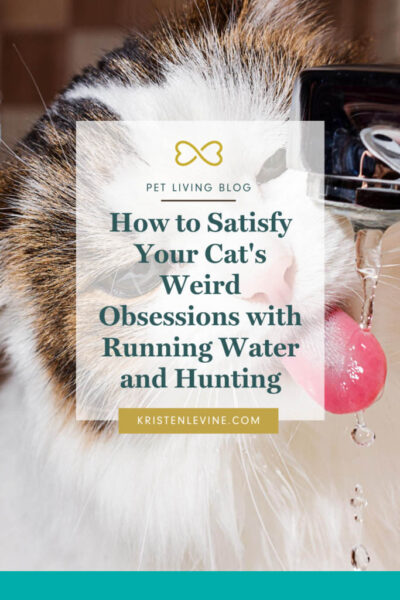 The truth is, cats (and dogs too) would prefer to drink from a trickling stream than from a still bowl of water. It's a nature thing. Think about it. In nature, a standing pool of water may be dirty, warm, or stagnant. Yuck! But a moving stream offers cool, clean, fresh water. Can you blame them for pre-furring that?
This week I got to surprise Turtle with her very own water fountain! Better yet, a Catit Flower Fountain designed specifically for felines. I fell in love with these fountains and the whole line of Catit Senses products when I attended SuperZoo back in June.
Here's a peek at the video I shot with Damian as he toured me through the Catit line.
The Catit Flower Fountain is as cute as can be and looks great in my home, but has some super practical features too:
It holds a lot of water.
It has a robust filter to keep clean water flowing freely.
It's easy to take apart to clean.
It's designed so that kitty's whiskers don't get bent to drink, and they stay dry too. That may seem like a small thing, but it's a game changer for cats!
The Catit Flower Fountain is so sturdy that it simply cannot be knocked over!
Within an hour of me setting it up in her room (yes, she has her own bedroom!) Turtle was happily lapping up the water.
Next, I set up another surprise for her (she must think it's her birthday). I love the idea of interactive feeding as a way to give kitties both entertainment and exercise at the same time. A bowl of cat food is not a challenge at all for a creature whose ancestors lived to hunt for their food.
The way we typically feed our feline friends these days leads to overeating and obesity. There's a feline obesity epidemic in this country, with over 50% of cats being either overweight or obese. Cat parents need to take notice of this and make feeding decisions that help their cats to lose weight and live longer.
The Digger is a purrfect tool for this! It has six tubes in two different sizes. All you have to do is drop your kitty's kibble into the tubes. They will be intrigued and will have to use their brain and body to fish out the kibbles! This burns calories and engages the brain, which is great for their mental and physical health. And since it's easy to use and clean, it's great for cat parents too!
The whole Catit Senses line is interactive and is designed to appeal to kitty's natural instincts. It's a great way to keep a cat's indoor environment fun and stimulating. The Senses line has over 10 smart stations for kitties, all designed by people who love cats and know what they like and need. The stations are all amazing, but adding even one of them to your cat's world will make their life more interesting!