As purr-fect as your new kitten is, you're probably still adjusting to life together. Kittens are a cuddly ball of fun, but they're also a lot of work. They need mental stimulation as well as physical exercise, both of which help them develop into our favorite feline companions.
Choosing the right toys can ensure that your kitten gets just what she needs in younger years and beyond.
Jump to:
How I Pick the Best Kitten Toys
Our four-legged family members need mental stimulation, daily activities, and exercise, all of which responsible pet parents can provide by choosing the right toys. Interactive toys also provide valuable bonding time with your fur family.
To choose the right toys for your kitten, ask yourself these questions, inspired by these recommendations from the ASPCA:
Is this toy made by a reliable manufacturer?
Does this toy include small parts that will easily break off during playtime?
Is this toy small enough to pose a choking hazard to my kitten?
Can this toy hurt my kitten's soft mouth and gums?
Does my kitten have toys to chew, snuggle, and chase?
The 10 kitten toys I'm about to show you were all carefully selected according to these guidelines. Still, make sure you observe your tiny feline friend carefully during playtime, especially if new toys are involved.
With any luck, this list will help you find a few toys that your kitten will play with over and over again into adulthood!
Pin Me!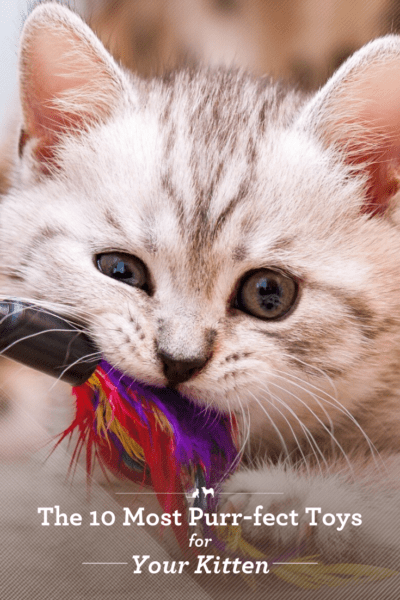 Interactive Toys for Your Kitten
These interactive toys will help your kitty's brain to develop and give her a workout at the same time!
1. A Three-Tier Toy Tower
This multi-level circle track toy has three tiers, each filled with a bright ball to bat and chase. Its colorful design will attract and hold your kitten's attention and help satisfy her hunting, chasing, and exercising needs!
The Tower of Tracks is perfect for one or more cats to enjoy. Plus, this toy is purr-fect for kittens springing into adulthood, as it provides entertainment at any age.
2. A Treat Activity Center
The Catit Senses Digger will motivate your kitten to work for her food, creating healthy eating habits from day one. Designed to stimulate a cat's senses of sight, smell, taste, and touch, the different-sized tubes encourage natural pawing motions and daily exercise. Your furry feline can have fun digging out treats and kibble, and you won't have to worry that your kitten will become a binge-eater.
Additionally, the treat digger's base is stable, preventing stray pellets and spills, and is easy to clean.
3. A Multipurpose Ripple Rug
This multipurpose rug is nothing short of genius. With infinite configurations designed to keep your kitten from boredom, the SnugglyCat Ripple Rug provides the perfect place to play, scratch, groom, pounce, and sleep. Various holes in the rug allow multiple cats or kittens to stalk and play together, and the non-fray design holds up against tough claws and roughhousing.
Even better, this rug is thermally insulated, non-slip, non-toxic, and is made in the US using recycled materials.
4. A Sturdy Puzzle Box
This complex puzzle box comes complete with attached scratching pads and jingly balls. Your kitten
will develop hunting, stalking, and pouncing skills while pushing the balls and treats around the circular track. The convenient scratchpads can even help keep kitten claws away from your furniture!
The Best Chew Toys for Your Kitten
Kittens love to chew! In fact, it's one way that they explore and play. However, if you don't provide your kitten with safe chew toys, you may find her gnawing on cords, shoes, or houseplants!
5. A Catnip-Stuffed Banana
Yes, this catnip-stuffed banana, like most kitten toys from Yeowww!, is a surefire hit for catnip lovers. The fun fabric texture keeps our furry feline friends coming back, again and again, to chew, kick, and pummel.
This banana is handmade in the US and filled with 100% organic catnip.
6. Petstages Dental Health Cat Chew Toys
If your kitten loves to nip toes and fingers, these kitten teething toys just might save the day (and your digits). Their netted design massages the kitten's gums while cleaning her teeth and removing tartar buildup. Lightweight, colorful, and full of streamers, these chew toys are long-lasting and engaging.
What's more, these chew toys from Petstages are filled with both dried catnip leaves and fibrous catnip stalks to give your kitten a satisfying crunch.
Hide and Seek Games
Hide and seek or cat and mouse games keep your kitten mentally strong and provide a great exercise outlet. `
7. A Three-Way Tunnel
We all know kittens love a good game of hide and seek. Whether you have one kitten or three, this collapsible tunnel is sure to entertain!
The Prosper Cat Tunnel is built with durability and safety in mind and even features built-in crinkle paper and a peephole.
The Purr-fect Wand and Bouncy Toys for Your Kitten
These toys are the best for good old fashioned playtime!
8. A Safe Wand Toy
Many wand toys include feathers, jingly bells, or other small items that easily detach from the wand and hurt your curious kitten. This one from Ethical Pet is filled with catnip and shaped like a duck, a squirrel, or a bird, designed to give your kitten hours of safe chasing and pouncing fun.
9. An Interactive Toy for Lazy Days
When your kitten needs some playtime, but you need some downtime, turn on this interactive wand toy. Moving lights and random motions will hold your kitten's attention while you sit back and relax.
This toy from SmartyKat features a durable fabric and a safely designed wand for maximum playtime potential.
10. A Colorful Bouncy Spring
Springs are unique in the world of kitten toys because their random movements are truly captivating. The rolling and stretching coils will have your kitten swatting and chasing springs all through the house.
This spring from Ethical Pet is extra-wide for stronger bouncing action, and it's made of tough, durable plastic with rounded edges to protect your kitten's soft mouth.
Any of these toys would make a paw-some addition to your kitty's playtime collection! As a pet parent challenge, try making sure that your kitten has access to at least one toy from each category during the day. By combining interactive toys, chew toys, hide-and-seek toys, and wand or bouncy toys, you'll help your furry friend stay healthy, strong, and endlessly entertained!