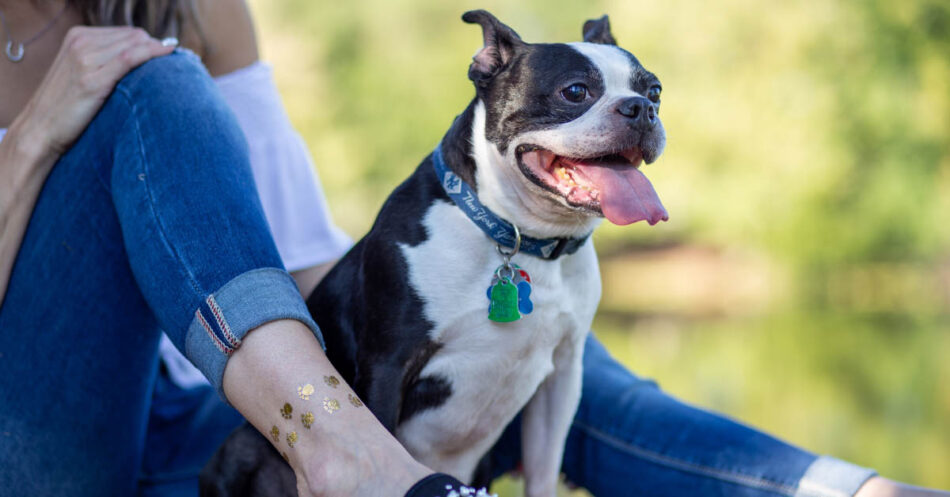 Pet Tattoos That Will Make Your Heart Melt
When I started this blog five years ago, I knew that I wanted to help pets and their people live their best lives together. But I had another dream too. I also hoped to one day create some kind of heart-centered product for pet parents — something unique and meaningful to celebrate the special bond that we have with our pets and the way humans and animals change each other's lives for the better.
For the longest time, I had no idea what that would look like. I just figured that something would inspire me along the journey.
And that's what happened.
What Happens in Vegas…
Back in 2017, I went on a girls' trip to Las Vegas with three of my friends. My friend, Lynn, brought along these fun temporary tattoos that looked like jewelry — gold, silver, and sparkly designs that were oh so Vegas! We had a lot of fun wearing them and got tons of compliments and questions about what they were.
Not only were these flashy tats super fun, but they were also easy to remove once we were done with them. They would simply wear off after a few days, or, if you were super careful, you could get them to last for 5 days or more. If you needed them off sooner, you could remove them yourself in only a few minutes.
In my case, what happened in Vegas was the beginning of an idea for a pawesome pet product.
…Inspires a Pawesome Idea
Back in 2009, I came really close to inking myself when my soul-dog, Buck, passed away. I even had a vision for the tattoo. For months, I pondered making the appointment, but deep down I realized that I was just hesitant to commit to a real tattoo. Even though I knew that Buck would always be in my heart, I was afraid that I would fall out of love with a tattoo's design or regret it for some other reason.
Anyway, about a week after we returned home from Vegas, I was talking to my sister on the phone. Our dad's dog, Bear, had recently passed away, and she told me that she was thinking of getting a tattoo to remember him.
That got me thinking. I wondered if anyone made pet-inspired temporary tattoos like the ones we enjoyed on our trip to Las Vegas. After an exhaustive online search, I couldn't find anything that resembled what I had in mind. There were some animal-themed temporary tattoos for kids, but nothing that would appeal to me personally — or to other pet moms like me.
So, I set out to design my own!
A Dream Becomes a Reality
I worked with several graphic artists and illustrators around the US trying to find the ones that "clicked" with what I envisioned. Ultimately, I wanted to be able to offer a variety of collections that would appeal to girls and women who love their pets and wanted to have fun showing off that passion through temporary body art.
Beyond the look, I wanted to be sure to work with a manufacturer in the USA that would produce a safe, top-quality product that I could be proud of.
After lots of brainstorming, research, and work, my dream of creating a line of temporary pet tattoos has finally become a reality. Pet Living Ink – the Whimsy Collection is the inaugural collection. Its vibe is cute, fun, and designed to make people smile — because that's what our pets do for us every day, all day!
I'll be donating $1 for every package sold from this initial launch collection between Thanksgiving and Dec 31 to Maxx and Me Rescue — a group that I know well and greatly value. The work they do in saving lives and finding forever homes for dogs in need has had a positive impact on so many families!
A Fun and Meaningful Way to Celebrate Our Pets
Many pet parents already celebrate their special relationship with their furry friends by doing things like wearing jewelry or t-shirts, carrying photos, or putting bumper stickers on their cars. Temporary pet tattoos are one more way for pet lovers to pay a meaningful tribute to the animals in their lives.
Pet-themed temporary tattoos could also be used to memorialize a beloved pet. Sporting a paw print or another reminder in their memory is one way to honor their life and help move through the grieving process.
There are other Pet Living Ink collections waiting in the wings, offering a variety of themes, styles, and colors. It's my hope that pet moms will love wearing them. Whether you pre-fur the traditional black designs or the flashy metallics, I guarantee they will spark curiosity and conversations about your love for your pet when you wear them.
Now, I'd LOVE to know what you think! Would you wear these? Do you know someone who would? Do you have ideas for future collections, themes, and colors? Please let me know in the comments below!