Dig this… a portion of this post is sponsored, but opinions are my own and 110% "pawthentic"!
Pets are creatures of habit, and they love routine. And if they've just had an entire summer of extra family and fun time, that's a pretty easy routine to get used to! So when summer ends and the family gets back into the school and work routine, pets may be a little confused and anxious, or they may become bored and lonely.
Here are 6 things you can do to make the change in routine a bit smoother and to establish a new fall routine your pet can get accustomed to.
1. Keep Their Brains Busy
You can try hiding food or treats for cats or dogs to"hunt" and find while home alone. Interactive toys are another fun option since they keep pet's minds engaged while you're away. The GameChanger by the dog training experts at Bark Busters is a paw-some choice for dogs. You just fill it with tasty food or treats, and your pup will be busy for hours figuring out how to dispense them! Head on over to my website for a chance to win one of these amazing toys! (Contest ends August 12.)
You may be able to occupy kitties with crinkly toys or ones filled with catnip. Many cats also enjoy cat trees to climb on or scratch, or even a comfy window seat so they can watch the fascinating world outside.
2. Creature Comforts
Pets appreciate being comfy and cozy just as much as we do. How about easing the pain of summer's end with a new crate to hang out in or a comfy bed for Fido to sleep on until the kids get home from school?
3. Separation Anxiety Relief
Understandably, pets who crave companionship may experience a certain amount of separation anxiety when they find themselves left at home alone – especially if they've gotten used to having the family around for most of the summer.
Pheromones can be helpful in treating anxiety in dogs and cats and can be found in several forms, including sprays, diffusers, wipes, and collars. You can also find collars that are scented with lavender or chamomile to help reduce stress. Check out YouTube for playlists of relaxing music for dogs or cats. I also love the Calmz Anxiety Relief System and have used it for my dogs. Calmz is a wearable system that uses a combination of calming tones and vibrations to bring relief to anxious dogs.
If your pet exhibits these noticeable symptoms when you are leaving the house or while you are away, you should discuss his anxiety with your vet:
pacing
panting
whining
trying to get out the door with you
destructive behavior
inappropriate elimination while no one is home
4. After School Games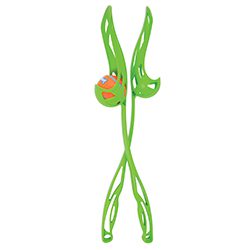 When the kids get home, their first responsibility should be to spend time with the dog or cat. Depending on their ages, kids could take your dog for a walk or just spend some time playing or snuggling with the pets they haven't seen all day. Why not get some new toys for pets to enjoy with you? I love the Chuckit! Sport LX Launcher – a super fun lacrosse-style toy that can easily entertain two kids and at least one dog. This will probably make playtime more interesting for kids and pets!
5. Bedtime Stories
Your young child can practice reading by sharing a bedtime story book with the family cat or dog. One of my favorites is "Cooper: A Rescue Dog's Tale" by James S. Martinez. This sweet story not only gives kids a way to unwind before bedtime and to bond with their pet, it also teaches them about helping animals in need. And since many schools require nightly reading, it's the perfect way to meet that requirement while also spending some much needed purr-sonal time with furry family members!
6. Bring Them Along
Dogs love to ride along when you take the kids to school or pick them up at the end of the day. This is a great activity they can look forward to in the fall. Just be sure they are safely restrained in the car with a harness, seat, or carrier. One of my favorite dog travel tools is this safety seat from PupSaver (complete with air features) for pups up to 45 lbs. For larger pooches (like my dog Chilly) I like the Clickit Sport Harness by Sleepypod because it's super safe (5-star safety rating from Center for Pet Safety), comfy, and doubles as a walking harness.
The end of summer can be a difficult transition for the four-legged members of your family. You can ease pet boredom and anxiety by keeping them in mind as you establish your new routine.
This is a sponsored post. However, all opinions and anecdotes are my own, and I never promote any products or brands I don't believe in. ~Petfully yours, Kristen
Pin me: