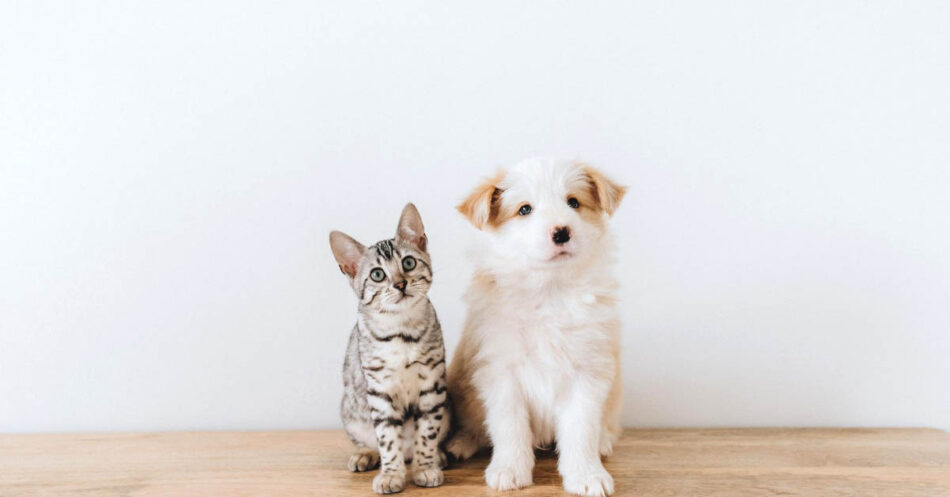 How to Make Pet Anxiety Treatment Affordable
If your pets are suffering from fear, anxiety, and stress, there's nothing you wouldn't do to bring them some relief! When we were searching for help for our dog, Buck, we tried natural solutions, prescription anxiety medications, and behavior modification (training). And, although we were happy to do it for him and thrilled when his anxiety became more manageable, our budget definitely took a hit with all of those treatments!
Pin Me!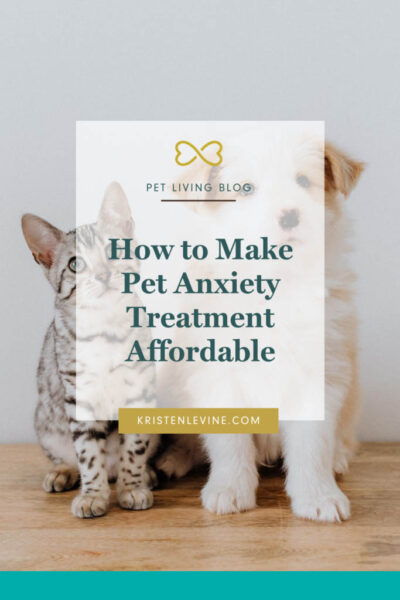 I can't think of money better spent than the dollars we put into helping our pets live healthy, happy, and fear-free lives, but if there's a way to get the same quality pet treatments and save a little in the process, I'm there! Over my years as a pet parent, I've learned that dealing with a pet's fear, anxiety, and stress doesn't have to break the bank! Here at the tail end of Pet Anxiety Awareness Week I wanted to share a few tricks I've dug up that can make pet anxiety treatment a little more affordable.
4 Easy Ways to Save Money on Pet Anxiety Treatment
1. Try Before You Buy
As great as it would be if there was a one size fits all solution to pet anxiety, that's just not how it works. No one treatment works for every pet, and many pets respond best to a combination of several treatments. So you may have to try several options before you find the perfect treatment plan for your own furry friend.
With that in mind, it's a good idea to avoid buying large amounts of any product before you've had a chance to try it out. Check to see if the treatment you're interested in offers samples. If not, you may want to purchase the smallest available size. That way, if your pet doesn't respond as you'd hoped, you won't be losing as much money.
Or, even better, some companies offer a money-back guarantee. Any time you're purchasing a new product, make sure you know their return policy. ThunderWorks, for example, offers a full refund of any product that doesn't work for your pup, as long as you return it within 45 days. So trying any of their products is pretty much risk free!
2. Buy in Bulk
Once you've found something that works to ease your pet's anxiety, it may be best to stock up! Buying in bulk is often significantly cheaper than purchasing smaller packages. If you're using sprays, treats, or other products that need to be restocked, this is probably the way to go.
Some companies also offer even better prices if you purchase a subscription. For example, you can save 9% if you purchase a monthly subscription for Bedtime Bones®!
3. Shop Around
Another way to manage your pet's anxiety without losing your tail is to do some comparison shopping. It could take a little time to shop around, but it could end up saving you quite a bit! Start by comparing several online retailers. Then either visit or call local shops. You might be surprised by the difference in prices!
You may even be able to save on your pet's prescription anxiety medications. Compare online pharmacies to find the best price. Then, ask your veterinarian if he or she will match the online price. Many will do so to ensure that you're a happy client! I recommend you always try to buy from your vet because it's ideal for all health records and medications to be on file with your family vet practice.
4. Get Reimbursed
I can't say enough about how much having pet insurance has done for my furry family members. Plus it gives my husband and I the peace of mind of knowing that if Chilly or the cats get sick or injured we'll be able to afford the best vet care possible for them. And it's paid off. Over the past 7 years we've saved thousands of dollars on vet bills for Chilly!
Although pet insurance has always been great for helping out with those big, unexpected expenses, up until recently we were left on our own for things like routine wellness checks, vaccinations, grooming, and anxiety treatments. And then I found out about Wellness Rewards from Embrace Pet Insurance. It works basically like a health savings account, and it essentially rewards you with free money for being proactive with your pet's health!
Pet Parents are given three options for Wellness Reward reimbursement per pet, per year (which can be adjusted each year) including: $250 allowance, $450 allowance, and $650 allowance. And here's the good news for parents of pets with anxiety – Wellness Rewards will reimburse you for many of your pet's anxiety treatments! So if you're spending money monthly on medications or other treatments, this is definitely worth checking out!
Another Fur-bulous Resource for Dog Parents
In addition to helping pet parents pay for pet care, Embrace (a partner in this year's Pet Anxiety Awareness Week) offers another pawesome resource. Their "Safety Furst" video series is designed to promote dog safety through proper training. Each video is about 4 minutes long, and they feature professional dog trainer, Laura Nativo, talking about positive training methods for your dog. I'm especially excited that they've created a video dedicated to fireworks desensitization – a must see for parents of pooches with noise anxiety!
If your pet suffers from anxiety, your budget doesn't have to go to the dogs! With a little research and planning you can afford to give them quality treatments!
This is a sponsored post. However, all opinions and anecdotes are my own, and I never promote any products or brands I don't believe in. ~Petfully yours, Kristen