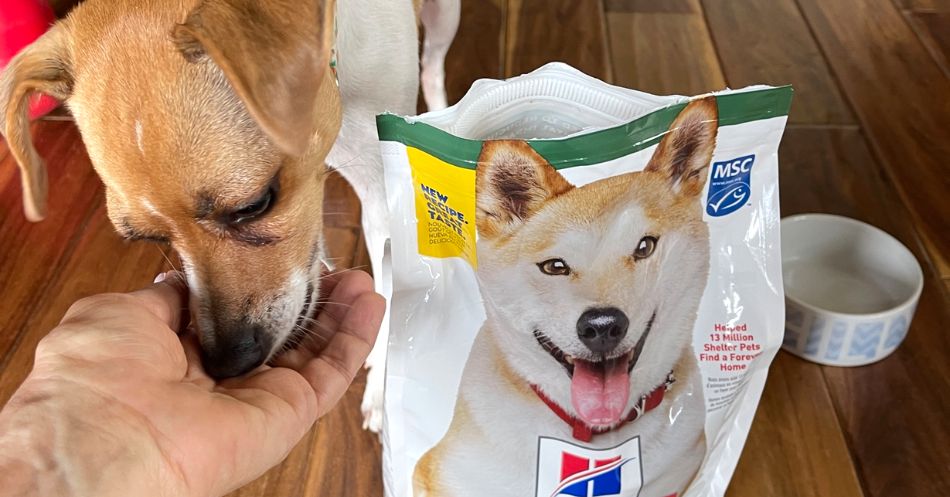 My Review of Hill's Science Diet Sensitive Stomach and Skin
Choosing a pet food is a hot topic, and a sensitive one. Especially for dogs with sensitive stomachs.
What's right for one dog may not be good for another. And if your pup has tummy issues, you're probably leery (rightly so) of making the leap to a new food.
Recently, my dog Tulip tried Hill's Science Diet Sensitive Stomach & Skin. Here's the full scoop on what we thought and whether Tulip gave it two paws up.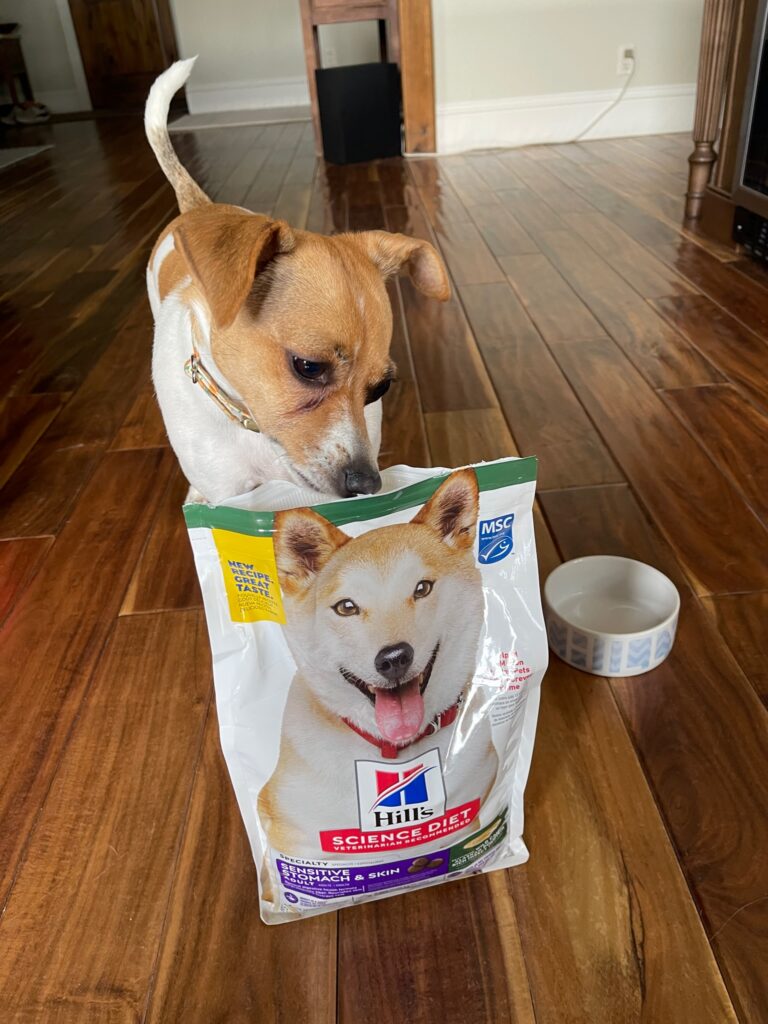 Is Hill's Science Diet a Good Food for Dogs?
When I try a new food, I do my research. I like to know not just about the food itself, but the brand behind the food. Here's what I learned.
Hill's Pet Nutrition has been around for years – 75 years to be exact. They've built a strong reputation for pioneering science-led pet nutrition. They have a whole team of veterinarians, PhD nutritionists, and food scientists.
Hill's is often sold at veterinarian's offices, and some foods are actually prescribed.
The Sensitive Stomach & Skin formula is not a prescription food. It's an over-the-counter solution for dogs who have sensitive tummies but who don't need a prescribed food due to a medical issue.
For dogs that have medical reasons for stomach and skin sensitivity, it's best to consult your veterinarian for recommendations on the food that's best for your dog.
What makes this new kibble recipe so unique is that it contains sustainable protein like wild-caught Alaskan Pollock from an MSC-certified fishery and locally raised insect meal.
Insect protein is trending right now, but it's not new. In fact, I've fed my dogs cricket protein treats for years and they love it!
But would this recipe from Hill's meet expectations?
Pin me!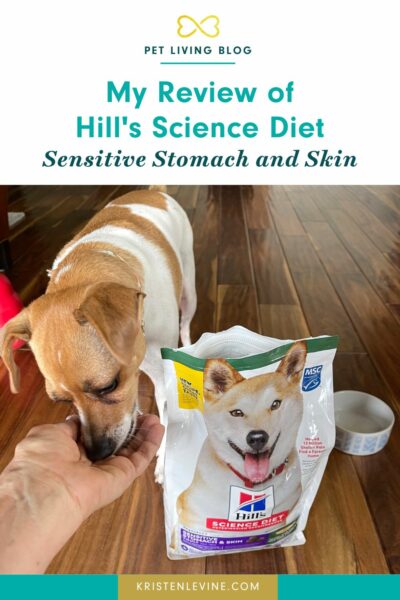 My Dog's Review of Hill's Science Diet Sensitive Stomach and Skin
My dog, Tulip, tried the new Hill's Science pet food. The Verdict? She LOVED IT. Perhaps more importantly, her stomach loved it too. We had no issues with it causing upset stomach or any other reaction.
The savory fish flavor was a hit with Tulip. This picture truly says it all, I think she made a food memory on the first bite.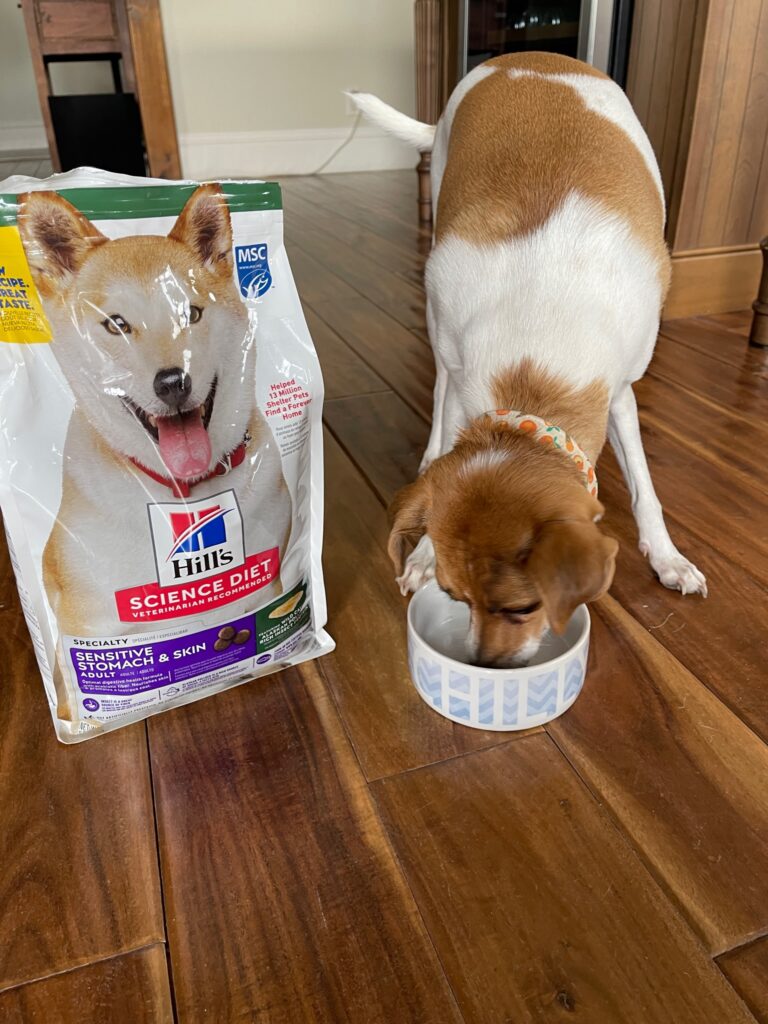 Let's face it, if your dog doesn't like the food, no matter how good it is for them, it won't do them any good if they won't eat it.
When it comes to flavor and taste, Tulip gave this food two paws up!
And honestly, I fell in love with this dog food too. But maybe not for the same reasons as Tulip!
My Review of Hill's Science Diet Sensitive Stomach and Skin
I touched on it earlier, but what I really love is that this dog food recipe contains "proteins with a purpose".
What I mean by that is it's formulated with sustainable ingredients such as locally sourced Marine Stewardship Council (MSC) certified Alaskan Pollock. It also features locally raised rich insect protein.
For me, that's a big deal. According to one study, the average-sized dog is responsible for up to 770 kg of carbon dioxide emissions per year. The majority of that is attributed to their diet.
One estimate from researchers at the University of California at Los Angeles calculates that dogs and cats account for 30% of the environmental impact of meat consumption in the USA.
That's a lot.
I appreciate that Hill's Science selected proteins that are environmentally friendly. They support your dog's stomach and skin sensitivities while also supporting a healthier and more sustainable future.
Here's more on the proteins with a purpose:
Wild Caught Alaskan Pollock. Hill's uses fish that's sourced by a certified wild capture fishery. That means they only fish from healthy stocks, minimizing the impact on other species and the wider ecosystem.
Rich Insect Protein. I've long been a fan of insect protein in my dog's treats. It's nutritious and very sustainable as a long-term source of protein.
The specific insect protein in this formula is raised in North America and is also a great source of fiber.
Both of these proteins are earth friendly and good for your dog. As a pet parent it's comforting to know I don't have to choose between the right nutrition for my dog and the health of the planet.
Even the grains in this recipe were consciously chosen because of their lower environmental impact and overall reduced carbon pawprint.
Health Benefits for Your Dog
In addition to being sustainable, the Alaskan Pollock is a great source of Vitamin E and Omega-6 fatty acids for skin and coat nourishment.
It's also a good source of Vitamin C and E, which are proven antioxidants that support healthy immune systems. A healthy immune system is a good defense against inflammation that can aggravate digestion and skin issues.
And since it's made from such wholesome ingredients, the recipe is highly digestible. So if your pup tends to have tummy issues, this gentle formula is just what they need.
I invited some of my Facebook followers to comment on how their dogs did on this food and here's what some of them said:





How to Switch to A New Dog Food
Some dogs may be so sensitive (or such picky eaters) that the idea of switching to a new food stresses you out.
Totally understandable. But Hill's Science Diet Sensitive Stomach is so great for your dog and the planet, it might be worth a try.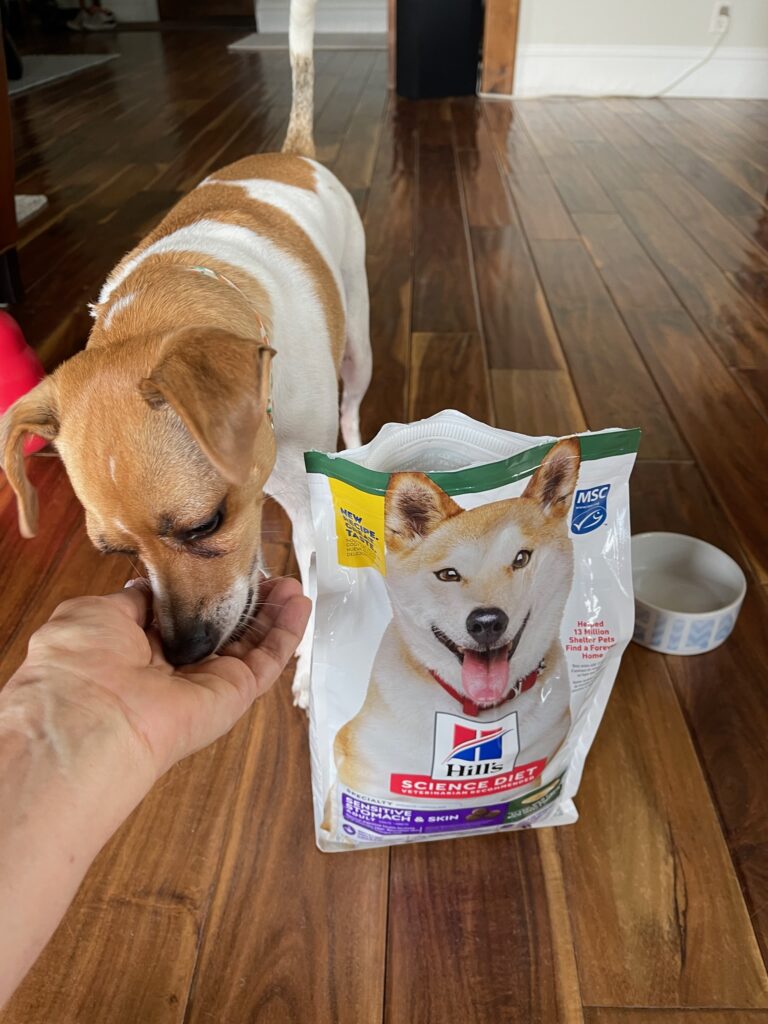 I definitely wouldn't advise transitioning all at once though.
Abruptly switching to a new food could create gastrointestinal upset like vomiting and diarrhea.
So make the transition over the course of several days, even longer if your dog has a particularly sensitive stomach.
Each day, you can gradually incorporate the new food into your pup's current diet. For example, on the first day, make their meal 25% of the Hill's recipe and 75% of their old food. Keep increasing the Hill's recipe until your dog can eat a full meal.
And of course, as you make this transition, monitor your pup's reaction to ensure they're adjusting to the change.
The Final Woof
Safe to say, the Levine household is paws over tail for Hill's Science Diet Sensitive Stomach and Skin.
It's eco-friendly and nutritious for my dog. Their proteins with a purpose are just what Tulip needs, while also being sustainable. And I can give this recipe to her, confident that it's gentle on her tummy.
This is a sponsored post. However, all opinions and anecdotes are my own, and I never promote any products or brands I don't believe in. ~Petfully yours, Kristen