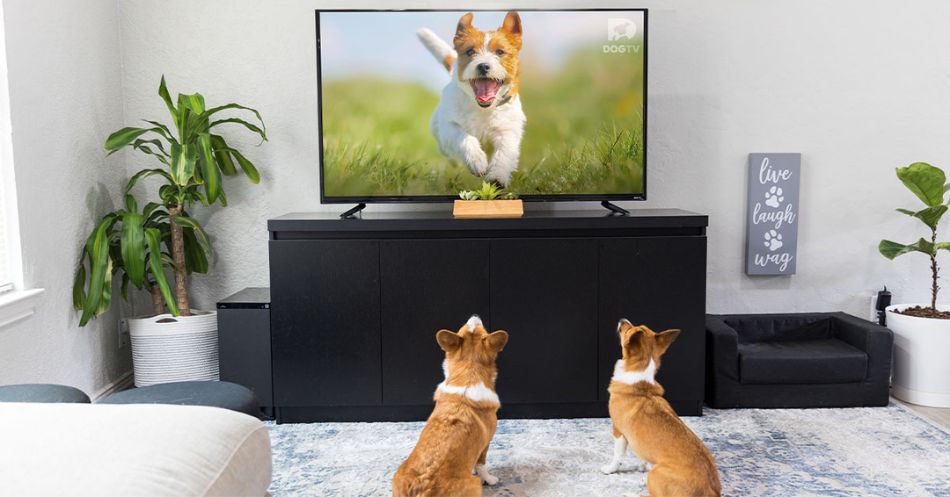 Our Anxious Dogs Tried DOGTV for 30 Days and Here's What Happened
Here at Pet Living, we're no strangers to separation anxiety. Some of our dogs can't stand being apart from their parents – even if they're only in the next room.
We tried DOGTV for 30 days to see if it would help our stressed-out pups. Here's what happened.
What Is DOGTV?
DOGTV is a streaming service specifically designed for dogs. It's the first TV channel created to reduce anxiety in dogs.
It uses short videos with sounds and colors that are optimized for a dog's attention span, color perception, and auditory stimulation. It works differently than simply turning on the TV to provide your dog with background noise.
It's science-based, and veterinarians have helped to develop the proprietary production process which alters the colors and sounds to be best absorbed by dogs.
After extensive research, the folks at DOGTV concluded that our canine besties experience television slightly differently than we do. For example, they have shorter attention spans, they don't see the full spectrum of colors that we do, and they're sensitive to motion and certain sounds.
With that in mind, DOGTV partnered with pet experts to create short videos that appeal to dogs who struggle with separation anxiety and are at home during the day.
Each episode is between 3 and 5 minutes long, is color adjusted, and has a soundtrack that was specifically created for dogs. Even if your pup isn't looking at the screen, the soothing music can calm their anxiety.
Here's What Happened When Our Dogs Tried DOGTV
Some dogs just can't stand to be left alone. Instead of being calm and content, they become anxious and stressed. If your dog suffers from separation anxiety, they may exhibit some of the following symptoms:
Whining
Pacing
Panting
Barking
Destructiveness (clawing, chewing, etc.)
Peeing
Clinging to you
Barking or howling
When you're getting ready to leave the home or begin working in your home office, your pup may start acting differently and become distressed.
Other dogs may not struggle with separation anxiety, but they do tend to be more anxious and reactive when they don't have full access to their humans. That's the case for Zuzu, a Yorkie mix in the Pet Living family.
Dog mom Pamela explains, "Since I work from home, Zuzu has access to me pretty much 24/7, but she hates coming in the office. It makes her agitated, and she doesn't have a great spot to look out the window." As a result, Zuzu stations herself away from the office, in the living room near her favorite window.
Pamela describes, "She barks at every leaf, cat, delivery person, or jogger who dares to appear before her. This happens the most when I'm not in the room. Which means every time I have a meeting, she's barking her head off."
They turned to DOGTV in search of some relief. "I started by watching the introduction video which explained that dogs don't watch TV the same way we do. They won't stare at the screen, but you might notice differences in their behavior." Right away, she saw a difference in Zuzu's behavior.
"What I noticed the most was silence! When I turned on DOGTV (specifically the relaxation episodes), I didn't hear her barking during my meetings. She stayed calm, which was a huge win for us."
Not only can Pamela enjoy a quieter work environment, but Zuzu gets much-needed relief from her anxiety.
Kristen had a similar experience with her dog Tulip. "I mostly use DOGTV while I'm at home working to keep Tulip quiet, engaged, and entertained.
"Tulip will actually watch it, especially if there are multiple dogs on screen. But I can tell she also listens and finds it calming, as she often falls asleep within 10 minutes of me turning it on."
Kristen also uses DOGTV to help Tulip deal with her anxiety around strangers.
"I find it helpful when we have workers or repairmen at the house. Tulip gets very agitated when strangers are here, but I find that DOGTV will help her calm down after about 5-10 minutes."
She adds, "I even find it calming too!"
Pin me!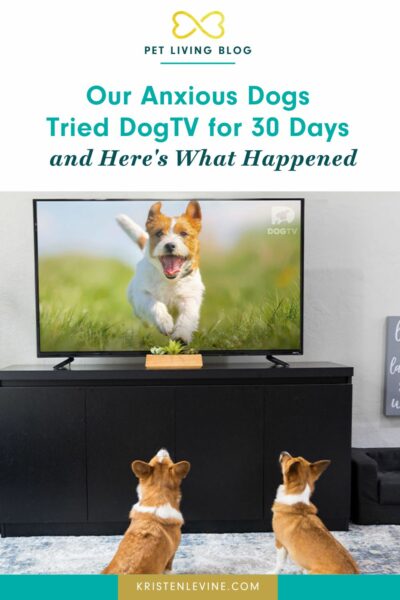 What Shows Are On DOGTV?
The shows on DOGTV are divided into three categories: relaxation videos, stimulation videos, and exposure playlists.
Relaxation Videos
These videos are amazing at soothing and calming dogs who are struggling with separation anxiety or who are reactive to passersby or noises. These videos have slower motion and calming music at frequencies that will soothe your pup's anxiety.
Stimulation Videos
Some dogs spend much of their day at home and suffer from boredom. Left to their own devices with little stimulation, bored dogs can become destructive and get into mischief.
These videos are designed to give them mental stimulation when they're at home for long periods of time. There's upbeat music, bouncing balls, and familiar sounds to keep their minds active.
Exposure Playlists
Think of these videos as an educational experience. Some dogs' anxiety is triggered by unfamiliar sounds. Noises like thunder, doorbells, and fireworks can really send a stressed pup over the edge.
The exposure playlists give your dog limited exposure to everyday sounds. Over time, they learn that these things aren't threats to be feared.
Is DOGTV a Good Value?
DOGTV aims to safely improve your dog's stress levels at a reasonable price. You can sign up today for a free 30-day free trial with the offer code PETLIVING.
Or, you can dive in and choose a monthly subscription. Pamela, quoted earlier, commented, "The subscription is very affordable and totally worth it if it makes your dog happy!"
What Are the Cons of DOGTV?
We did notice some minor drawbacks: Pamela and Zuzu couldn't find an app that was supported by their LG smart TV. "I had to either use the built-in browser, which is not super convenient, or I had to screencast from the app on my phone, which is not an option when I'm leaving the house."
While using the built-in TV browser, the picture would shut off after some time of inactivity, so the sleep settings had to be adjusted for the picture to remain on screen.
Our Final Verdict on DOGTV
So, what's the final verdict from our dog moms?
"I would definitely recommend DOGTV for any dog who's reactive or has separation anxiety," says Pamela. "There is a wide variety of programming so it makes it difficult for you or your dog to get bored."
DOGTV is an invaluable tool to help manage your fur family's anxiety. We love it, and our dogs love it too. Get your paws on a subscription today!
This post was sponsored by DOGTV, but all opinions and recommendations are paw-thentically my own!'