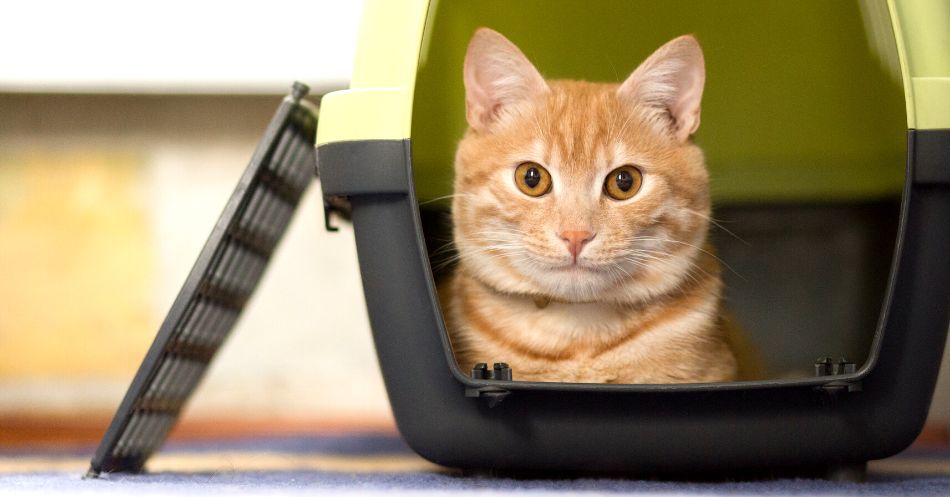 7 of the Best Carriers for Cats as Reviewed by a Cat Mom
Cats are infamous for hating carriers and traveling. In fact, in a survey of more than 3,000 pet parents, nearly 25% said going to the vet and/or traveling made their cat anxious.
Choosing the right carrier can make all the difference in helping your cat's journeys be more pleasant and less stressful.
Before upgrading your kitty's carrier, start by visiting Slickdeals – a community of millions of real people working together to save – it's all about shoppers helping shoppers. As a paw-rent, you'll know you're getting the best product at the best price.
Here are our picks for the best cat carriers for every situation.
Best Cat Carrier for Car Travel
When you're on a long car trip with your cats, the last thing you want is a stressed-out or carsick kitty. Oftentimes, simply providing a larger space for your cat can help.
This collapsible "cat condo" by Petmate comes with its own portable litter box and collapsible food and water bowls as well. It can be secured to a bench seat for safety, and it gives your cat room to stretch and move around on those long trips.
Also, because it's collapsible it's easy to store. Pet Living family member Alyssa keeps one with her emergency "go bag" in case she ever has to evacuate her fur family due to a natural disaster.
The one potential con is that it isn't hard-sided plastic – if your cat is more destructive, they could possibly claw their way out.
Best Cat Carrier for Air Travel
Air travel is stressful enough for humans, let alone our cats. Having the right carrier so your cat can safely accompany you is a must.
Paws down the Sleepypod Air is the best cat carrier we've seen for air travel.
Pet Living parent Pamela loves that it's got a double layer of mesh so it's nice and dark. It's also heavy-duty and looks like a piece of luggage. It has a soft shearling liner so it keeps them warm, which can be an issue on planes, especially on the floor.
Pin Me!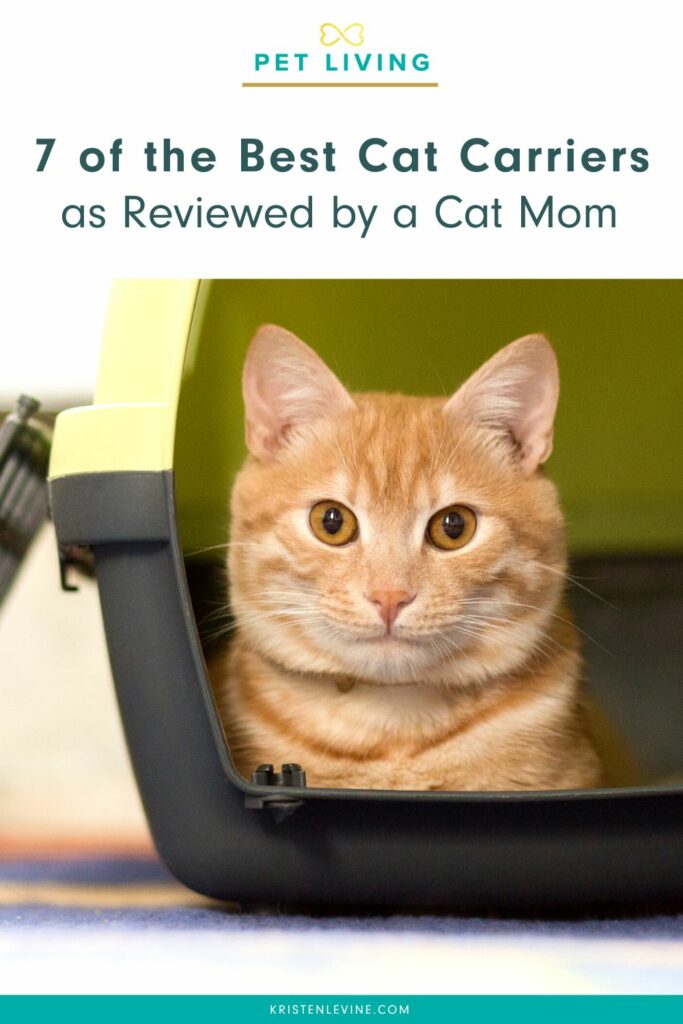 Another great feature is that it can expand and contract. This means it can fit nearly any airline's size requirements. It also means it will fit securely under your seat during takeoff and landing but can be expanded while at cruising altitude to give your cat some room to stretch.
The one negative is that it's a bit pricey compared to some of the other carriers on our list, but it's a quality product that does exactly what it claims.
Best Cat Carrier for Vet Visits
Visits to the vet can be stressful for both cats and their pet parents, but the right carrier can make a huge difference. Since your vet will need easy access to your cat, you don't want one with limited access – otherwise, you or your vet may have to pull your cat out against their will, which will surely increase their stress level.
That's what makes the original Sleepypod such a great choice here. Board-certified veterinary behaviorist Dr. Lisa Radosta pointed out that the cat can stay in the pod for most of the visit since it unzips at the top and then they're basically in a bed. It allows the vet to deliver a lot of medical care in the carrier.
Besides choosing the right carrier, there are some things you can do to help reduce your cat's anxiety.
Get your cat used to their carrier. Don't store your carrier in the closet or basement. Keep it in a space they will use regularly and leave favorite toys or treats inside.
Try a pheromone spray. Spray your cat's carrier with a pheromone spray, such as this from Feliway, which can help your cat feel calm.
Try some calming music. There is music composed especially for cats! Playing this in your car can help them feel calmer. Cat mom, Kimberly, loves using Zoundz for her cats.
To learn more about how you can reduce your cat's anxiety, check out the Fear Free website.
Best Backpack Cat Carrier
For pet parents who prefer a more "off-road" experience with their cats, try this backpack carrier from Gen7.
It's secure enough that you don't have to worry about your cat escaping while also giving them plenty of ways to view the outside world.
But our favorite feature of this cat carrier backpack is that it's transformable for different uses. It has wheels and a handle for rolling along once you've returned to civilization, and when you lie it on its side it becomes a safe and secure car carrier for the trip to and from your hike.
Best Carrier for a More Active/Destructive Cat
Sometimes a fabric cat carrier just isn't enough. If your cat is an escape artist who can easily claw their way through mesh or fabric, this hard carrier by Van Ness may be the perfect fit.
It has one unique feature that makes it an especially great choice for anxious cats. Pulling a scared kitty out of their carrier often makes matters worse, so this carrier's entire bottom portion slides out. This makes it infinitely easier to move your cat into and out of the carrier and helps make it a less stressful experience for them.
Best Budget Cat Carrier
If you need a basic carrier that is functional and sturdy, this two-door hard kennel from PetMate fits the bill. Having both front and top doors makes it a lot easier to place your cat in the carrier, and its heavy-duty nature makes it very durable.
Pet Living parent Alyssa says her PetMate carrier has lasted over 10 years and still looks brand new. She admits the only problem is that plastic kennels usually can't be easily secured in vehicles, so you will need to set the kennel on the car's floor and make sure it is held in place. If you have a cat prone to car sickness, that may not be your best option.
Best Everyday Cat Carrier
For everyday use, we love this carrier from Meowant.
It's soft and cozy to keep your cat comfy and secure while traveling but with three expandable sides that give them more room to stretch out when you've reached your destination. It could even double as a playpen or sleeping area while staying in a hotel on the road.
We also love that It's very budget-friendly, so we wouldn't feel so worried about taking it to the park or some other place where it might get dirty.
FAQs About Cat Carriers
How can I get my cat to start using a carrier?
According to veterinary behaviorist Dr. Lisa Radosta, of Florida Veterinary Behavior Service in West Palm Beach, FL, when you first get your cat, try to make the carrier a good thing (otherwise, they're only going in the carrier when it's a bad thing). Put the carrier out, make sure there's a bed in it, and feed your cat in it – almost treat it like a dog crate so that it's something that's around all the time. To make it a little easier on the eyes (since it will be sitting out in your home), use a carrier like the Sleepypod carrier that looks like a bed. All this will help them view the carrier as a safe place and make them more likely to enjoy using it.
What size cat carrier will I need?
You don't want your cat to feel too cramped in their carrier. They should be able to turn around comfortably in it. Generally speaking, a carrier should be 1.5x the size of your cat. Always check the weight limit on a carrier, too. Some carriers have very low weight limits that could make them dangerous for larger breeds. If you're buying a carrier for a kitten, buy one that you estimate will still fit them as an adult. 
Do cats prefer hard or soft carriers?
While soft carriers are definitely cozier, each cat has different needs. If your cat is prone to car sickness or travel-related stress spraying or defecating, having an easy-to-clean hard carrier is helpful. Durability may also be a concern. Cats that are more active or destructive may be able to escape a soft carrier. Whether you decide on hard or soft, having multiple access points that allow you to easily place your cat in or remove them from their carrier is essential.
Why do cats cry in a carrier?
When a usually quiet cat starts meowing in a carrier, the usual culprit is stress or anxiety.  You can help them deal with the stress by leaving the carrier out for a day or two before the trip for them to explore, by putting a favorite blanket or toy in the carrier, or by using a pheromone diffuser or spray like this one from Feliway (link to be added later)
The Tail End
Getting the best cat carrier for your cat means making sure it suits both your needs and those of your furry feline friend. Whether you're taking your cat on a hike, to the vet, or just to the local pet store, there's a carrier that's guaranteed to be a purr-fect fit.
Would you like to know how to get even closer to your feline friend? Then download your free copy of the ebook "How to Bond with Your Cat" below!