We all know what it's like to be bored at home. There's only so much you can do at home for a long period of time, especially if you're by yourself. When you're bored, you may find yourself watching more TV, eating more junk food, or spending hours playing mindless games on your phone.
Humans aren't the only ones who tend to develop bad habits when bored. A bored cat may also start doing things that are either unhealthy for her or frustrating for her parents.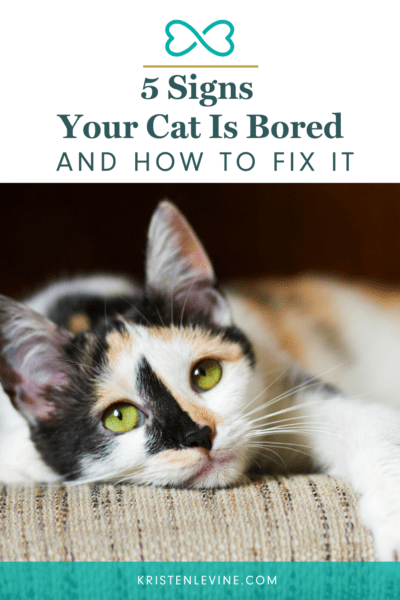 Cats are home all the time and, depending on their parents' lifestyle, sometimes by themselves. Many cats are left to entertain themselves while their family is away at work and school every day. On top of that, some cat parents mistakenly think that their cat will be fine on her own if they want to go away for a day or three. Despite their reputation for being independent, cats can get lonely, and extended time by themselves can cause anxiety.
Whenever I'm going to be away from home overnight, I make sure to find someone who can take good care of my cat Olivia. Aside from that, our normal routine does take us away from home during the day. So, I have learned how to keep her entertained and how to recognize if she's getting bored and needs more stimulation.
Cats may not raid the refrigerator out of boredom, but they do give us clues if they're not getting enough stimulation in their lives. Here are five signs your cat may be bored.
5 Signs Your Cat is Really Bored
1. Over-Grooming or Other Repetitive Behaviors
Bored cats may go beyond regular, healthy grooming habits. Repeatedly licking, pulling out fur, or chewing at their skin can lead to irritation, which only makes the problem worse.
Excessive meowing is another behavior that can indicate boredom.
2. Overeating
If you've ever popped open a bag of chips or finished off a carton of ice cream simply because there was nothing else to do, you understand exactly how boredom can lead to unnecessary eating. This behavior can result in obesity and all of the health issues that accompany it.
3. Inactivity
It's totally normal for cats to spend lots of time napping. However, they also need to enjoy periods of activity like playing, play-hunting, climbing, and exploring. If your cat never seems to leave the couch or seems glum and mopey, it could be that she is bored.
4. Terrorizing Other Pets
A bored cat will sometimes chase and annoy other animals in the house. If your cat is attacking other cats, ambushing the dog, or stalking the guinea pig, one possible explanation is that she needs other stimulation.
5. Destructive Behaviors
Some cats are masters at creating their own stimulation, but that can sometimes be at the expense of your curtains or sofa.
Going outside the litter box is another frustrating behavior that can sometimes be attributed to boredom. Of course, it may also mean that your cat has developed a disliking to her box or her litter. Any time a cat starts having litter box issues, it's a good idea to have a conversation with your veterinarian to rule out a medical cause. After that, a litter box makeover (along with steps to address boredom) will frequently solve the problem.
One of the best things I ever did to encourage my cats to use the litter box faithfully was to switch to World's Best Cat Litter™. It is paws down the best litter I've ever tried. Here are a few reasons this litter is so amazing:
It's planet-friendly and made from all-natural, sustainable corn with no added chemicals.
It's easy to clean. Made using a patented process that compresses the corn into concentrated granules to form tight clumps on contact. Because the surrounding litter stays dry, the clumps are a breeze to scoop out. No chisel needed! And it's 99% dust-free, so you and your cat can breathe easy. Not to mention there's less mess outside the box too.
It controls odors. The granules trap odors deep inside, so you don't smell the litter box the minute you walk into the room.
It's long-lasting. A small bag will last one cat 30 days. So you use less, and end up saving more than you would on "cheaper" litters, which need to be changed more often.
It's flushable and septic safe.
It comes in 7 formulas (including Zero Mess, Picky Cat, and my purr-sonal favorite, Lavender Scented) to meet your cat's specific needs.
Any change in behavior is a good reason to talk to your veterinarian so you can identify and treat any sneaky underlying issues. In addition, adding a few boredom busters is a sure way to make your cat's life more stimulating and interesting.

How to Entertain a Bored Cat
Create A More Enriching Indoor Environment
Window Seats – Set up perches in different rooms throughout your house. Birds, butterflies, and squirrels provide interesting, interactive entertainment that will keep your cat amused for hours. You can even bring the entertainment right to the window by setting up a bird feeder or a birdbath just outside.

Scratching posts – Scratching is a completely natural behavior, but cats need an appropriate outlet. If your kitty is shredding your sofa or area rugs, a scratching post
or mat is a great option to keep her busy without damaging your furniture.


Cat towers – A cat tower
will allow your cat to climb, scratch, and perch as they wish. They can be a bit bulky, but if you have the room, they're a great way to keep your cat engaged. Or, if you're handy, you may be able to build your own and customize it to your space.

Cat Caves – Cats are naturally drawn to cozy hiding spots so why not provide them one of their very own? A cat cave
is basically a pet bed that's shaped like a ball with a single hole for them to crawl into. You could also make a hideaway by simply cutting a hole in a box. Another option is to open a brown paper bag and place it in the middle of the room. Cats usually find these spots irresistible.
Best Cat Toys for Bored Cats
Toys are a great way to provide both physical and mental exercise. It's also a good idea to find a few toys your cat loves and then rotate them occasionally to keep things fresh. Here are a few of my favorite toys to engage your cat's mind.

Puzzle Feeders – Puzzle feeders are toys that contain food or treats, but your cat has to work to figure out how to release them. One of my favorite puzzle toys for cats is Doc & Phoebe's Indoor Hunting Feeder
. It comes with three mice that you fill with food and hide around the house. Not only does your cat have to play with the mice to get the food out, but she'll also have the fun of finding them! This toy engages her natural hunting instincts, and it will keep her stimulated.


Catnip – A catnip toy
can add an element of interest to keep your cat stimulated and happy. Although it's most well known for inducing an energetic, active response, some cats react to it by becoming calm and relaxed. You may even be able to grow your own for a cat-friendly indoor garden.
Interactive Toys – Interactive toys are a fun way to bond with your cat while providing her mind and body with some much-needed stimulation. Usually, these toys involve some kind of feather or toy attached to a pole and string for you to dangle for your cat. Laser pointers are another fun option for your cat to chase. In my experience, cat parents find these toys just as amusing as their kitties do. Playing with your cat for fifteen minutes or so a couple of times a day gives her an element of excitement to look forward to.
Enjoy the Outdoors Safely
Inside is by far the safest place for cats. However, you may be able to provide your cat with safe, supervised time outdoors that your kitty may love.
Enclosed Porch – If you're lucky enough to have a screened-in porch, this is the perfect space to allow your cat to enjoy the sunshine, breeze, and birds in safety. Even if you don't have one already, there are many ideas on the Internet on how to build a dedicated outdoor space, or "catio", for your cat. Of course, cats should be supervised in any type of enclosure, and shouldn't be left alone for too long.
Go For Walks – Taking your cat for a walk is one way to allow her to enjoy outside stimulation without exposing her to the dangers of roaming free outdoors. Some cats will walk on a lead with a harness. Others do better in a cat stroller
. These strollers are designed with small pets in mind and feature enclosures to keep your cat safe, but allow her to take in the sights along the way.
Spend Time Together
Playing together isn't the only way to alleviate your cat's boredom. Other ways to bond include cuddling, reading, and brushing. Find what works for you and your cat. The important thing is to make time for it regularly so your cat doesn't feel lonely and bored.
Get a Buddy
With enough stimulation in their environment, many cats are fine being "only cats." Others might benefit from a little feline companionship. If you choose to bring home another cat to keep your kitty company, you may want to try fostering first. This way you'll be able to tell if your cat will welcome the new companion.
Being bored is no fun for humans or cats! Thankfully, it's simple to keep your cat active and entertained, even if you have to leave her alone from time to time.