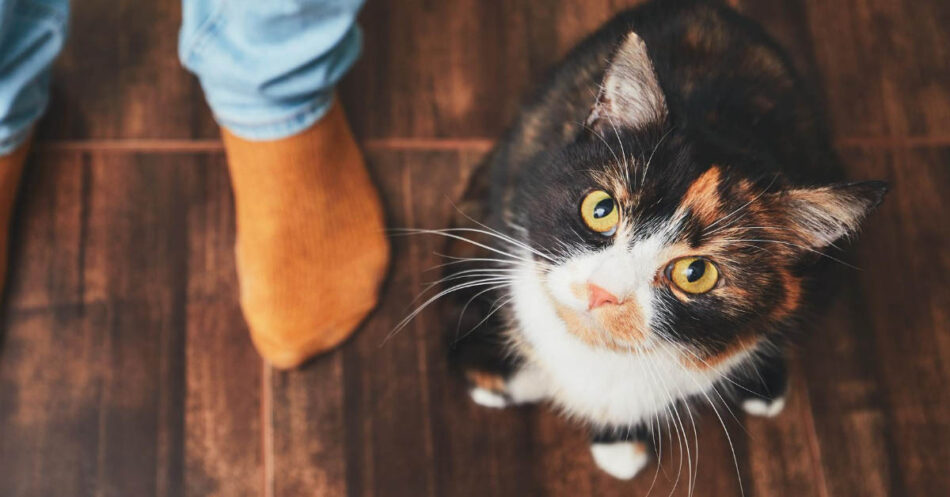 5 Answers to the Weird Things Your Cat Does
When I partnered with World's Best Cat Litter to launch the Dear Tabby Platform, I knew I was in for a treat. And I was right. I just love hearing about all of the crazy things that cats do to leave their parents totally purr-plexed. And I hope that we've been able to give some satisfying answers to more than a few puzzled people.
Our latest batch of questions proves once again that, with cats, you never know what to expect. My latest conversation with Dr. Liz Bales reveals the scoop on five more purr-plexing cat questions.
Plus, be sure to check out below how you can win in World's Best Cat Litter's WIN. CASH. MEOW $25K Giveaway!
5 Purr-plexing Cat Behaviors Explained
1. My 14 year old cat, Pablo, has decided to poop outside of his litter boxes. He has three boxes that I scoop out twice a day. Help!
According to Dr. Bales, pooping outside of the litter box is never a sign that your cat is trying to get back at you for something. It may however, be your cat's way of trying to tell you that something is wrong. The number one reason for a cat to poop outside of the litter box is a medical problem. It could be anything from hypothyroidism to heart disease, arthritis, or constipation, to name a few.
The first step in getting to the bottom of your cat's issue is to pay a visit to your veterinarian, who will most likely want to do a thorough history, as well as a physical, blood work, and urinalysis to check for health issues that could be contributing to the behavior.
If your cat gets a clean bill of health, you may want to look at his litter boxes themselves. An older cat may begin to find it difficult to use a litter box with high sides or ones that are in places that he can't easily access.
2. Our cat is five years old and the only pet in the house. Quite often, especially if she is home alone, she will drag the stuffed bunny on the windowsill beside where she lays, take it over to the bed, or out into the dining room. She has even dragged a stuffed doll into another room.Why do you think she does this?
The simple answer to this question is that cats are hunters. Your cat is finding a creative way to indulge her hunting instincts. Be happy that she's not bringing you anything creepy or crawly!
You can give your cat even more opportunities to "fake hunt" by adding some stimulating activities to her indoor environment. An interactive feeder like Doc and Phoebe's Indoor Hunting Feeder is a great way to keep her entertained when you're not around. Instead of filling her bowl in the morning, fill the mice and hide them around the house for your cat to find. Your cat will get to hunt, play, and catch multiple small meals a day — just the way nature intended.
Pin Me!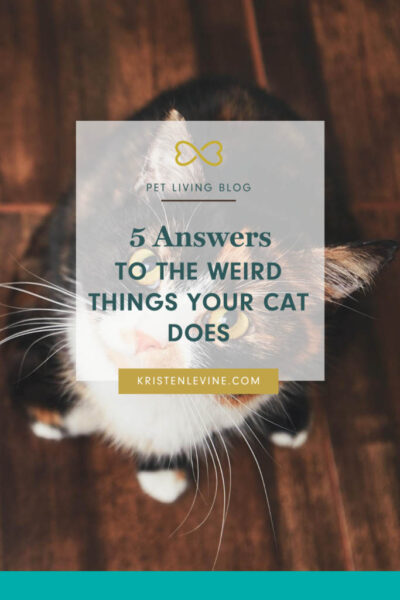 3. My cat, Milo, vomits almost every morning after eating his kibble. Is there anything I can do to stop this? I brought him to the veterinarian but they couldn't find any health issue. Is there something I'm missing?
First of all, good for you for taking your cat to the vet! Frequent vomiting is not normal for a cat, so you definitely want to rule out medical issues or food sensitivity. Since there isn't an underlying medical issue, Dr. Bales suggests that it may be a case of what she calls "scarf and barf."
Cats in the wild catch and eat many small meals every day, and their stomachs are the perfect size to handle this style of eating. It could be that your cat is just taking in more food than his tummy can manage.
Try feeding six small meals a day instead of free feeding or filling the bowl once or twice a day. Or use the Indoor Hunting Feeder to give him small, manageable meals and the fun of hunting and catching them himself!
4. Why does my cat keep pulling the dry food out of the dish, spilling the water all over the place, and playing with the food all over the kitchen?
Once again, this behavior can be explained by the fact that cats are hunters. In the wild, their food is never just handed to them. They were made to hunt, catch, and play with their food. Of course, when they try to do this with traditional cat food, they end up creating quite a mess.
Giving your cat more opportunities to hunt and play will allow him to fulfill his natural need to hunt and play with his food. The Indoor Hunting Feeder is a great way to satisfy this instinct.
If you're still finding that he's making a mess when he drinks, you could always move his water dish to the tub or shower where he can splash away all he wants.
5. My cat gets very afraid when people come over to our home. He runs and hides. Is there anything I can do to make him less afraid of strangers?
It's totally normal for a cat to be reluctant to interact with new people in their environment. Don't force them to be a part of human socialization if that makes them uncomfortable.
Instead, make sure your cat has a space to climb and hide away from all the humans. You can add those spaces in the areas where you spend time with your guests to make it more likely that he may decide to join you. Playing classical music and behaving in a relaxed manner may make him feel more comfortable. If he does interact, it should be on his terms. Let him make the first move, and guests should avoid petting him, or limit themselves to a couple of quick strokes.
A Pawesome Giveaway for Cat Parents — $25,000!
Cats never fail to amaze me with all of their unique quirks and antics! And cat parents never get tired of sharing stories and pictures of their cats' latest escapades. Well, cat parents, now is the time to get out your cameras and show off your kitty's personality, because World's Best Cat Litter ™ is offering you a chance to win $25,000 — just for sharing photos or videos of your cat doing what he or she does best.
All you need to do is click here and enter by doing one of the following things:
Submit a photo of you and your cat
Share a video that tells why you love your cat or why you love World's Best Cat Litter ™
Write a review and share why you love your litter
In addition to the grand prize, you can also enter to win a $2,500 travel voucher or one year supply of World's Best Cat Litter™ by buying specially marked bags of World's Best Cat Litter at participating retailers, signing up for their email newsletter, and voting daily. Plus, you can get five extra entries by entering my special code, LITTERLOVE.
On my most recent appearance on Daytime I shared my love of World's Best Cat Litter and how you can have a chance to win.
Here are a few tips to capture that purr-fect shot:
Photos and videos should be taken horizontally.
Make sure that you have good lighting – submissions are judged on quality as well as on creativity and originality.
Use treats to keep your cat happy.
Have fun and show off your cat's personality — especially if you're submitting a video.
For photos, get right down on your cat's level
For videos, make sure to introduce yourself and your cat, and keep your video under 30 seconds.
So go ahead – grab your camera and have some fun with your cat. And just maybe you'll capture the winning photo or video. Good luck!