This is a sponsored post written by me on behalf of Taste of the Wild PREY for IZEA. All opinions are 100% mine.
Dogs are creatures of habit, and they thrive on routine. But that doesn't mean that their lives have to be totally monotonous. Although there are certain elements of Chilly's world that stay quite predictable (like his mealtimes and his morning and bedtime routines), we still like to throw in a surprise trip to the beach or a special yummy treat every once in a while.
Pin Me: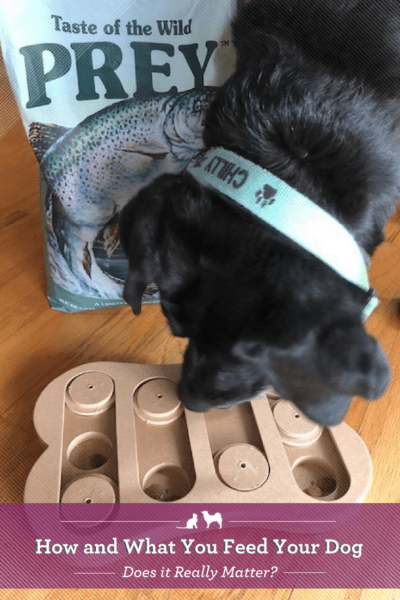 As a matter of fact, when it comes to Chilly's diet, we do tend to give him a variety of foods. We have to be careful what we feed him, since he has a chronic kidney condition called protein urea. To help manage his condition, he's on a veterinary-prescribed diet that is low in protein, and he's carefully monitored by our wonderful veterinarian, Dr. Carlos Garcia at St. Francis Pet Care Center. However, we've been given permission to carefully supplement Chilly's prescribed diet.
Back in May, I heard about Taste of the Wild PREY dog food, and I was immediately excited. It's a limited ingredient dog food, and all of the ingredients they include in their food are things that I would eat myself! After much research and discussion we determined that this would be a good supplement to Chilly's special diet. The company recommended that we give him the trout formula, since it has the lowest protein content.
Two months later, Chilly is still loving it. Chilly can be a bit fussy about his food, but he loves Taste of the Wild PREY. As a matter of fact, we use it as a "treat" to fill his treat dispensing toys, and I don't think he knows the difference!
Finding a food that I can feel good about feeding to my best friend (and that he'll actually eat) is only half the battle. I firmly believe that how you feed your dog is nearly as important as what you feed him.
Food and Fun – A Pawesome Combination
Feeding time is a great opportunity to stimulate a little doggy mind and even sneak in some exercise! In our case, we need to create opportunities since summertime here in Florida is so hot and muggy that Chilly would be perfectly content to sleep every day away in front of the air conditioner! We walk him in the mornings and evenings when it's a little cooler, but I like to give him a little mental stimulation in between. Interactive feeders are a great way to keep him active and engaged during the long, hot summer days.
I measure Chilly's dry food every morning to make sure that we don't accidentally over feed him. He gets two cups that have to last the whole day, so I dispense it to him via his bowl or treat feeders sparingly so he doesn't run out too soon. (He also gets canned food in the morning).
Chilly has four "feeders" – his regular old dog bowl, his Bob-a-Lot toy, his "noisy" treat ball, and a bone puzzle feeder. The treat feeders are probably his fave. We fill these toys with kibble from PREY about 3 times a day and give them to Chilly to play with. He rolls them all over the house eagerly waiting for the "treats" (aka healthy food) to fall out. This literally keeps him occupied for 10-20 minutes at a stretch!
I also use the bone-shaped puzzle to play with him each day – usually during my lunch break. I hide the PREY pieces in the slots and hold the puzzle down for Chilly to sniff them out. Not only does this exercise his mind, but it gives us bonding time together too.
Limited Ingredient Dog Food
As far as Chilly is concerned, a food is good as long as he likes the taste. And as you can see, Taste of the Wild PREY totally meets his expectations. I'm a little harder to impress, though, since I know how important it is to feed him a high-quality diet. Here are a few of the reasons I think PREY is something to bark about:
Simple formula, clean ingredients. In the wild, a dog's diet would consist mainly of the prey he hunted. Taste of the Wild PREY is more like what dogs eat naturally. It's made with zero grains, non-GMO ingredients, and no artificial colors, flavors, or preservatives. The limited ingredient dog food is made with only four key ingredients: real cage-free turkey, spring-fed trout or pasture-raised Angus beef, plus lentils, tomato pomace, and sunflower oil.
Complete nutrition. Every ingredient in Taste of the Wild PREY is there for a reason, and it's fortified with vitamins, minerals, and nutrients. What that adds up to is complete nutrition for your dog.
High safety standards. Taste of the Wild PREY selects the highest quality ingredients and adheres to strict nutritional, quality, and safety standards. Their facilities adhere to stringent quality protocols, have dedicated quality assurance and safety staff, and follow "Good Manufacturing Process" protocols.
Convenience. It's widely available at local retailers. Click here to see where you can buy Taste of the Wild PREY.
Education. Taste of the Wild is big on educating consumers via their Facebook fan page. And informed pet parents means happier, healthier pets!
Selecting a dog food you feel good about giving to your furry friend is so important, but you don't have to stop there! By making feeding times fun, interactive, and engaging, you'll be keeping your dog's mind and body healthy!
This is a sponsored post. However, all opinions and anecdotes are my own, and I never promote any products or brands I don't believe in. ~Petfully yours, Kristen