Chew on this: I may receive a small commission for affiliate links, but all products I "dig up" are ones I paw-thentically love!
Jingle bells are starting to ring! And that means holiday shopping is just around the corner. One of my goals this year is to get all my shopping done early so that I can spend the rest of my time with my family.
Unlike the human members of our families, who write up lists and tell us what they want, it can be hard to know what to buy for our four-legged family members. So Chilly and I have dug up a wish list of his favorite holiday gifts for dogs in hopes that it will help make your holiday shopping a bit easier. 
Pin Me!
12 Best Ever Holiday Gifts for Dogs
When I'm away from home, I miss Chilly so much. And I know he misses me. But with the Petzi™ Smart Treat Dispenser I can use my smartphone to talk to him, see him, and even take a picture. And I can never resist using it to give him a treat! 
The Bob-A-Lot is one of Chilly's all-time favorite toys. This feeding-time toy makes Chilly work for his kibble. You just put the dry food (or treats) in the top, adjust the opening in the bottom, and watch as your dog plays for his food. Believe it or not, he prefers to eat his kibble from this toy over his dog bowl! It's more fun!
This ceramic fountain is a great way to keep your pet hydrated. It has been proven that dogs and cats will drink more from running water than from a standing bowl of water. Chilly (and my kitty Olivia) loves to lap his water from this Pagoda Pet Fountain, especially when he can't get to his favorite outdoor clay pot watering hole.
Did you know that, pound for pound, crickets have more protein than beef or chicken? And although crickets may not sound very appetizing to some of us humans, Chilly loves these Jiminy's Dog Treats! Besides being excellent training treats, their small size (and low number of calories) make them a good option for dogs needing to shed a few pounds.
Chilly, like most dogs, loves to paw at and fluff his bedding to get it just right before he'll commit to a good snooze. The Dig and Burrow Bed by Petmate® indulges a dog's natural instinct to dig and burrow. Since the gathered fabric on the inside of the bed gives him the comfort and security he needs, Chilly digs and snuggles into his bed every time he takes a nap.
Chilly is a big fan of the Chuckit! Toys. But his all-time favorite is the new Ring Chaser Toy. With its unpredictable bounce, we can easily spend hours playing fetch and it never gets old for him. With the launcher handle, I don't get tired out and I can throw his ring without the slobbery mess!
Safety first! The Sleepypod Clickit Dog Harness can help save your pet's life during a crash by not only restraining your dog, but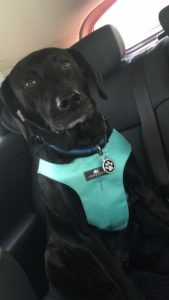 absorbing the shock of  the impact. This harness is crash-tested and works with your car's seat belt system. It's designed to allow your dog the freedom to sit up and lie down, and even doubles as a walking harness.
It gives me peace of mind to know that ALL members of my family are buckled in and safe as we travel in the car. Also, Chilly looks so handsome in his sport harness!
Photo opp! This Christmas PajamaGram set is for the whole family – including pets! These PJs are festive and fun and made from a super-comfy and soft cotton jersey blend. Chilly knows he's going to be the star of my Instagram feed in his cute pajamas. 
Puzzles designed for dogs are an excellent tool for mental stimulation. The Seek A Treat Bone Puzzle Toy by SPOT is a great way to eliminate boredom, which can lead to negative behavior. But it does more than that. It gives your dog the stimulation he needs to test and strengthen his cognitive skills, something that's very important, especially as your dog moves into his senior years, like Chilly has.  
Who says collars can't be both fashionable and functional? 2 Hounds Design creates unique designs for collars that come in three sizes. Since Chilly loves squirrels, this collar is his favorite!
Do we really need more reasons to take pictures of our four-legged family members? Chilly and I say "Yes!" No bones about it, Haute Diggity Dog toys make the perfect photo props for adorable "double tap worthy" pet pics.  As an added bonus, these plush squeaky toys are extra durable to help teach your puppy not to destroy your valuables.
Pupjoy is great because they offer boxes to satisfy various types of dogs. They deliver hand-selected dog toys, treats, and chews right to your door. You can purchase a one-time gift or a monthly subscription, whatever works best for you. Plus, a portion of every order is donated to help shelter animals find homes via their Helping Paws© program. 
Chilly and I hope you this little wish list makes your holiday shopping easy and fun so you can get back to what's most important — being surrounded by your loved ones, wet noses and all!