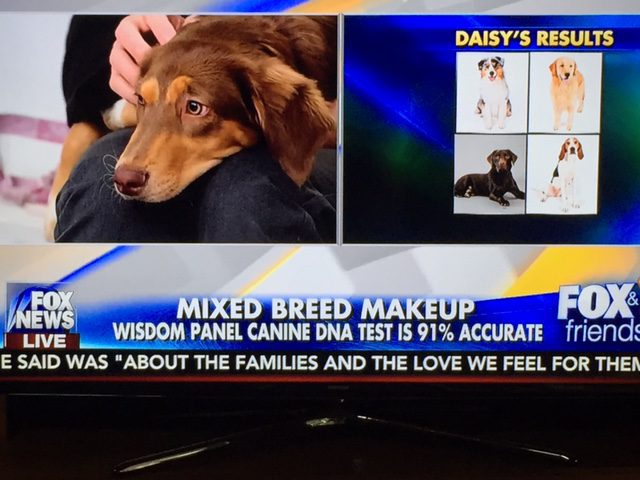 Yesterday, I had the opportunity to reveal the results of Daisy's DNA mix on FOX & Friends with the cable network's director of marketing and entertainment reporter, Michael Tammero (@FoxLightMichael).
Michael adopted Daisy from the North Shore Animal League America back in July, and he's wondered ever since what her breed mix is!
Three weeks ago, I visited the show to take a cheek cell sample from Daisy. Check out that day's show below. Daisy was such a trooper!
Thanks to the generosity and cooperation of Wisdom Panel (@WisdomPanel) Canine DNA Test, we now know what her mix is!
Drum roll please, as I share the results with Michael, Anna and Daisy on the show!
After the Wisdom Panel computer algorithm performed over seven million calculations, Daisy's breed mix is revealed!
Michael will receive a comprehensive report on Daisy's ancestry including the breed history, appearance and behavior of her key breed make up, MDR1 screening, how traits are inherited and more.
An added surprise—Daisy tested negative for a genetic mutation to the MDR1 gene that regulates how the brain absorbs common veterinary drugs. This is great news because a mutation can lead to serious medical complications. I told Michael to be sure to share this result along with her ancestry chart with his veterinarian.
Learning your mutt's mix of ancestry is not only a way to satisfy your curiosity, but it also gives you important information that applies to their health, behavior and lifestyle.
My own dog, Chilly looks like a mini-labrador, but he's actually a Dalmatian, Boxer, Alaskan Malamute, Australian Shepherd mix!
We know because we did a Wisdom Panel Canine DNA test on Chilly about four years ago! Trust me, it explained a lot about his personality, appearance and behavior!
Check out www.WisdomPanel.com for more info about testing your own pooch's family tree.
Has your mutt been DNA tested? In the comments below, tell me about the experience and if you can see those traits in your dog.