Dig this… a portion of this post is sponsored, but opinions are my own and 110% "pawthentic"!
It's spring – the time of rebirth and renewal. And for me, that means it's also time to renew my home with some good old-fashioned spring cleaning!

In addition to cleaning windows and dusting in those long-forgotten corners, I also make sure to freshen my dog Chilly's environment, too. Here are my top three favorite ways to help Chilly spring into spring:
1. Inspect toys
Because they get chewed and carried around, toys can become tattered, torn, and worn. Not to mention all the germs they harbor. Yuck! Start by throwing out any that are beyond repair. Then launder plush toys and hand-wash plastic or rubber ones.
Pin Me
2. Organize pet products
If you're like me, your dog probably has more stuff than you do! Gather all those leashes, collars, coats, tags, medicines, and veterinary files – and designate one place in your home as "pet stuff central." Use baskets and labels to sort things and make them easy to find. If you have a pet sitter, this will make it easier on them, too.
3. Brighten up bedding
Spruce things up by refreshing his favorite places including his bed, kennel or favorite napping spot. First, vacuum in and around the area to remove hair and dirt. Hose down his crate or kennel and dry it thoroughly. Then launder blankets or bedding, tossing and replacing any worn items. If beds have become a little "smooshed" over time – or if you have an older pet or one with joint problems – consider replacing the bed entirely.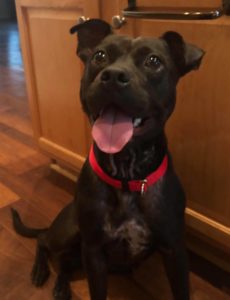 I recently discovered Serta Pet Beds and I am head-over-tail in love with them! In fact, I'm so impressed with the quality and comfort of these beds that I recently went on Daytime TV to talk about them – along with my lovely assistant, Sasha, an adoptable Pit Bull mix currently with Maxx and Me Rescue in Tampa, Florida.
So what makes these beds so furr-ific?
COMFORT
Serta doesn't take a one-size-fits-all approach to your pet's comfort. They know that pets, like people, have different sleeping styles and needs, so they offer three cozy options.
Cuddler Beds – Enclosed on four sides with pillow-like walls, these beds give dogs a den-like place to get some zzzz's. They're made from orthopedic foam and covered with the same fabric quality as human furniture.
– If your dog is a sprawler, these beds give them plenty of room to stretch out. They're made from super comfy orthopedic foam for joint support and covered in machine washable, upholstery-grade fabric.
Bolster or Couch Beds – These beds offer your pooch the best of both the Cuddler and Flat Beds. They have pillow-like walls and are open on one side, which lets them snuggle down or stretch out. Dual support gel memory foam is quilted into the top of the bed, providing exceptional support for dogs with joint issues.
QUALITY
Don't you hate spending good money on an expensive pet bed only to have it quickly become torn, frayed and filthy? Serta Pet Beds understands, and they've made their beds to be stylish, durable and easy to care for. The upholstery-grade fabric covers are machine washable and zip off for easy laundering. Just remove the foam (spot clean it if necessary), put the covers in the washer, line dry, fluff the poly fill back into place, and your bed will come out looking great!
THERAPEUTIC
For aging pets or those with hip, joint or spine conditions, a quality orthopedic bed is a must for providing full body support and relieving joint pain. Serta Pet Beds are filled with egg crate foam, memory foam or a shredded memory foam blend. Each type of fill is of the same quality of foam found in your family's mattresses and furniture. Certified by CertiPUR-US, it's free from many chemicals and substances found to be harmful to humans and pets. So you and your dog can rest easier!
Best of all, these comfy, high-quality beds are affordable and can be found at all the places you normally shop like Walmart, Home Goods, Big Lots, Sam's Club, Marshall's, TJ Maxx or online at Chewy, Amazon
, or BrandedPetBeds.com.
And don't forget! If you're interested in learning more about Sasha, our featured adoptable pet, Sasha, check out her profile at Maxx and Me!
This is a sponsored post. However, all opinions and anecdotes are my own, and I never promote any products or brands I don't believe in. ~Petfully yours, Kristen
SaveSave