Image above is Buck and Sheila "cheating" in bobbing for weenies at his 13th birthday bash in 2008.
I don't think there's a true pet lover alive who doesn't appreciate all the love, companionship and health benefits that they get from their four-legged family member.
So for many of us, it's only natural to return the favor in ways that may seem a little, ahem, crazy to those who don't share their home with a pet.
Although I can't be 100 percent certain, my guess is that there are a handful of my friends, family and neighbors who might think I'm a little nutty because they've seen some of the "crazy" things I've done for my pets.
Spoken or unspoken, it's a nutty badge I'd wear proudly!
Through the years, I've had the privilege of sharing my life with some wonderful animals. So I'm only too happy to do whatever I can to make their lives a little more comfortable, a little easier and a lot more fun. It's my way of celebrating them, honoring them and thanking them.
For example, when we built our house years ago, we also had a little doghouse built under our staircase. Over the years, some of our dogs ignored it, but our current dog Chilly, has taken a liking to it. We find him hanging out in there if there's a storm coming, obviously equating it with the safety of having a den.
When I see him in there, I know that taking that little extra step in the building process was totally worth it!
But that's not the craziest thing I've ever done for a pet. Oh, no. Not by a long shot.
When our yellow Lab mix, Buck, was about 12, his arthritis got so bad that he couldn't enjoy long walks anymore. Although we continued to take him out on short walks, I hated that he was missing out on the nature and wildlife around our home.
What to do? What to do?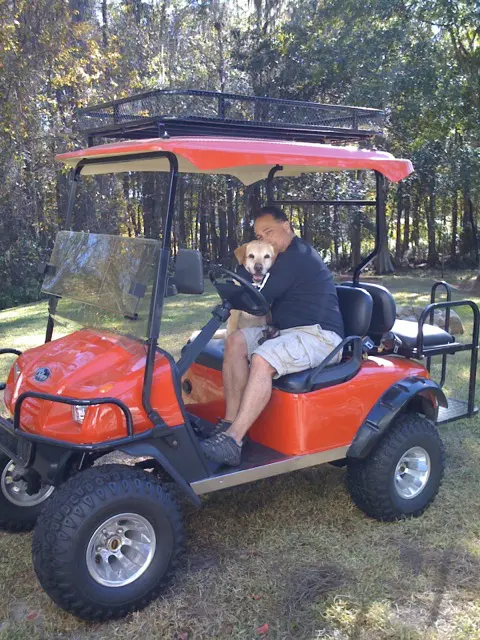 Why, buy him his own bright red golf cart, of course!
Buck LOVED being chauffeured around the neighborhood in "his" personal buggy. He would hold his nose in the air to catch the smells and watch the people and pets as we'd go by. If he seemed really interested along the journey, we'd stop the cart and take him for a little walk around the area. He made several new friends that way and if we drove around without him in it, people wanted to know where he was!
These days, Chilly is the beneficiary of the dog cart. Even though he's young and healthy and loves long walks and jogs, he gets so excited when he sees me grab the keys to the cart. My guess is that somewhere, Buck is wagging his tail in approval!
Of course, I know I'm not alone when it comes to going a little over the edge for my pets.
Take Amber Carlton of Colorado, for example. When she and her husband adopted their tuxedo cat, Smudge, she never imagined the lengths she would eventually go to for him.
Although Smudge had been given a clean bill of health by the vet, things immediately began to pop up.
First, Amber says, he developed feline acne. It seemed a simple enough issue… until the usual treatment had the opposite of the intended effect, resulting in a full-blown infection. After her regular vet had no success in tackling the problem, off they went to a veterinary dermatologist.
There, Smudge was prescribed several medications, including a steroid. Shortly after, he broke out into big, red, itchy hives. Through the process of elimination, they discovered that Smudge was one of the rare individuals who are allergic to synthetic steroids.
And that wasn't the only thing Smudge was allergic to. In fact, as an allergy test showed, he was allergic to just about everything…including people! He now gets bi-weekly injections to keep his allergies under control.
Oh, and did I mention that during this time, he was also diagnosed with feline asthma? So twice a day, every day, Amber or her husband gives Smudge his very own kitty inhaler treatment.
It took over two years to finally get all of Smudge's issues under control but today, he's healthy and happy. And Amber believes it was all worth it.
"I can't even begin to count how many trips to the vet we've made and I don't want to count how much money we spent dealing with everything," she says.
"People have told us point-blank that they think we're crazy for going to such extremes. Maybe we are. But he's just such an amazing, funny, lovable and loving little guy that we can't imagine not doing everything we can for him."
What about you? What's the "craziest" thing you've ever done out of love and commitment to your pet? I'd love to hear about it. Tell me in the comments!