Dig this… a portion of this post is sponsored, but opinions are my own and 110% "pawthentic"!
It's no secret that dog's love to chew! It's as natural for them as wagging their tails or rolling in the grass. And, as most dog parents know, if we don't give our dogs something appropriate to chew on, they may satisfy their gnawing instinct on our furniture or our favorite pair of shoes!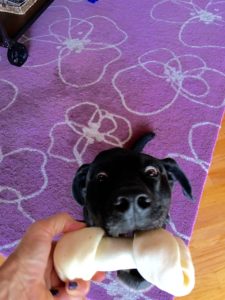 It can be challenging, though, to find something to keep our pups happy chewing. Maybe you've had the experience of purchasing a new chew toy for your dog, only to find that he'd completely demolished it within a few minutes. Maybe you've heard that rawhide chews are more durable but have been hesitant because you've also heard that they can be risky.
Actually, rawhide is a safe chew treat for most dogs, as long as you take a few precautions. And this is good news for dog parents, since chewing on rawhide can stimulate your dog's mind and also relieve anxiety. Dogs who do lots of chewing also have less tartar and plaque buildup on their teeth and fresher breath. Here's what you need to know if you "chews" to give your pup a rawhide treat:
Tips For Giving Your Dog Rawhide Treats
Always supervise your dog when you give him rawhide or any other chew treat. The most common risk associated with rawhide (and other) chews is that of choking or blockages. Keep an eye on your dog while he chews so that you can remove any small pieces that get torn off before he has the chance to swallow them.
Choose the right size treat for your pooch. Never allow your dog to have (or get ahold of) a chew that is small enough to be swallowed whole. Take the treat away once he's chewed it down to a size where he could swallow it.
Some rawhide treats can potentially stain fabrics or carpeted surfaces. It's best to encourage your dog to chew on a solid surface like tile or wood. Chilly likes to lay on a rug with his chews, so I simply put an old towel underneath him to protect my carpet!
If you have concerns about giving your dog rawhide treats, talk to your vet. He or she can help you determine the right kind of chew and answer any other questions you might have about their safety.
My Favorite Rawhide Treat
When I choose a chew treat for Chilly, I look for something that will keep him entertained for as long as possible. This is one reason why I love the new DoubleHides Beefhide Bones. They're made of natural beef hide, and they're durable and long-lasting. When I compare them with how long other long-lasting chews have held out, I know I'm getting more minute-bang for my buck!
These treats are made up of a pressed beefhide bone inside a natural beefhide bone, so I'm getting 2 treats in one! Chilly really digs it because he can smell the treat inside the treat, so he stays super focused on gnawing his way to the middle.
Great Uses For Rawhide Bones (when used safely)
These treats are great for when I need to keep Chilly occupied while I get something done. I call them my "babysitter" chews! Giving Chilly a DoubleHide Beefhide Bone gets me a good 30 minutes — and not because he's finished with it in that time. Rather, I take the rest away at that point and save it for later.
I also use these after a successful training session to reward Chilly for a job well done. He seems to enjoy them! 🙂
DoubleHides Beefhide Bones are great for any medium to large size dog. They come in two sizes (6inch and 10inch) and they're ideal for "power chewers."
If you have one of these pooches, you know what I mean. Some dogs can typically gnaw through any chew, even those dubbed "long lasting," in no time flat. The DoubleHides are especially durable. You may find that your gnawing champion has met his match!
Rawhide treats can be a great way to keep your pooch happily occupied while also keeping his mind and mouth healthy. If you use them safely, you'll keep your dog happy and your shoes and furniture safe!

This is a sponsored post. However, all opinions and anecdotes are my own, and I never promote any products or brands I don't believe in. ~Petfully yours, Kristen
Pin me: