Dig this… a portion of this post is sponsored, but opinions are my own and 110% "pawthentic"!
To say that it gets hot here in Florida in the summer would be an understatement! No matter where you live, though, there are bound to be some times during the summer months when the heat can get almost unbearable. If you're tempted to wait out the mid-summer heat by stocking up on ice cream and parking yourself and your pets on the sofa in front the AC or a fan for the next couple of months, you're not alone!
Deep down, though, you probably realize that play and exercise are just as important for pets (and pet parents!) when it's hot outside as they are when the temperature is more comfortable. The trick is getting that pet playtime in without putting your furry friend at risk for heat stroke! (For surefire cooling tips for active pets and people, click here.)
Here are a few cool pet playtime ideas to help you beat the heat – and have fun doing it!
Get in the Water
Playtime in the water is a great way to cool off! Many dogs enjoy taking walks or spending some time playing at the beach where they can wade in and enjoy the refreshing water as often as they want. (Just make sure that the swimming area you choose is one that allows dogs!)
Some dogs love taking a dip in the swimming pool along with their families. Pools are a great way to stay cool on a hot summer day, just remember that dogs can't climb in or out as easily as humans – you may need to offer assistance!
If you don't have a pool, or if you only have access to a pool that is not pet-friendly, this doggie pool from PetEdge is a pawsome alternative. Just unfold it (for real), fill it, and toss floating toys in it to get your pup splish-splashing. It folds right back up again for easy storage.
Some dogs love just splashing around in the sprinkler or being sprayed (gently) with the hose. If your pup likes this kind of play, indulge him! He'll stay cool and hydrated (and still get his exercise) even on the hottest days!
Cool Toys for Summer Play
Sure, walking or jogging on the beach and swimming in the pool are good exercise, but sometimes don't you just want to play? Here are a few of my favorite pet toys for summer fun.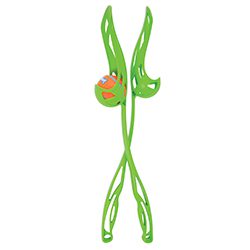 My Dad always loved Chuckit! Toys, so I carry on the tradition with Chilly. There's a set of two launchers that look like LaCross sticks, so two people and one or more dogs can play!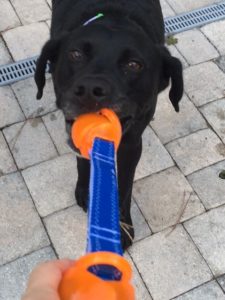 Some dogs can never get their fill of playing tug of war. It's lot's of fun, and, if you're arms can last long enough, it can be great exercise for you and your pooch. Chuckit! makes this great Ultra Duo Tug toy with a ball at each end. It's perfect either for two dogs or for one dog and one dog parent.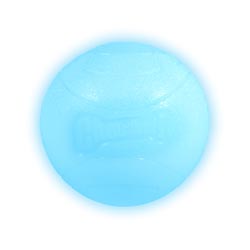 During the summer here in Florida, it's too hot to play during the day, so we tend to have playtime at dusk. I like this Chuckit! Firefly LED ball because it glows in the dark.  This ball is easy to see and you can also get the  Chuckit! Pro LX launcher that has a built in, high intensity LED flashlight! You can literally play in the dark!
If you've got lots of space, frisbee is so much fun to play with a dog who loves to run! When it gets hot, however, all that running can lead to overheating. That's why I love the Chuckit! Hydroflyer. This frisbee-like toy is designed to hold and release water, cooling and hydrating your pup while he plays. It also floats, making it a perfect choice for water play!
After a good romp, it's always smart to give your dog a chance to slow down and cool off. When Chilly comes in from playing, we give him watermelon chunks to cool and hydrate him. He LOVES it!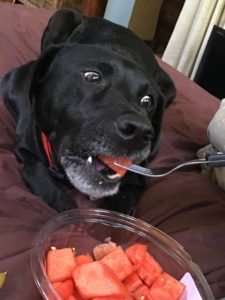 This is a sponsored post. However, all opinions and anecdotes are my own, and I never promote any products or brands I don't believe in. ~Petfully yours, Kristen
Pin me: