"Some people need to wait a long time. But a month after losing Bear, I started thinking about who our next pet would be," explained my sister, Stephanie.
In November, she and her family adopted a Lab mix puppy and named him Cola. The pup joins Soupy, a nine-year-old Golden Doodle and replaces Bear, my late father's 14-year-old Lab mix who passed last September.
"I knew I wanted a rescue dog because I felt guilty not getting one the first time around. Plus, Bear was a shelter dog, so adopting was a tribute to him," said Stephanie.
Now, I have to admit, I do a little victory dance every time a friend, family member or one of my blog followers announces they've adopted. After all, I believe my purpose in life is to inspire people to adopt or rescue homeless or unwanted pets.
But even my own sister didn't choose pet rescue until she was truly inspired—by Bear.
Inspired to adopt
The decision to adopt definitely requires awareness about the benefits of pet rescue, but more importantly, I believe people need to be inspired.
In fact, many people adopt after getting to know someone else's awesome, rescued pet.
Take my friend, Jeff, who recently went the rescue route after purchasing purebred dogs most of his life. He was inspired by two dogs—Charlie Brown, a rescued American Bulldog, and Chilly, my own Dalmatian-Lab mix, both dogs he knows well, and loves. He's seen firsthand what great dogs can be found through rescue.
Why don't more people adopt? I think it's because we're impatient and we like getting exactly what we want—when we want it. We like to "buy new" and we like guarantees. And when embarking on a 12-15 year commitment to an animal, we want to feel like we know what we're getting. Purchasing a purebred satisfies that need for many people.
That's why my sister chose a designer breed the first time around. She was a mom to two young boys, soon to be three, and she wanted a dog with a temperament and disposition great for kids. (Plus, my nephew, Jett, fell in love with the designer breed while doing online research).
Another friend recently bought a Cavalier King Charles Spaniel puppy for her young children despite asking my advice first. Of course, I encouraged her to consider pet rescue and pointed out what a great lesson it would be for her kids.
I realize she's trying to make the best choice for her family. She just hasn't been inspired to adopt yet. Still, I feel like I failed.
Cola
So, the little "Lab mix" adopted from 2 Blondes All Breed Rescue of Littleton, Colo., turns out to be an American Staffordshire Terrier, Chow-Chow, American Bulldog and Labrador Retriever mix! We used a Wisdom Panel Doggy DNA test to determine his true heritage.
After the Wisdom Panel computer algorithm performed over seven million calculations, Cola's breed mix was revealed along with the good news that he tested negative for a genetic mutation to the MDR1 gene that regulates how the brain absorbs common veterinary drugs. (This is great news because a mutation can lead to serious medical complications).
Just so you know, learning your mutt's mix of ancestry is not only a way to satisfy your curiosity, but it also gives you important information that applies to their health, behavior and lifestyle.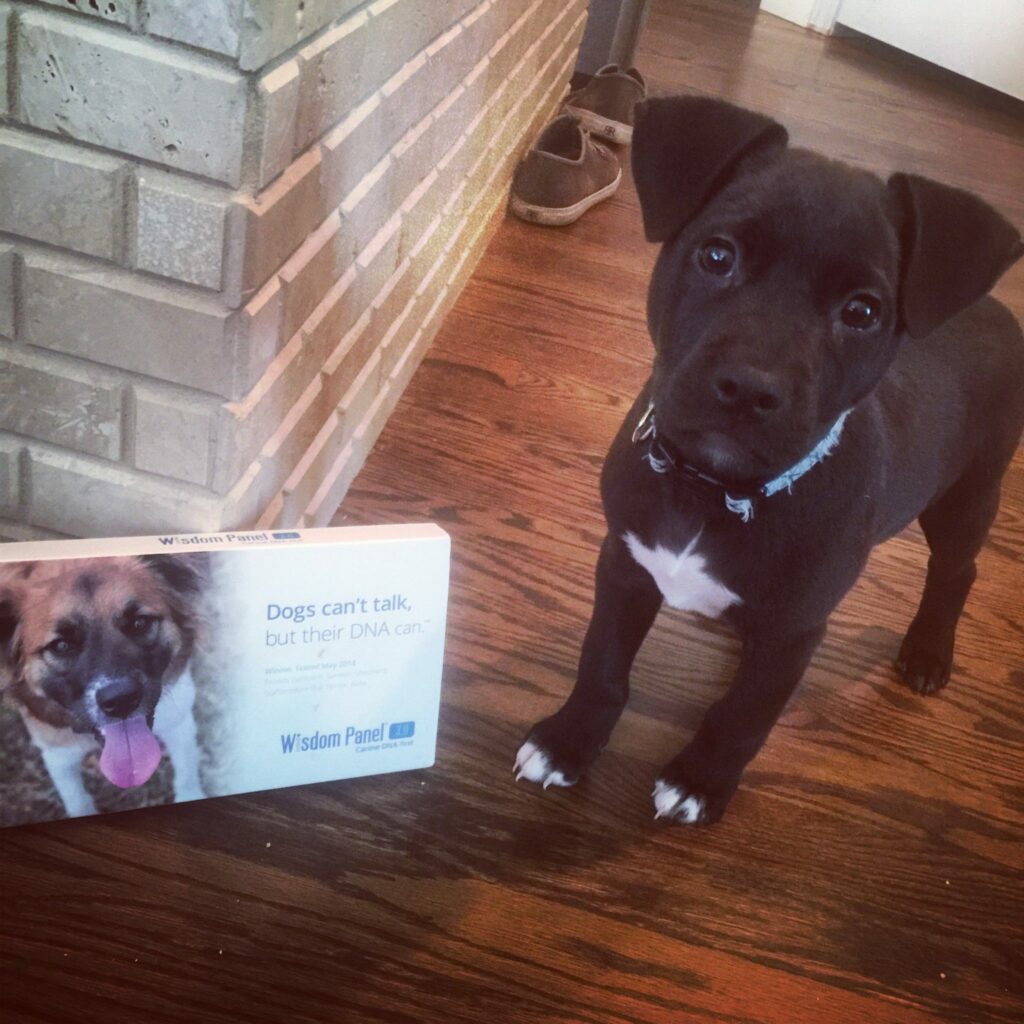 Soupy reluctantly puts up with Cola's puppy shenanigans, but misses the early days when she was the only dog!
My three nephews love the new addition, although Kaden (the oldest child) feels sorry for Soupy. When I asked my youngest nephew how Cola was doing he sighed and said…"he's adorable"!
Rescue isn't perfect
Unfortunately, the dog my friend Jeff adopted had aggression issues stemming from her difficult past. Another family member has her now, so she's still in a loving home. I'm hopeful he'll give rescue another chance. It's been a very emotional journey for he and his wife because when you rescue, you want to be 'happily ever after' for that pet.
Rescue irony
As I was in the middle of writing this post (literally), my friend, Heather texted me to say, "I'm adopting an abandoned Lab puppy! Am I crazy?"
Heather and her family have a sweet purebred Yellow Lab named Penny. When I asked what inspired her to adopt, she said, "Penny doesn't have a friend since her best bud across the street recently passed away."
At present, another family called dibs on the pup. So, if she doesn't adopt this one, I'll keep encouraging her to rescue another.
What inspired you to adopt your pet? Or, why have you not chosen to rescue a pet? Please tell me in the comments below!