Dig this… a portion of this post is sponsored, but opinions are my own and 110% "pawthentic"!
It's officially storm season here in Florida! And with warmer weather returning to the rest of the country as well, that means an increase in thunder storms no matter where you live. There was a time in my life when I never gave thunder storms a second thought. After all, for part of the year they're almost a daily occurrence here. However, for pets with anxiety or noise phobia and their parents, thunderstorms are much more than a passing shower.
Pin me:
I'm no stranger to the issue of pet anxiety. Unfortunately, I know all too well how heart-wrenching it can be to watch helplessly as a dog you love suffers from intense fear. I know the powerless feeling of wanting to do something, anything, to bring them some relief but not knowing where to start. My first experience with canine fear and anxiety began when my dog, Buck, started to suffer from severe separation anxiety and noise phobia.
Poor Buck would become so anxious when he was left alone, even for a short time, that he would literally chew through drywall, rubbing his poor nose raw in his desperate attempts to escape and find us! Fireworks and thunderstorms would also trigger Buck's anxiety. At the first hint of a rumble in the distance, my normally happy-go-lucky pooch would climb into the lap of whoever was sitting nearby and cling to us like doggie velcro until the noise was over.
I would have done anything for my furry friend, and it broke my heart to know how terrified he was. My husband and I went to great lengths to help Buck deal with his fears. We even took separate vacations for a couple of years so that we would never have to leave him with a sitter! Buck never completely got over his anxiety, but eventually, with a lot of help, advice, and determination, we were able to control it to a point where he could live a fairly normal life.
My current dog, Chilly, began to show signs of noise phobia and other anxiety when he was about five years old. Thanks to my experience with Buck, I was able to recognize the signs right away and begin treatment early. Thankfully, Chilly's anxiety is under control, and he never had to suffer to the extent that Buck did. One of the most effective therapies I've found for treating Chilly's anxiety is the Calmz Anxiety Relief System by Petmate.
All Natural Anxiety Relief
One of the most important things to realize about anxiety in pets is that it's not a behavioral issue. The fear that they experience in certain situations is actually triggered by a neurochemical reaction in their brains. The reaction causes blood-flow to decrease and adrenaline to increase, resulting in a feeling of panic that may drive them to act in ways that appear "naughty." A dog who barks, chews furniture, pees in the house, or behaves aggressively when he's scared isn't being "bad"- he's literally out of his mind with fear, and he needs help to bring that fear under control.
The Calmz® system can help alleviate the symptoms of anxiety at their source – your dog's brain. It consists of a device that inserts into a comfy, adjustable vest. The vest holds the device over two acupressure points in the spine. It uses a combination of tones, vibrations, and classical music to increase blood flow to the brain, decrease adrenaline, and dramatically decrease the stress your dog feels within minutes!
Why I Love It
For my family, Calmz® has been a lifesaver! We get thunderstorms almost daily here in Florida during the summer, so that season can be a little hairy! After I put the device in his vest, Chilly stops panting and pacing, lies down, and is quiet within a minute or two. He even sleeps through the occasional storm! Talk about anxiety relief!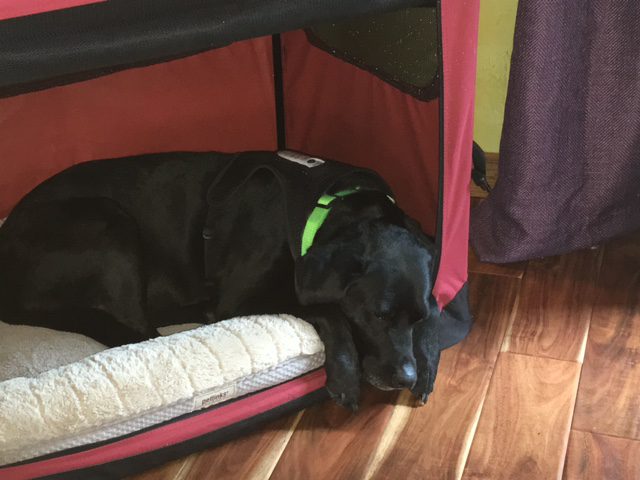 We also use Calmz® when we take Chilly to the vet, when he visits new places, or when we think he might meet a new dog. All of these situations have caused him noticeable anxiety in the past, but with his Calmz® vest on, he handles them with ease! Calmz® is great for pups with separation anxiety too!
With tropical storm Alberto headed for the panhandle last weekend, I was ready to help Chilly manage his storm anxiety. I stocked up on batteries and peanut butter – two of my most important doggie storm supplies. I always give Chilly a peanut butter filled Kong just after I put his vest on. That way he associates it with a treat, not a storm.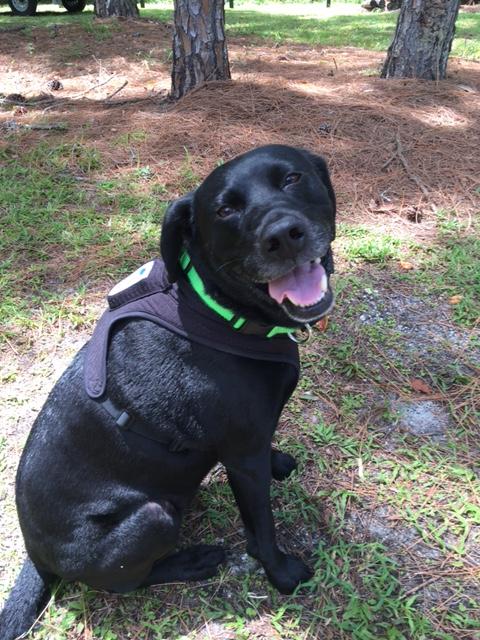 For dogs like Chilly who have only mild anxiety, the Calmz® system by Petmate can be a great therapeutic option to help them control their fear. For dogs with more severe anxiety, it can be used in combination with other treatments or prescription anxiety medications. If your dog suffers from anxiety, it's important to consult with your veterinarian to come up with the right treatment program to manage his fear.
I wish I had had this system back when we were struggling to help Buck. It's been a miracle for us and for Chilly. Thanks to Calmz® he's happier, calmer, and has a better quality of life. And, of course, that makes the humans in the family happier, too!
Pet Anxiety Awareness Week
I wish that my experiences with anxiety with my boys were unique, but sadly, there are lots more pets and pet parents who have gone through the same thing. As a matter of fact, there are over 24 million dogs in the US who suffer from regular anxiety!
It's one of my dearest desires to use my own experiences to help other pets and pet parents avoid the heartache we went through with Buck. That's one of the reasons I created Pet Anxiety Awareness Week  (PAAW) in 2017 in partnership with experts and veterinary organizations.
With the Fourth of July only about a month away and peak thunderstorm season just around the corner, this is a great time to start talking about how to find real, effective solutions for pets who experience fear triggered by fireworks or thunder. PAAW is a great resource to help pet parents understand and better manage their pet's fear, anxiety, and stress. This year, PAAW will officially be observed June 25-July 1, but you can visit the PAAW website any time to find some amazing resources.
A Pawesome Giveaway for Anxious Pets
Calmz® is a PAAW partner, and their support has helped me to provide this amazing resource for parents of pets with fear, anxiety, or stress. But they've gone one step further. They're also letting me give away the Calmz® Anxiety Relief System to three lucky pet parents! If you know a pup that suffers from anxiety, enter before June 8 for your chance to offer them all-natural relief – for free!
This is a sponsored post. However, all opinions and anecdotes are my own, and I never promote any products or brands I don't believe in. ~Petfully yours, Kristen