Photos courtesy of Rebecca Randolph.
Garth Riley is one of those handsome, athletic guys who lives for outdoor adventures. Hiking, swimming, boating…you name it, he loves it.
A few years ago, he took up a new sport – stand-up paddleboarding – and today, it's one of his favorite activities. On warm summer weekends, you can almost always find him on a board while his mom paddles him across a lake.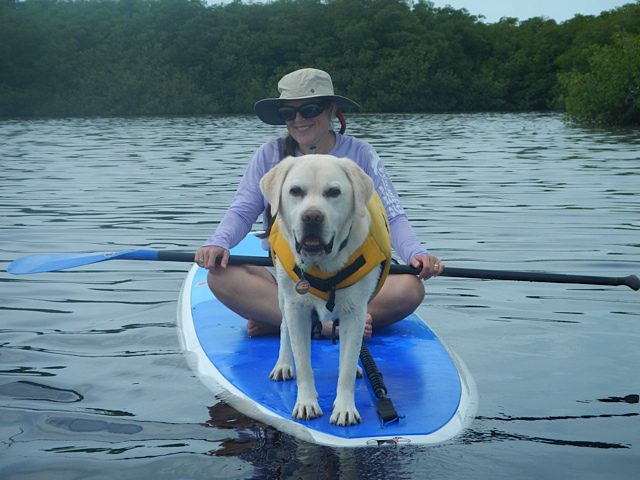 Oh, yes. Did I mention that Garth is a total mama's boy? That's not surprising, really. Most Labrador Retrievers are!
Unlike most Labs, though, Garth is pretty low-key and laid-back, according to his mom Rebecca Randolph of Richmond, VA. "He's the most relaxed Lab I've ever met," she says. "He's high energy if you pull out a tennis ball or take him on a hike, but otherwise he's content to curl up on the couch, in the recliner or in the bed."
This trait – along with being incredibly food-motivated and people-oriented – has made it easy for Rebecca to teach Garth an impressive number of skills and tricks. He also accompanies her and her husband, Andrew, on road trips, vacations and even to pet-related conferences.
So how did this pair get involved in stand-up paddleboarding or SUP'ing, as it's also known? Rebecca says that during one vacation, she thought it would be fun to rent a board and get a picture of the two of them on it for her blog, The World According to Garth Riley. "My intention was to do it for 10-20 minutes," she says. "Long enough for Andrew to take some photos before Garth jumped off or we both fell in." But to her surprise, they enjoyed it so much that they ended up paddling for the entire two-hour rental.
"When we got home from vacation, my husband and I both took a beginner paddleboarding class and I read the book, How to SUP with Your Pup. We bought our own paddleboards, and now we're out on the water together every chance we get."
Although Rebecca notes that she and Garth have always had a close bond, paddleboarding together has strengthened it even further. "Garth has decided that, as long as I'm with him, everything is pretty much okay, even if it may be a little scary at first," she says. "And I've become more in tune to him and his comfort level. I don't want to do something with him if he doesn't enjoy it."
For those thinking about SUP'ing with their own pup, Rebecca recommends getting comfortable on the board without your dog first by taking a beginner class. The class will teach you "where to stand on the board, how to hold the paddle, correct stroke form, and important safety tips."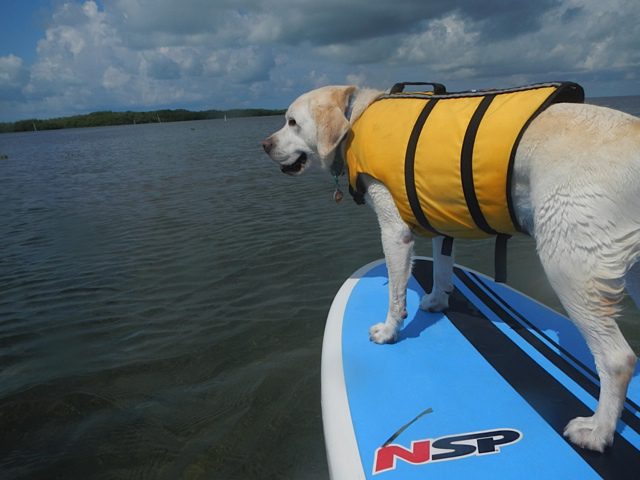 After that, read the aforementioned How to SUP with Your Pup book and take a SUP with Your Pup class if one is offered in your area. Basic obedience skills like sit, down, stay and come are very helpful, and your dog should also be dependable off leash. And of course, life jackets for both the canine and the human are a must. For your pooch, look for one with a handle on the back so you can lift him back on the board if he falls off or decides to take a dip.
Be sure to bring along plenty of patience, too, because learning any new skill requires time and perseverance. Some dogs may take a while to get used to the feel of being on a board, while others may take to it like, well, a Lab to water!
If SUP'ing isn't your thing but you're intrigued by the idea of bonding with your best pal through water sports, check out these other fun opportunities:
Kayaking – Similar to SUP'ing but you get to sit down! A sit-on-top (SOT) kayak may be a better option than one that you sit in. They tend to be more stable and less likely to tip over.
Dock Jumping – Although you don't actually go into the water with your dog, dock jumping requires practice and teamwork. In this competitive sport, the handler throws a toy and the dog jumps from a dock into a body of water to retrieve it.
Towing – Do you have a dog who loves to swim and play tug? Why not combine the two? Towing involves teaching your dog to pull an object around a body of water. You could even teach him to pull you on a raft in the pool. So relaxing!
Boating – Does your dog love to stick his head out the car window? Then imagine how much he'd enjoy zipping around in a boat with the wind in his fur! Even if you don't own a boat, some marinas offer them for rental. Just make sure that dogs are permitted on board.
Swimming – This may be the simplest and easiest option of all. If you take your dog to the beach or let him swim in your pool, why not join him? Most pups love having their human doing the dogpaddle beside them.
Remember, no matter what activity you choose, always supervise your pet and keep water safety in mind. If he's becoming fatigued, call a time out and let him rest before continuing.
So, what water sports do you love to do with your dog? Tell me in the comments below!