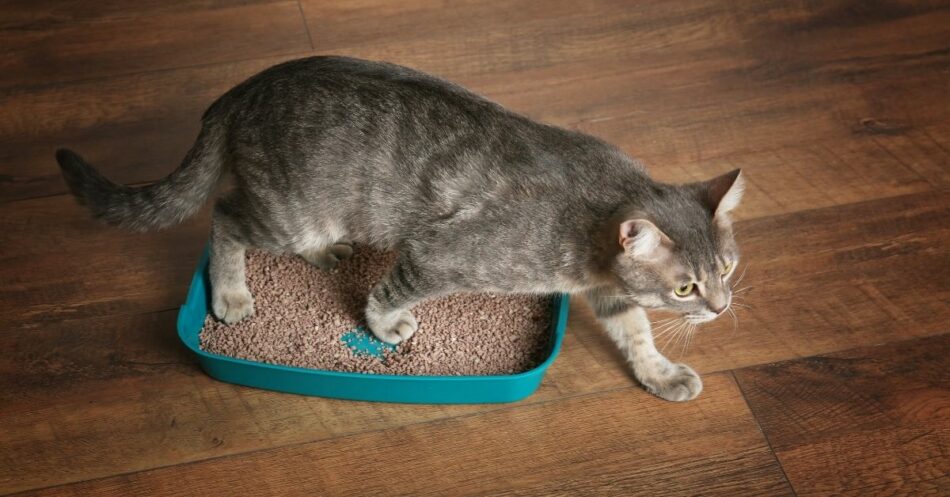 7 Reasons Why I Love My Natural Cat Litter
Lavender… I just can't get enough of it! Not only is it calming, it's also my favorite color (purple), or at least a lighter version of it.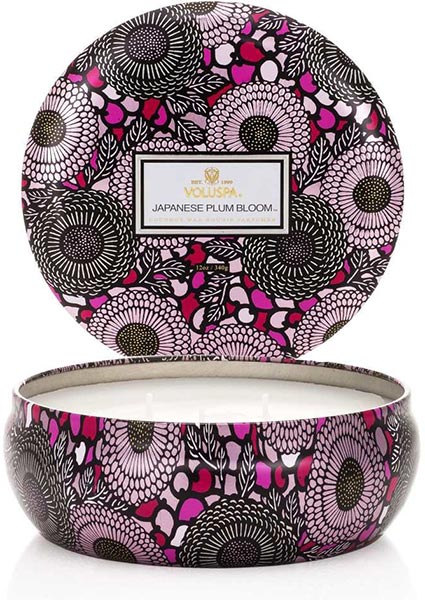 While I was doing my spring cleaning this year, I decided I needed to freshen things up a bit around here, so I bought some lavender candles that I LOVE and some essential oils for my diffuser (lavender, of course!) I even bought some lavender colored flowers at the grocery store. In case you haven't noticed, I'm kind of obsessed!
My lavender obsession comes with a few perks. Not only am I loving that my house now has a delightful soothing scent, lavender actually offers some calming benefits too! Lavender can promote relaxation and offer some relief from stress, anxiety, or depression. It may even improve the quality of your sleep!
Pin Me!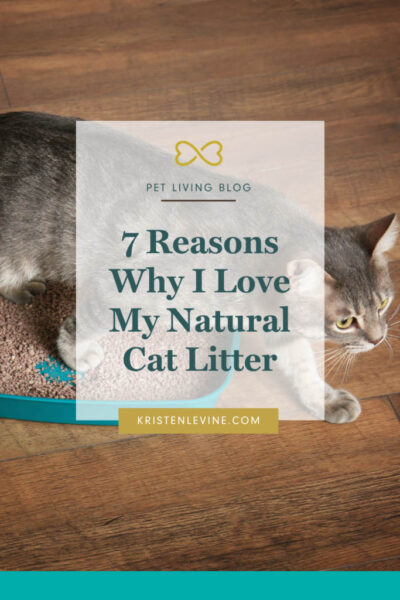 There's even evidence to support that pets benefit from lavender too. A little lavender can go a long way in easing separation anxiety, lowering stress levels in the car, or calming a nervous pet for a trip to the vet. There are a ton of lavender-scented pet products on the market, from calming cat collars to sprays and shampoos. A word of caution, though if you plan on using essential oils for your pets: animals are much more sensitive than humans to the effects of essential oils, and some oils that are harmless to humans are toxic to our furry friends. So it's always a good idea to check with your vet before you begin using lavender or any other essential oil for your pet.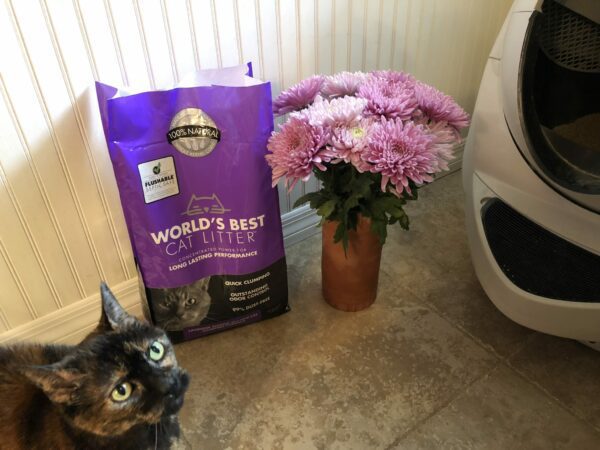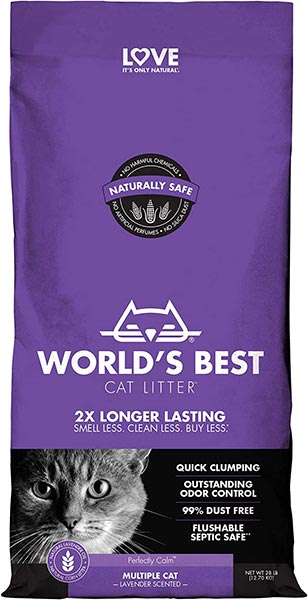 To complete my own zen environment, I picked up my favorite kitty litter for the felines of the house – Worlds Best Cat Litter (you guessed it) lavender scent! (BTW you can buy Worlds Best Cat Litter here with free shipping.) My husband thinks I've lost my mind on this lavender kick, but my girls seem to be enjoying their fresh-scented litter box!
7 Reasons I'm in Love With My Kitty Litter
I've been a huge fan of World's Best Cat Litter since the first time I tried it. Here are a few reasons (besides the great new lavender scent) that I think this litter is pretty much purr-fect:
1. It's lightweight.
I always felt a bit awkward trying to pour litter out of a big heavy bag. World's Best Cat Litter is lightweight, so I can change the cat box without worrying about throwing my back out!
2. It clumps like a dream.
If you've ever tried to scoop clay litter, you know how it can stick to the sides of the litter box. As a matter of fact, sometimes I think a chisel would be a better tool for the job than the scoop I usually use! World's Best Cat Litter clumps REALLY well. It doesn't stick to the litter box, so scooping it out is a breeze. I even stopped using liners because we just don't need them anymore!
3. It's dust free.
My girls and I can breathe easy since the corn in World's Best Cat Litter is free of silica dust. No dust also means less mess around the litter box, which makes a huge difference in the time I have to spend cleaning my floors! (For even less mess, World's Best Cat Litter also comes in a Zero Mess formula designed to reduce litter scattering!)
4. It lasts a long time.
Since it clumps so quickly, you end up having to scoop out a lot less litter when you clean the litter box. One small bag of World's Best Cat Litter will last a single cat an entire month!
5. It controls odor.
World's Best Cat Litter is great at controlling odor. But it does it naturally without any synthetic chemicals, so my family doesn't have to put up with that icky perfumey smell!
6. It's septic safe.
World's Best Cat Litter is flushable and septic safe, so I can skip the trip to the trash!
7. It's earth friendly.
World's Best Cat Litter is made with sustainable corn, not mined clay. And because it's biodegradable, it won't spend eternity sitting in a landfill!
If you or your pets have any allergies or sensitivities to fragrances, you may want to test a small bag of World's Best Cat Litter Lavender Scent before you commit to buying on of the larger sizes. If it turns out that the lavender isn't for you, you can still enjoy World's Best Cat Litter's Original Series, which is fragrance free.
I thought this would be a great time to celebrate our felines with a giveaway to treat cats and their people! World's Best Cat Litter and I have paw-tnered up with Dharma Dog Karma Cat and Doc & Phoebe for a pawesome grand prize – a six month supply of World's Best Cat Litter, an Aqua Petal
Basket, a super cute Gray Mouse Cave, and one pack of fish toys from Dharma Dog Karma Cat, plus an Indoor Hunting Feeder with 5 mice from Doc & Phoebe. Two runners up will win a one month supply of World's Best Cat Litter and a pack of toy balls from Dharma Dog Karma Cat.
I am so excited about this amazing prize pack! I've already told you why World's Best Cat Litter is the best litter out there, and the basket and cave are paw-sitively adorable! They'll look great in any room, and any curious kitty would love crawling in to take a cat nap. The Indoor Hunting Feeder is a great way to give your cat some exercise and mental stimulation, since it allows her to hunt and catch her food.
This amazing giveaway is going on right now, but you'll need to enter before June 1, 2018 for your chance to win! Good luck!
This is a sponsored post. However, all opinions and anecdotes are my own, and I never promote any products or brands I don't believe in. ~Petfully yours, Kristen