Dig this… a portion of this post is sponsored, but opinions are my own and 110% "pawthentic"!
The issue of pet anxiety is very close to my heart. After watching two of my canine family members suffer from severe anxiety, I'm all too familiar with the helpless feeling of wanting desperately to ease a pet's fears, but not knowing what to do for them.
When my dog, Buck, was struggling with severe noise phobias and separation anxiety, my husband and I tried everything we could think of to help him. It broke our hearts to realize how terrified he felt. We went to great lengths to avoid situations that triggered him – even taking separate vacations so we wouldn't have to leave him home alone! Eventually, with a lot of advice, help, and persistence, we were able to manage his anxiety to the point that he could live a fairly normal life.
My current dog, Chilly, began to suffer from thunderstorm phobia and other anxieties when he was 5 years old. Thanks to my previous experiences with Buck, I was able to recognize the signs and begin treatment early. One of the most effective therapies I've found is the Calmz Anxiety Relief System by Petmate. Calmz is also our title sponsor for Pet Anxiety Awareness Week.

All Natural Anxiety Relief
Calmz is an all-natural, drug-free system for treating anxiety in dogs. It's been tested by board-certified veterinary behaviorists, and 91% of the vets who tested the system would recommend it for treating dogs with anxiety. Calmz is the first product to combine vibrations with music and tones, and it delivers amazing calming effects!
Calmz works because the fear that some dogs feel in response to certain situations is triggered by a neurochemical reaction in their brains. During these times, blood flow to the brain decreases and adrenaline increases. What this means is that, at its root, anxiety is not a behavioral issue. If your dog is acting out when he is afraid, he's not being naughty – he's literally terrified of whatever is triggering the fear and he needs help to get his fear under control.
The Calmz system consists of a device that inserts into a comfy, wearable vest. It sits right on top of two acupressure points in the spine. The device uses tonal therapy, music (if you're a fan of classical music you may recognize Beethoven's Fur Elise), and vibrations to increase blood flow to the brain, decrease adrenaline levels, and dramatically decrease the stress your dog feels.

Why I Love It
For Chilly (and for us), Calmz has been a lifesaver. With so many thunderstorms here in Florida we use it almost daily! After I put the device in the vest and turn it on, Chilly stops panting and pacing, lies down, and is quiet within a minute or two. He has even slept through a few thunderstorms!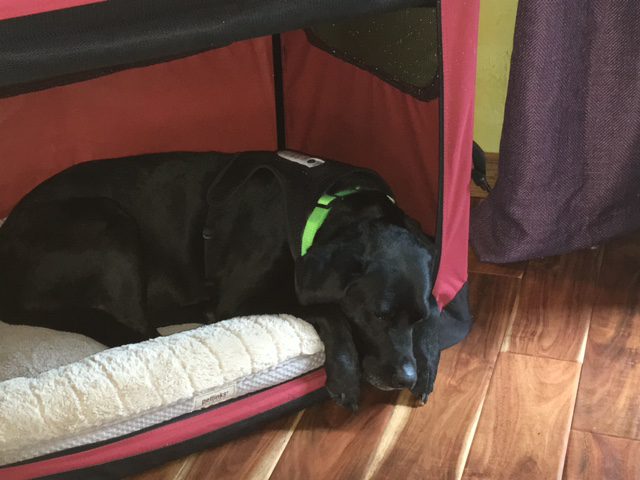 We've also used Calmz whenever Chilly goes to the vet, visits new places, or when we think he might encounter a new dog. It's great for pups with separation anxiety, too. For dogs like Chilly, who experience mild anxiety, Calmz may be all that's needed to help them to control their fear. It can also be used in combination with other treatments for those with severe anxiety. For pooches on prescription medications, it may even help to lower the doses they need.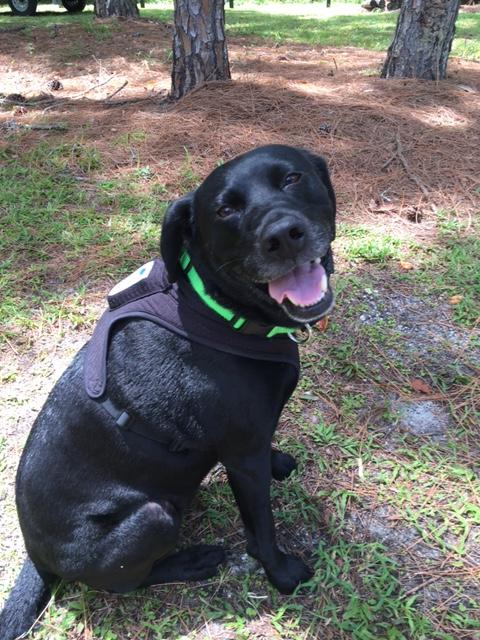 The CALMZ Anxiety Relief system retails for approximately $129.95. That's less than the cost of two months worth of the anxiety medication we were using for our dog, Buck. I wish I had had this system back when we were struggling to help him. It's been a miracle for us and for Chilly. Thanks to Calmz he's happier, calmer, and has a better quality of life. And, of course, that makes the humans in the family happier, too!
This is a sponsored post. However, all opinions and anecdotes are my own, and I never promote any products or brands I don't believe in. ~Petfully yours, Kristen
Pin me: